Do you ever wish you could have a paint do-over? I'm here to tell you it's okay to change your mind and your paint color. I have many, many times. Just ask my husband.
I have painted my kitchen peninsula  +/- 5 times since we've lived in our house.
Around 2008, I even painted it this green color. Seriously, what was I thinking? Judging by this picture, life was hard back then. That's all I'm sayin'. #terribletwos ?
A few years ago we revealed our vintage farmhouse kitchen design. It took us around 5 years from start to finish because it was stitched together with our own sweat equity. This wasn't a total gut job – more like a DIY-work-with-the-space-you-have kind of job. 
And, we really are proud of the outcome and love our vintage farmhouse inspired kitchen space… BUT… and you knew it was coming… I was never happy with the lower cabinet paint color, including that little kitchen peninsula.
So, while I had a vision for the space, I wasn't able to see the forest for the trees during each phase of our renovation. Essentially what I'm trying to say is that I made some decisions I regretted along the way.
The Kitchen Before
This is what my kitchen looked like shortly after we finished it.
There is so much warm, muted gray that I couldn't stand it any longer. Our favorite feature – the reclaimed beadboard wall – was camouflaged among all that gray.
So, I decided this summer we would paint them darker. My husband says this is the last time he will ever paint these cabinets. God love 'em.
I decided to choose a dark charcoal gray color from our granite countertops to give this room the contrast it needed.
Paint Color: Valspar Medallion in Caviar
The Kitchen Now
And, here's what it looks like now.
The darker lower cabinets add depth to the space and allow the colors of our accessories to pop.
Even my vintage corbel is more visible. I love using corbels this way. Get all the details on one of my many kitchen (island) peninsula makeovers here.
I love, love, love all the contrast with this new, darker color. Even the items on our open shelves look better and more colorful!
This post may contain some affiliate links for your convenience. Robb Restyle may receive a commission, but you won't pay a penny more. Thanks for supporting our flea market addiction. Click here to view our disclosure policy.*
I realize that open shelves are a brave move. But, I love that everything is super accessible. Everyone always wants to know where I got these metal shelves. They are actually a garden shelf that I found on Antique Farmhouse years ago, but I found similar versions here and here.
See that American soda water box? It hides all our bread and bakery items and helps keep our countertop organized.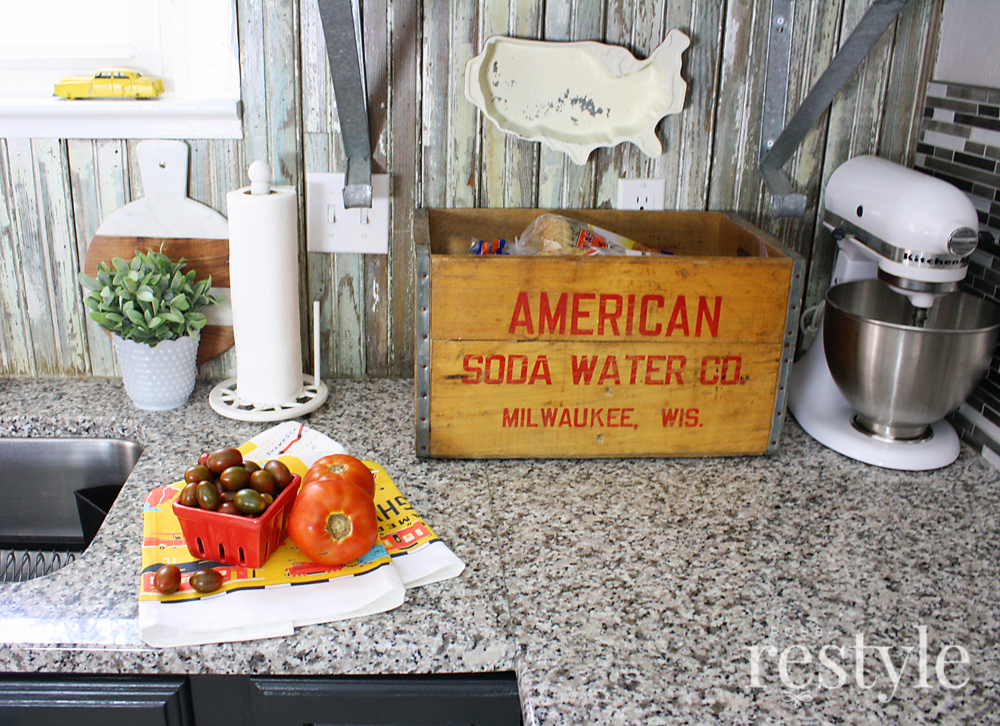 As you can see, we love using vintage boxes for kitchen organization. I even wrote a post about all the creative ways to use vintage boxes in home decor. Of course, vintage soda crates are our favorite!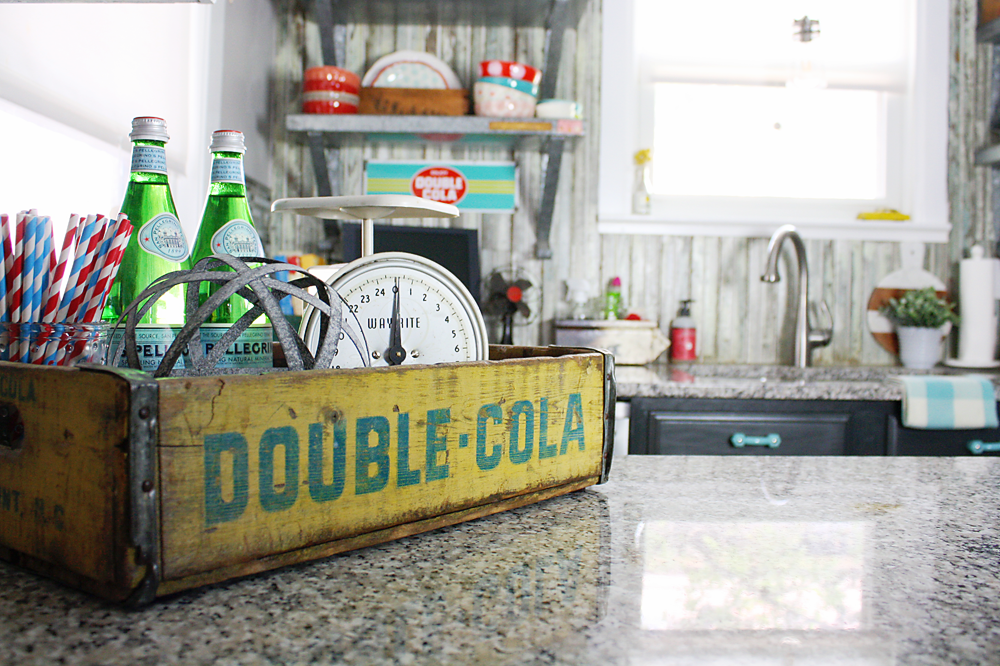 If you need a paint do-over and it includes cabinets, just make sure you add a top coat for durability. We used a semi-gloss polyurethane. I don't have 'soft close' on the old cabinets we painted and repurposed … and well, kids. A little topcoat helps protect them from chipping.
Now, for my other regrets… one of them is the tile we chose for the backsplash on the side walls. In the store I fell in love with this tile. And now? Oh… dare I say that I kind of wish I had used the popular white subway tile instead? I know, I know. But, that is a much bigger re-do and one that my husband isn't quite on board with me yet.
How about you – what is on your paint do-over wishlist? Maybe you're having a year like my 2008 shown above? I can't wait to see your comments below.