The kitchen island (well, it is really more of a peninsula) is a key space in our kitchen. Whomever remodeled our kitchen in the 80s likely put this island in. It's where my kiddos eat breakfast every day. Sometimes homework happens here too. It's the most open piece of countertop for baking, prepping, gathering, eating, etc.
And it was ugly. So here's the story on how we made it prettier and managed to repurpose an old architectural corbel to boot.
It isn't big. It fits just in between the doorway into the kitchen and a large window. I always loved the look of a mismatched island so I painted this a few times. Once it was a bright green – I'm not sure why I painted it green and I wish I had a picture to show you just how ugly it was. Then I painted it black and added some hardware to the front.
As part of our kitchen renovation (click here for part 1) we wanted to maximize this little workhorse so we extended the countertop space as much as we could without running into the oven and rounded the corners out.
We found a really cool corbel to help hold the extra countertop and closed off the front with bead board. Oh, and we gave it yet another paint job. The bead board helped make it look more like a piece of furniture that belonged in our kitchen.
We also repurposed an old cabinet for extra storage. We removed the door and placed it above the tile on the wall. It's not a big space, but it allows me to display a few more vintage kitchen items as well as some dishes.
I've always wanted to have a pendant light over the island, so we finally made that happen with a white barn light.
For us, this kitchen island makeover was just taking an existing space and just making it better. Sometimes that's all it takes. To get rid of the island would mean new floors so we just worked with what we had. We are pretty happy with the added countertop and extra storage space.
UPDATE… eventually I added more colorful bar stools. These metal stools were a steal!
In the rest of the kitchen we are still working on window treatments and a few extra things I wanted to decorate with… our final punch list. Next up:  we repurposed wood from an old farmhouse porch ceiling into an accent wall in our kitchen… get all the details here!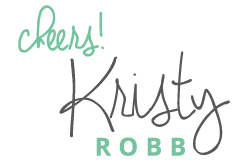 *This post contains some affiliate links to make shopping easier for you. Robb Restyle may receive a small commission, but you won't pay a penny more. I only share links to products I love. Thanks for supporting our flea market addiction. Click here to view our disclosure policy.*