We have been remodeling our kitchen for the last five-ish years. And we are finally (well, almost) done! We. Are. So. Close. We can taste it!
I think my mom said it best. If your marriage can survive a kitchen renovation, then you'll enjoy a long and fruitful life together… So I guess Corey and I are in this old house (I mean marriage) forever! XOXO
We bought this house knowing that the kitchen needed updated so we did a few quick fixes when we first moved in and then our family grew and we focused on other areas around the house… but when we talked about what our house needed over the years, we just kept coming back to this kitchen.
You know, it's where everyone spends nearly ALL of their time when they visit our house. We like food and so do our friends and family. No matter what I did to make my dining room and other living spaces better, it still all came back to the kitchen.
It's where we (laughably) try to fit as many family members as we can whenever we host a get together. It's where my boys and I enjoy long breakfasts before school. It's where homework happens. It's the first room you see when you enter through our backdoor. Cooking, baking, cleaning… you know what mean?!
Then we decided we would do what we could over the next two *ahem* I mean five years. It's not ideal. But we did what we could when we could… until this spring when I couldn't take our half-finished mess any longer… and we decided to finish it up!
So here we are… the first of several posts sharing our kitchen renovation journey.
When we moved in we wallpapered the kitchen. Yes, wallpaper. Never again. We also removed a tall pantry cabinet and created this little corner with some old cabinets and a table-turned-desk for our computer. It looks really silly now, but at the time it was ok.
We thought about using an old Hoosier cabinet or something similar in this space, but we really wanted some additional countertop surface to work with in our kitchen. Note the date on the box… we really have been working on this kitchen for years.
If we had all the money in the world to spend what we wanted on this kitchen, we would have replaced all our cabinets with this style. But, instead, we settled for just making this little corner nook special. We selected a granite with lots of grays and blacks and had it installed in this corner as well as on our existing kitchen island in the beginning of this renovation.
We spotted this backsplash tile and fell in love with it immediately! We love the combination of metals and glass. It was the perfect compliment to the distressed gray cabinet. Tiling was a new DIY adventure for us… and we loved it so much in the corner that we decided to tile the rest of the kitchen (eventually).
As part of the entire kitchen remodel, it was probably the easiest DIY project with the biggest impact. I can't believe we waited this long to try it.
If you follow us on Instagram, then you've had an inside look at some of our kitchen renovation in progress. We have very eclectic taste and love mixing different mediums so when it came to cabinet knobs and pulls we couldn't just buy something at the big box store. My husband loves finding these old type tray pulls and using them as handles in all sorts of places.
We went picking in Illinois and thrifted this old built-in shelf. It was flat on the side we needed to squeeze it into this corner. I painted it with a layer of gray and blues.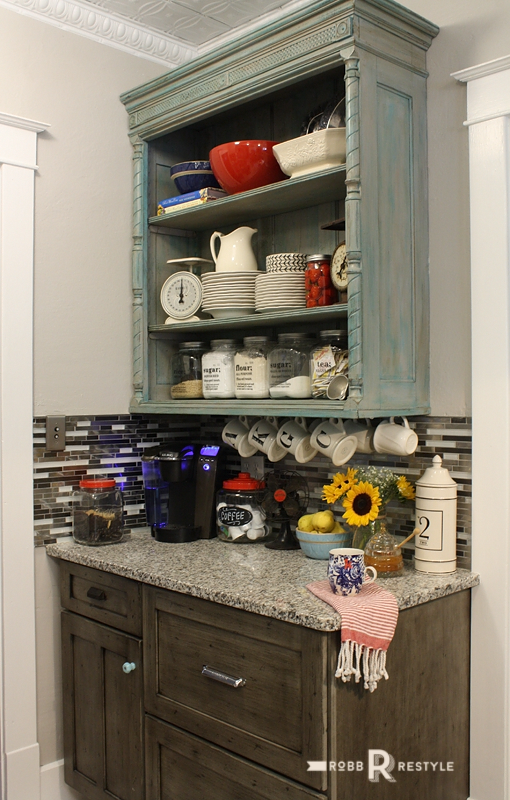 One critical need we had in our old kitchen was storage space. I love both the look and the practicality of open shelf storage. This shelf was solid enough to hold a good amount of pantry stuff and some of my dishes. Oh, and a few of my vintage pretties, too.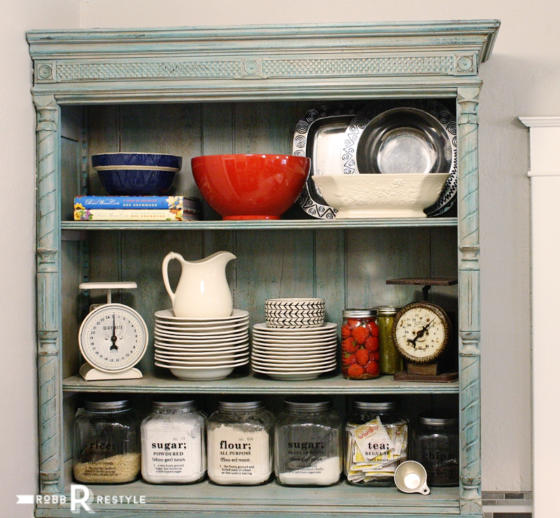 This little nook has since become a coffee station. We love having the mugs and coffee together. When we have visitors, guests feel empowered to help themselves.
We also turned the top drawer into our breakfast pantry. It's easy for our kids to reach and see what choices we have… and hides the dozens of cereal boxes we always seem to have on hand.
The biggest challenge with this kitchen remodel has been the three doorways and two windows. It doesn't leave us with a lot of wall or cabinet space. Here you can see a few of the doorways we have to work around. To the right is our mudroom and backdoor entryway.
To the left is our dining room (and my little office).
One of my favorite kitchen accessories is this little honey pot. It was a very special wedding gift from my dad. Isn't it just adorable? We spotted this while registering for gifts but thought it would be too extravagant to put on our registry. He thought I should have it.
Thanks for stopping by the first of many posts on our kitchen remodel. Next up: the kitchen island…
Cheers!