This neutral bedroom makeover was inspired by the simplicity of a chic hotel and some clever artwork. It's has a soothing neutral palette and cozy textures to create a calming vibe for this active teen. 
Neutral Teen Bedroom Makeover
Remember this vintage camping bedroom? Well, that little boy grew up, despite my best efforts to keep him little.
A few years ago we started removing the camping theme from his room. Then became a hodge-podge of things he liked, but we didn't have any real direction. Bedding had changed, but the green rug, navy walls, and geometric curtains stayed in the room.
Like most teenagers, during the pandemic our kids were tied to their bedrooms for eLearning and that's when both of my boys decided they wanted to spruce up their space and declutter!
However, time got away from us and we didn't quite get this room pulled together until Photowall reached out to me earlier this summer.
This post is sponsored by Photowall, but all opinions, ideas and decorating inspo are all mine. This post contains affiliate links and I might be compensated if you make a purchase after clicking through my links. See my disclosure policy here.
Remember my home office mural? So, we decided to find our inspiration with Photowall as our starting point.
Here's a look at the room being prepped for a new wall colour.
And this is just one of many photos of our corgi Clarence who just loves to be where we are – no matter what we are doing. Anyhow, I'm really glad we waited, because this hotel chic bedroom came together better than we both imagined.
Take a look below. We've come A LONG WAY from the colourful camping room above, don't you think? 😉
Hotel Chic Bedroom Inspiration
To start, my teen wanted to create a more calming bedroom in both decor and colour. He plays three sports and is very involved in school activities, so a soothing vibe for his home base makes sense.
He was also very adamant that he wanted only neutrals (whites or creams). NOTE: He has always had sophisticated taste for his age (I mean, when he was 10 he asked for an espresso machine for Christmas – to which we obliged). 
He mentioned that he wanted his room to feel like a city apartment or maybe a hotel room. I decided to give that some thought.
Here are three things most hotel rooms have:
artwork
bedside lighting
extra seating
The first thing we did was hop on to the Photowall website. And, they don't just have wall murals. They also have canvas art and posters. My son narrowed down the main art for either side of his bed to these Lofty Arches framed posters. Then I created the color palette and mood board around those.
By the way, creating a mood board before I ordered anything online is the best way to make sure all these neutrals didn't clash. I learned that here.
I wanted this to be a thrifty bedroom makeover, so we didn't change these things in his bedroom:
shiplap ceiling (here's how we did that)
painted wood floor (a previous homeowner had a cat in this room, need I say more?)
trim colour
overall room layout (he likes his bed in the center)
chair rail (original plaster walls, so removing this would be a mess)
Paint Color: Sherwin Williams Pacer White
Hotel Chic Bedroom Decor
Ignore how the lofty arches art looks in my photos – it took on more of a violet hue in these images. However I promise it's more pale taupe mixed with beige and looks really nice with all the other neutrals in the room.
Painting out the chair rail in the wall colour also helped make the room feel bigger and the chair rail less noticeable.
My friend had a vintage bed she wasn't using, so we also painted it the same wall colour (Sherwin-Williams Pacer White).
Curtains | Bedding | Extra Long Lumbar Pillow | Brass Wall Sconces | Beige Fur Throw Blanket | Animal Print Rug
I'm not really a fan of grommet curtains but this is a teen bedroom and they were super discounted on Amazon Prime Day. The neutral colour was also a perfect match.
Even when they aren't on sale, they are pretty cheap and the quality is great! Plus, they come in a pair. I find it super annoying when curtains come as one panel.
I LOVE these brass wall sconces! As soon as my husband installed them, it immediately elevated the space. They are super affordable and look really luxe in person. They are also dimmable – perfect for a bedroom!
The monochromatic color palette gives this room a neutral serenity and feeling of calm, while the cozy textures and prints help keep this room from looking boring.
One of mine (and my son's) favorite accessories is the spotted rug. I have wanted to place an animal print rug like this in my house since I first discovered them – but there really wasn't a room where it worked.
In this neutral bedroom, it's the perfect amount of pattern. This animal print rug is also an AMAZING price, but looks like the more expensive versions.
We spray-painted his existing metal nightstand (from Target a few years ago) in this color.
We kept the top of the nightstand styled and added a basket to corral his phone chargers, glasses and other tchotchkes on the second shelf.
Once my kids were eLearning full-time at home early in the pandemic, we added desks to both of their bedrooms. However, they both still preferred doing homework on their bed. Go figure.
So, as part of our decluttering, we removed the desk and created a dressing area instead. I am super happy with how this space turned out. The mirror was a splurge, which I made him purchase with his summer job money.
And then we selected a few more posters from Photowall to add some character this corner.
Clarence (not for sale) | Easel Floor Mirror | Similar Floor Mirror
My favorite is the Masked Hamilton portrait. I love this trend of mixing traditional art with a modern twist. Photowall let's you choose to have your photos framed or add a poster hanger like we did with this modern geometric poster above.
Photowall has some really cute "masked" posters you should check out if you like this trend as much as I do: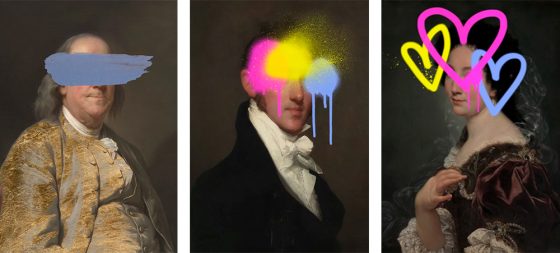 Ben Franklin | Spray-Painted Art | Spray-Painted Hearts
In true teenager fashion, this is his homework station aka desk.
By the way, this chair was a steal. We have a local auction house that takes store returns from Target. Each weekend they host an online auction and I was able to snag this barrel chair for around $45. Regular price is $300!
It had a VERY minor flaw in the side (a tiny, tiny hole). That's the gamble you play with a return or salvage auction. And this is probably why it was returned but, definitely something we could overlook at that price.
It adds more texture to the room and creates a nice reading space. We repurposed the marble table from another room in the house.
Nothing special about this side of the room, but we added a few floating shelves above the TV and painted the existing mid century dresser the wall colour.
Floating Wall Shelves | Ceramic Lamp
Oh, and just in case you're worried he will tire of this all-neutral space, like every other teen out there, he still has his LED strip lights.
Both my boys have these lights in their room and they are a fun addition that they can customize in whatever colors they choose. This set is super easy to install.
We added another LED light strip under his bed and attached them to the bedframe with alien tape (which is removable). And this set fits the perimeter of a full-sized bed perfectly.
Finally, here are a few more shots of this our corgi Clarence around the room. He's too cute not to share and his coloring coordinates with this neutral room so well. ? Corgis really are pretty photogenic.
I love that this room provides a calm retreat for my teen as he starts his second year of high school. And, in several years, I think this room could easily be transitioned into a cozy guest room (not that I'm thinking that far ahead yet ?).
Based on our original hotel chic inspiration, I think we checked everything off the list! (see source list at the bottom of this post)
✔️ artwork
✔️ bedside light
✔️ extra seating
A big thank you to Photowall for helping inspire this neutral hotel chic teen bedroom makeover. It's amazing how a little art can provide such enormous inspiration!
Do you have a favorite part? What do you use for your bedroom decor inspiration? I'd love to know below.
Cheers!
Pin for later:
Hotel Chic Neutral Teen Bedroom Source List:
Neutral Taupe Curtains | Bedding | Extra Long Lumbar Pillow | Brass Plug-in Wall Sconces |
Beige Fur Throw Blanket | Velvet Barrel Chair | Animal Print Rug | Easel Floor Mirror