Customize your wallpaper colors for a truly remarkable room transformation and cohesive color palette – even if nothing else changes!
Wallpaper has an amazing power to breath life into boring rooms – including (and especially) bathrooms. And, there's no better way to reimagine your bathroom than by adding wallpaper alone.
This wallpaper is pretty special, because I hand selected all the colors in it. Keep reading to find out where you can find this amazing wallpaper and a coupon code!
This year's summer project was an upstairs bathroom makeover. In early 2020, I purchased new cabinet doors and painted them green to match the beadboard on the other side of the wall. That was painted the same green a while back.
The vanity was old and dated, but still a solid piece of furniture so we simply added a new sink top and modern drawer fronts and cabinets. It's amazing how those two things can transform and existing bathroom vanity.
But the rest of the bathroom was pretty lackluster. I don't know why I painted the walls this dingy white? It was time to change the walls. I was thinking of painting them Benjamin Moore Fossil just to give them some more depth. It's a neutral we used in other places in our house and we really like it.
However, painting the walls another neutral wasn't going to be a big transformation. And I really love using wallpaper in bathrooms. It's an easy (and smaller) space to tackle, with BIG design impact! But how would I find a wallpaper that coordinated with the green I already painted???
I wallpapered another bathroom last summer – so you might see it here one day on the blog 😉 
That's when Love vs. Design reached out with some colorful inspiration. I really didn't know there were online wallpaper retailers that allowed you to customize the colors and still be in MY price range!
This post is sponsored by Love vs. Design, but all opinions, ideas and decorating inspo are all mine. This post contains affiliate links and I might be compensated if you make a purchase after clicking through my links. See my disclosure policy here.
If you want to see BEFORE the BEFORE, check out this post to see the vanity before I painted it green.
Choosing the Colour of Wallpaper
Here are the wallpaper patterns that I sampled.
When you click on the patterns below, you can see where the colorways began before I started recoloring them for my liking. That is a fun step to experiment with different colors in the patterns.
Patterns: 1. Simple Wildflower  |  2. Hydrangea Bouquet  |  3. Watercolor Field  |  4. Wildflower Stamp
After holding a few up to my painted trim, I decided that I really liked the darker contrast with the pops of white (since there is so much white trim, countertops, fixtures, etc. in my bathroom already). The green was a perfect match to my eyes.
I love hydrangeas – in fact they are my favorite flower of all. But the original pattern was a bit dark for me, so I softened the dark background color and changed the foliage to a green that suited my green paint.
How many times have you found a wallpaper pattern or design you loved, but the colors weren't quite right?! I love that you are basically creating a custom wallpaper with Love vs. Design.
Working with Peel and Stick Wallpaper
Love vs. Design happens to be a sister company with BasicInvite.com and you might remember the custom invitations I made here. Well, they discovered that they could apply this same color customization to interior design in the form of wallpaper. Pretty amazing, right?
All their customizable wallpaper is of the peel and stick variety. I have wallpapered with peel and stick before, just not in my own house. There's just a tiny learning curve but otherwise it's easy. Peel and stick wallpaper is overlapped about an inch, where is pasted wallpaper lines up side-by-side.
That's really the biggest difference. There's plenty of guidelines here to help you get started.
Have you ever wallpapered before? DO NOT be intimidated by peel and stick wallpaper!
You really only need a few tools as seen above. The only thing missing here is a good (sharp) exacto knife. No bucket of paste or brushes needed!
Let me tell you – there were a few spots around the toilet that my paper started angling too much and had to be removed from the wall. While super stressful at the time, it removed smoothly and RESTUCK just as well when I had to realign it. It really is forgiving to install and then move if needed.
And that's the beauty of it. Because we have removed many layers of pasted wallpaper in this house, and it was said (by my husband, of course) that we would never paper again. However, this stuff can be removed and changed easily when we tire of it – or move!
It's really hard right now to imagine a time when I will tire of this makeover. Just sayin.
Let's start with this beadboard wall and the first time I introduced this amazing green on the walls. It's called Green Mantle by Valspar. It really is a beautiful and rich green too.
I removed the vintage dresser we had because it just wasn't giving us much storage. There are no linen closets in this old home. This shelf gives us some space for beauty products and towel storage.
Gold Shelf  |  Similar Wood Stool  | Gold Wall Hooks
I love how the wallpaper makes the green vanity pop even more.
Our walls are old and very uneven, so you may I notice a few blemishes but when you walk into the room, the impact of pattern and color totally distract the eye.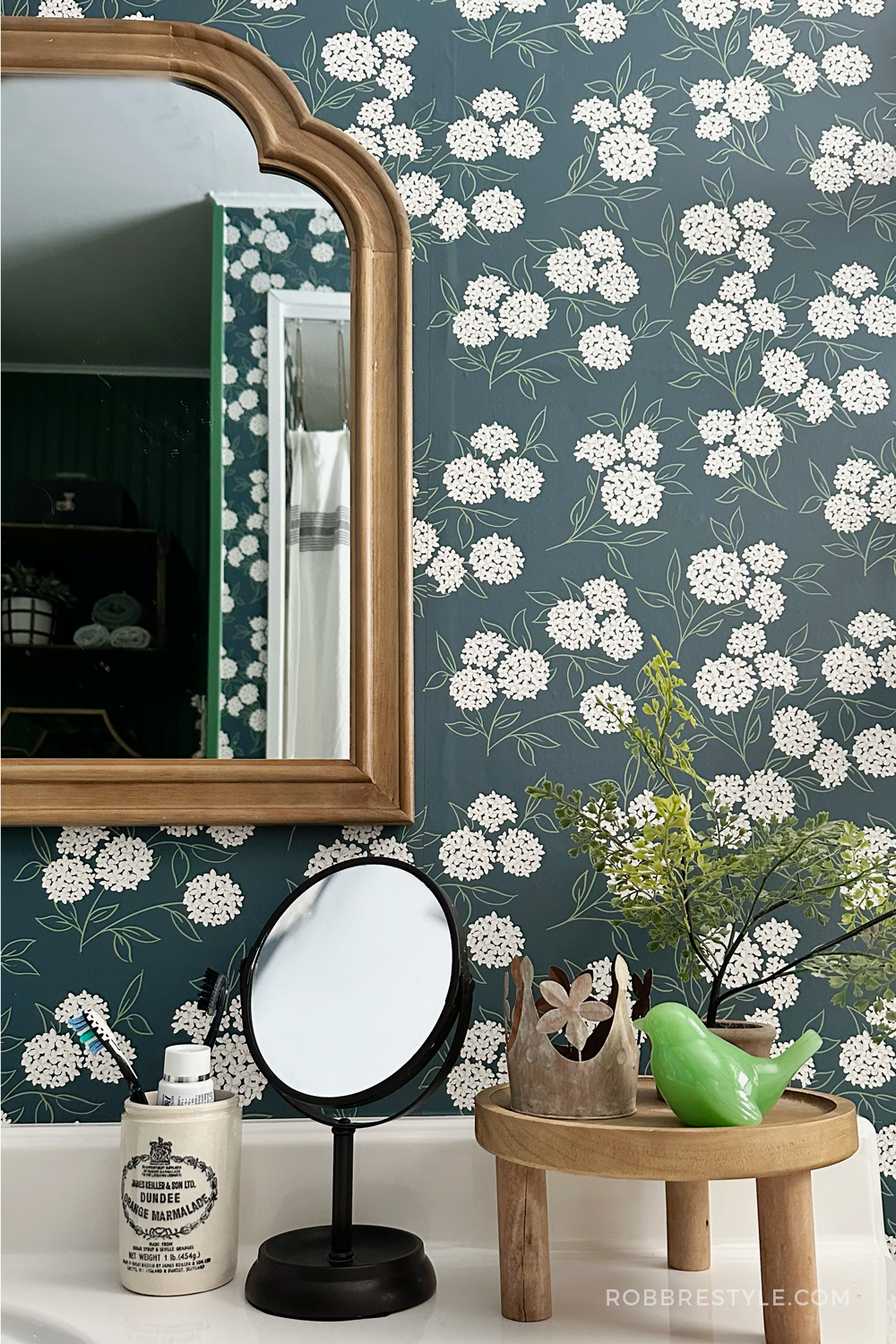 I've been hunting down all the small brass vintage animals I can find lately. They look so cute together on these shelves. And if you follow me on Insta, you know my obsession with thermoses. They end up as decor in EVERY room. These green ones fit the color palette.
The toilet area was the trickiest place to wallpaper, but being able to wipe dirt, grime or whatever off the vinyl wallpaper feels like a win.
It's funny how pattern works in small spaces. You'd think this bold wallpaper would make it feel smaller in here, but actually it's the opposite. My family all feels like the bathroom feels bigger.
Checkered Bath Mat  |  Mirror  |  Towel Hooks  |  Medicine Cabinet
You can kinda see my shower curtain reflected in the mirror. I just went with a simple white one, but I did add my ball and chain shower hook method that I love.  It makes the shower curtain glide like butter.
And, it is a much smaller footprint and looks seamless in this bathroom. You can see all the details here.
Mirror  |  Gold Tray  |  Green Jar  |  Fringe Shower Curtain
This little stool from Target is a nice spot to set your towels and clothes for after the shower. We're trying to make the best use of space in this bathroom that is shared by all of us upstairs.
Here's an somewhat distorted image of the entire vanity. It's more like a wide-angle realtor photo, but it's the only way to show you the whole shabang in one shot.
Besides the wallpaper, we made a few minor and inexpensive changes, including the vanity light, mirror, shelves, bath rug, and shower curtain. Plus, when you add style to the bathroom, everyone makes a bigger effort to keep it uncluttered. So we're all much better and putting our stuff away when we're done.
This bathroom makes me smile everytime I walk by. And because I loved this green paint colour so much, I didn't have to compromise my wallpaper choices. Love vs. Design has created an amazing way to customize a wallpaper that no one else has but also that you absolutely adore – down to every single color!
AND you can use code: LVE15F for 15% off all wallpaper!
I highly encourage you to order some samples first before you commit to a wallpaper pattern so you can see what they look like in your room. The scale of some of the patterns I choose wouldn't have worked as well in this bathroom.
And this guy never lets me shoot photos without trying to steal the spotlight. By the way, this is what it looks like with all the lights on.
I used to love "choose your own adventure" books as a kid… so I do like making choices!
However, if you'd rather not make all these decisions and customizations, all their wallpaper patterns and colorways are already in very pretty combinations. This can still be a super fun way to breathe life into a room – especially a bathroom.
Who else is thinking of wallpapering soon???
Remember, you can use code: LVE15F for 15% off all wallpaper!