I know you're busy. Sometimes those birthdays just sneak up on you, don't they? It's ok. I've been there.
I mean, it's not like we would ever forget the birthdays of our little cherubs… but school, sports, work… what to have for dinner. Our mind is on overload.
Well, today I'm giving you a head start to party season with a few celebration ideas and some clever invitations to match.
Let me introduce you to Basic Invite. They have gobs of adorable invitations that you can truly customize – you'll actually feel like a bonafide designer by the time you're finished.
This post is sponsored by Basic Invite. They reached out to collaborate so I browsed their site to learn more. In seconds I was totally smitten with their invitation choices and couldn't wait to share them with you. As always, all opinions, ideas and creative inspo are from me.
Farmer's Market Birthday Party Invite Idea
So, I may be a boy-mom, but I am an Aunt to some amazing little girls. In fact, one of my nieces lives close by so I love helping my sister plan her birthday party themes. I saw this market invitation on Basic Invite and immediately fell in love with the entire Farmer's Market birthday party theme idea!
This Farmer's Market birthday bash invitation is so stinkin' cute! And, I think this idea would work for spring, summer and fall. A market party would be so simple to whip up. For instance, the straws, market bag, lemonade cups, and felt leaf garland pictured here all came from the Target dollar spot.
All Basic Invite invitations can be customized in almost unlimited colors – from the berries to the banner to the words! Basic Invite is one of the few websites that allows customers almost unlimited color options with instant previews online. Once you select a design you can change the color of each element on the card so you can make sure the card is exactly how you want it down to the littlest detail. How great is that?
Farmer's Market Birthday Party Ideas:
Serve fresh fruit and berries in little aqua berry baskets.
Use galvanized pails to serve flavored sodas in glass bottles.
Use checkered table cloths.
Create a DIY sundae bar (summer) or caramel apple bar (fall).
Allow the kids to make their very own bouquet from a variety of fresh flowers.
July 4th Party Invite Idea
So, everyone has 'their' party, right? Like, we all have the party that we've claimed as ours – or maybe you were assigned a party that you host exclusively! Either way, it's nice to claim a party because you can dream up ideas for it all year long.
Well, if you haven't guessed, my party is July 4th. Our little town has a festival and the parade route goes right in front of our house. Plus, our new backyard space is my favorite place to host friends and family. As a result, I'm always on the lookout for clever patriotic treats and party ideas.
Anyhow, this Red, White and Brews invitation is my new favorite! We always have plenty of ice-cold brews – because what's a BBQ without them? Oh, and if you need some patriotic backyard party decor ideas, just check out my Vintage America party decor post. (You'll want to pin it for later)
Sometimes printing dark colors can be tricky. Basic Invite is one of the few websites that allows customers the ability to order a printed sample of your actual invitation so you can see exactly how it will print before you order. So, if you want to make sure your colors are a-okay before you commit, just order a sample!
Rock Star Teen Birthday Party Invite Idea
My teenager eat, sleeps and breathes guitar. He's learning to play and loves listening to music – especially rock 'n rollers of the 80s and 90s. This rock star invitation couldn't be more perfect. It's not too childish and a great choice for teens.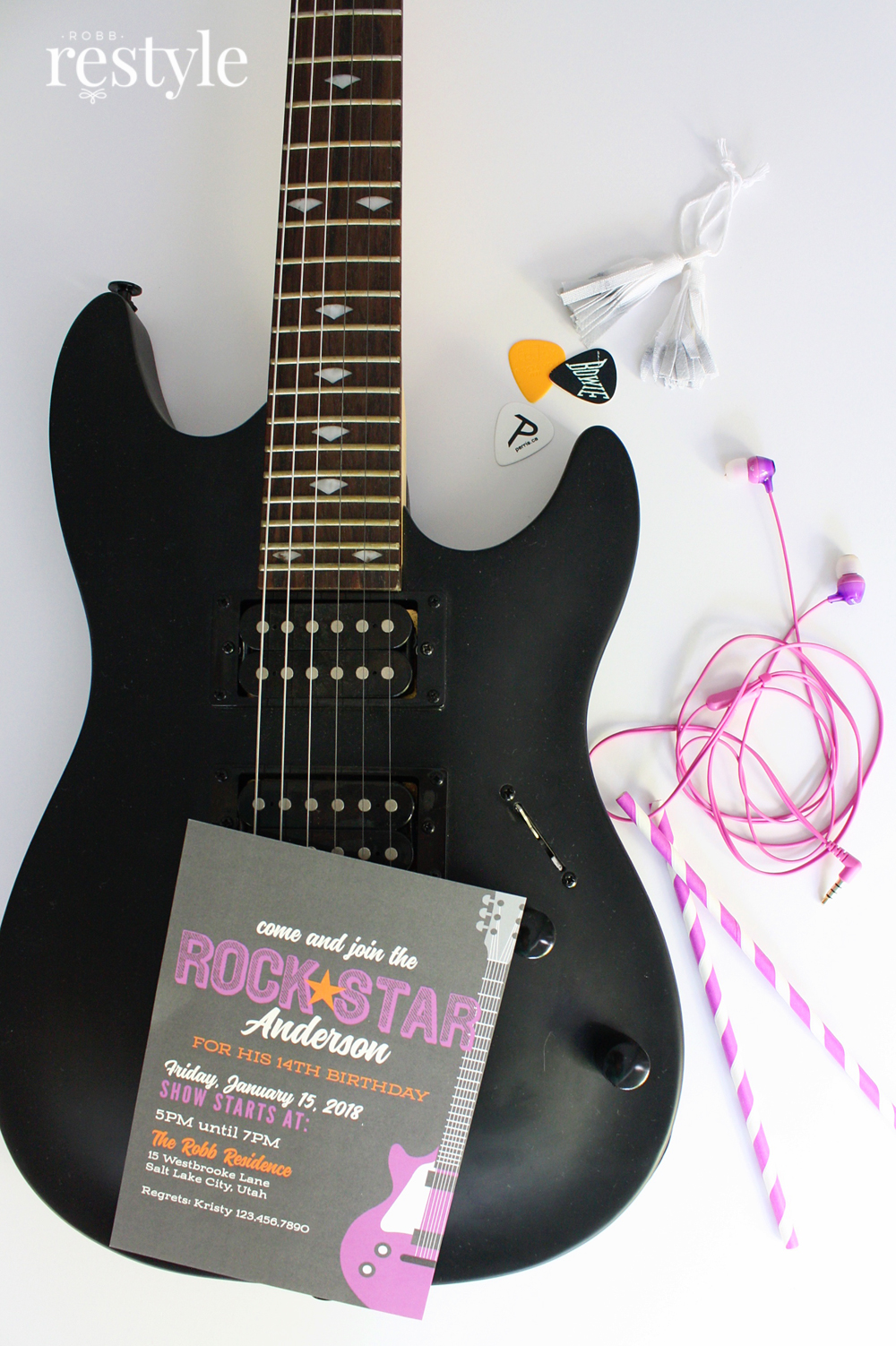 Rock Star Birthday Party Ideas:
Have a candy bar and include special items like pop rocks, rock candy suckers and starburst.
Offer swag bags with sunglasses and ear buds.
Create personalized guitar picks.
Set up karaoke and don't forget ear plugs for the chaperones!
Holiday Party Invite Idea
After hosting all those kids parties, you deserve a holiday party for adults!
I realize there are so many choices for Christmas party invitations, but at Basic Invite I really found a few that stood out from the crowd. And, during the holiday season, that can make all the difference.
I'm loving all things woodland-inspired for the holidays, and thought this conifer Christmas party invitation was super adorable. It's a chic design that could be used for all your winter parties.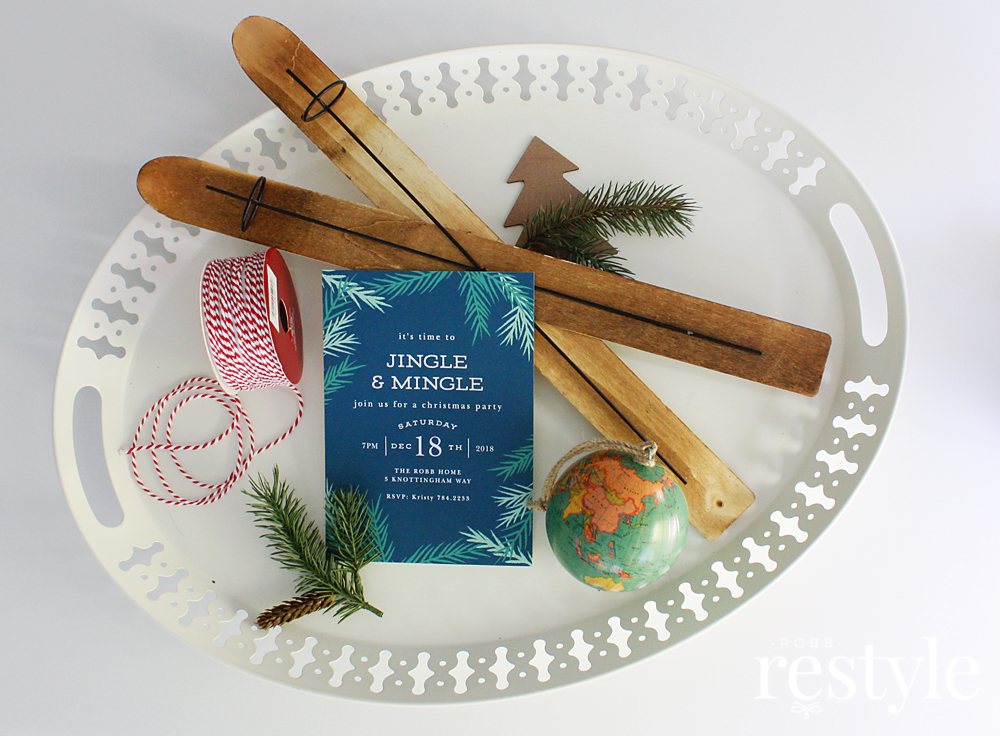 Another way to make your holiday party invite stand out before it is even opened is with one of over 40 different colors of envelopes. Basic Invite is just as colorful with their envelopes as they are with their invitations. I'm thinking a pretty mint-colored envelope for this design.
And, if you detest digging up addresses like I do, Basic Invite has a solution for that too. Use their free address collection service and simply send a link out to your friends and family. Collect the addresses and get free envelope printing. Use the time you save to bake up a few more batches cookies instead.
Planning a party soon?
Seriously, Basic Invite has so many beautiful and unique party invitation choices, it's almost too hard to choose! Just head to their site and start customizing your design today!
Birthday Invitations
What other ideas do you have for the party themes I shared here – I'd love to know! Comment below.