This crafty home office makeover was inspired by my favorite vintage lodge decor and features a colorful wallpaper mural. It's a small room that's big on both style and function.
I surrendered this extra bedroom upstairs to the boys long ago. We needed a place for all the video games to be connected and played – that also wasn't in our main living room. This was an extra bedroom upstairs that happens to be void of a closet (SMH – old house problem). So, it makes more sense as a space for a family room instead.
Keep reading for a special promo code to use at Photowall.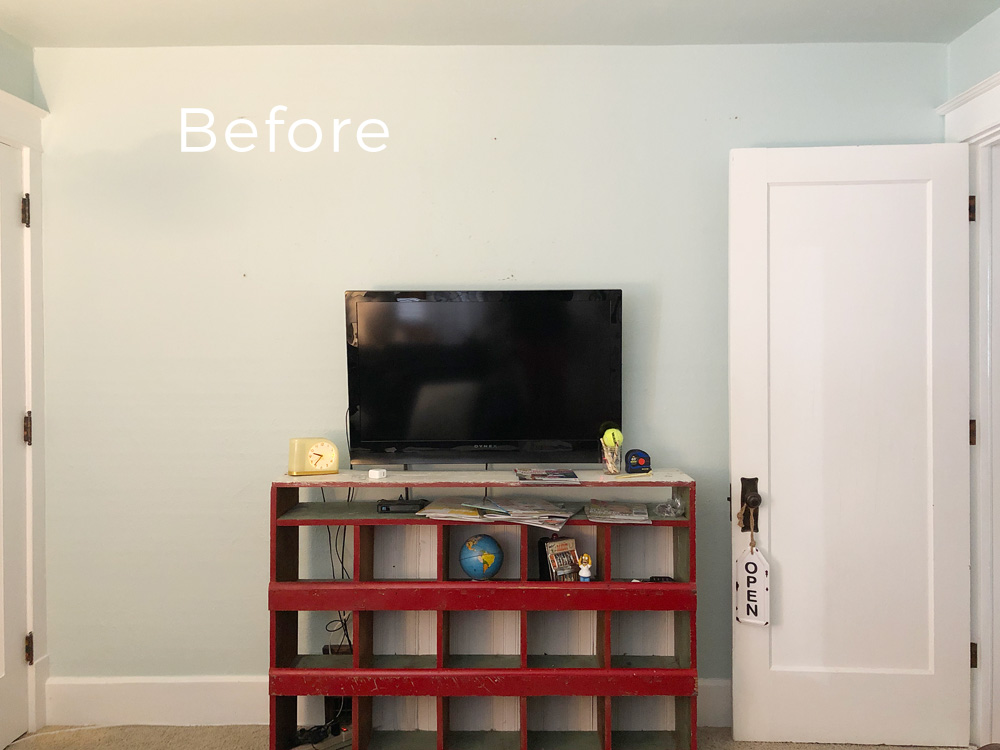 After turning it over to the boys, I basically neglected this space until a few summers ago when my husband offered to repaint it. Since then, I've been itching to reclaim it… but that meant TVs in the boys' bedrooms. I'm not sure why I was holding on to that particular privilege, but alas, we allowed it. And this room was mine again – come to mama!
This colourful wall mural is sponsored by Photowall, but all opinions, ideas and creative inspo are from me.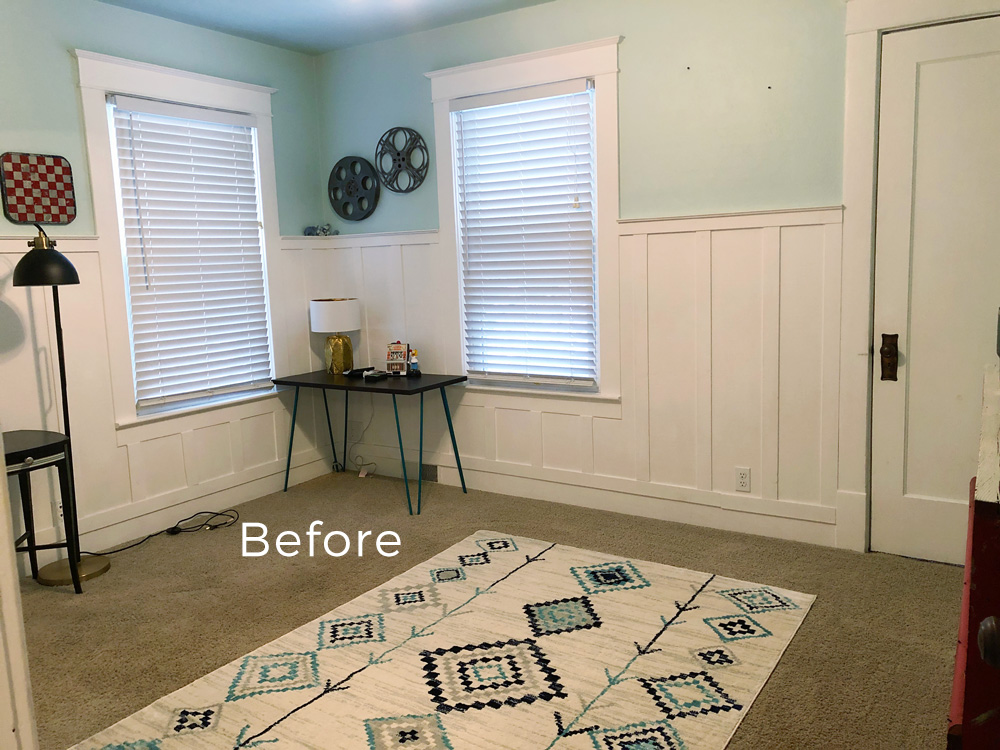 Ok, I should back up a bit and tell you why this room needed to be mine again.
Last summer I started an an amazing new job that is 100% from home. At my prior jobs I was part-time and only spent a few days working from home. Remember my old office? You can catch a glimpse of it here. It was also a dining room that I shared with my pups. Huh?!
Yea, so working full time with a new puppy, an old dog who barks at EVERYTHING, and teenagers who are constantly in the kitchen eating… after a few months, I knew that I needed a new plan. Oh, and my oldest teenager also proclaimed that I yelled more now that I worked from home… so the result of the shared space was not going well. ??‍♀️
ANYWAY.
I decided this room would be my new office and since it already had a TV in it, we could also use it as a family room. Again, we like our rooms to be multifunctional around here.
USA Map Wall Mural
Around the same time, Photowall reached out to see if I would be interested in using their wallpaper murals. So I browsed their website full of amazing wallpaper and wall mural designs. And behold… I got an idea!
Immediately I fell in love with a few designs. These were my top 3.
In the end, I made my choice based on where the TV ends up and how it might affect the overall pattern of the wall mural. I also loved how colorful and bright the Illustrated USA map was and felt this would coordinate well with my vintage lodge decor that I already planned to repurpose in here – you know, plaid blankets, thermoses, soda crates, and globes!
But, I still dream about that nostalgic Vintage Motel Mural and what a view that would make in a room for this wanderlust household.
You can see our time-lapsed wallpaper installation here. **Look for a special coupon at the end of this post!**
My BIGGEST piece of advice for hanging wallpaper… use MORE PASTE then you think you need! I mean tons. Lay it on thick! Then it's easy as pie to hang.
Friends, it instantly set the ambiance and style of this room. We couldn't stop staring at it… We absolutely LOVE how it turned out. Oh! And we patted ourselves on the back for measuring it correctly too.
It's been a while since we my husband has wallpapered. And since he also did most of the "removing" he had expressed to me many times that he would NEVER EVER hang wallpaper in our home again. So…… now you know how much he, too, loved this USA wall mural. ?
The colours and illustrations are so cool! I love the grid too. It makes it feel more like wallpaper when there isn't an illustration – so it's not just a plain white background.
I am a little sad that the TV covers part of it, but overall I really love how it frames it out… and the fact that we get to stare at it while we catch up on Netflix makes my heart burst with joy.
This post may contain affiliate links. Read my disclosure policy here.
We purchased a new loveseat at a furniture closing sale and added this plaid ottoman from Target. I loved the camp-y rustic vibe it brought and was a great color match to the loveseat.
My husband gifted me those retro state map pillow covers a few years ago and they are perfect in here. Find similar ones here.
Vintage Lodge Decor
Most all of this decor was repurposed from my youngest's bedroom. He informed me last year that he has outgrown the vintage camping theme we created for his space. While that makes me sad, I was glad to find a new home for most of it in my new vintage lodge themed home office.
A few of the other things we purchased for this new room include this desk from World Market and this chair from Target, as well as this chic new ceiling fan. The desk was narrow enough to tuck behind the loveseat and still have enough room to move around. The chair is perfect because I didn't really want to put a plastic mat down for a wheeled office chair.
Remember when we repurposed that vintage Hoosier beer crate into a planter?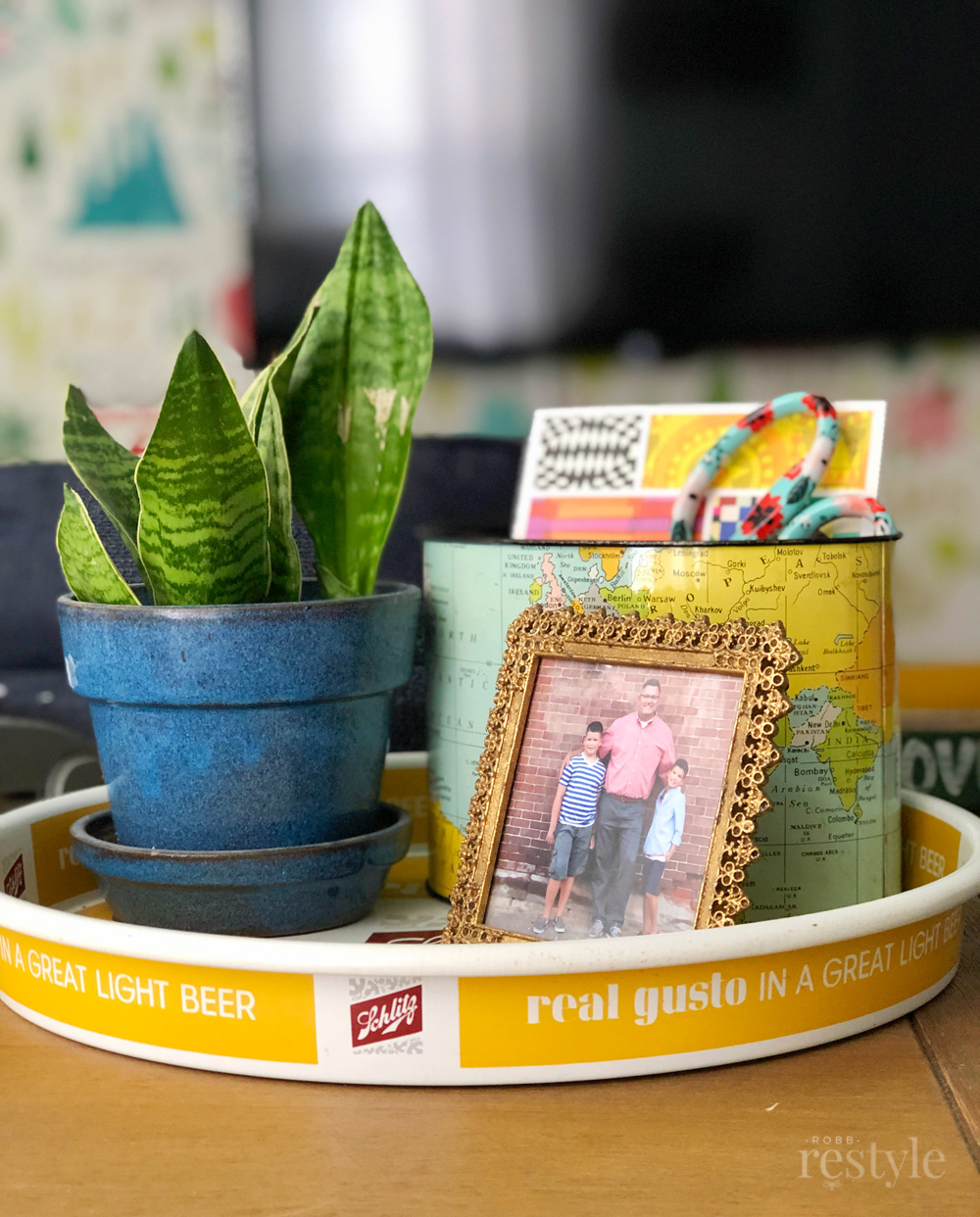 Of course, I found a few things in our basement stash of vintage goods that worked for my desk accessories – like this old Schlitz beer tray. I love the mustard yellow!
Another project from the past…  that little cloverleaf table makeover.
And here's a little more vintage lodge (literally) inspiration for you! This hand-painted sign is one of my favorites and adds such vintage lodge character to the room. You might also recognize our Canada Dry soda crate?! These old metal shop displays make the best shelves for my office supplies and look way more interesting than a plain old bookshelf.
We have THREE doors in this room which makes the furniture arrangement a bit tricky. The door above leads out to our sunroom/exercise area.
The door on the right leads to our hallway and the other bedrooms. The door on the left of this mural (you can just see a glimpse of it) goes up into our attic.
Remember what this wall looked like before? Plain Jane.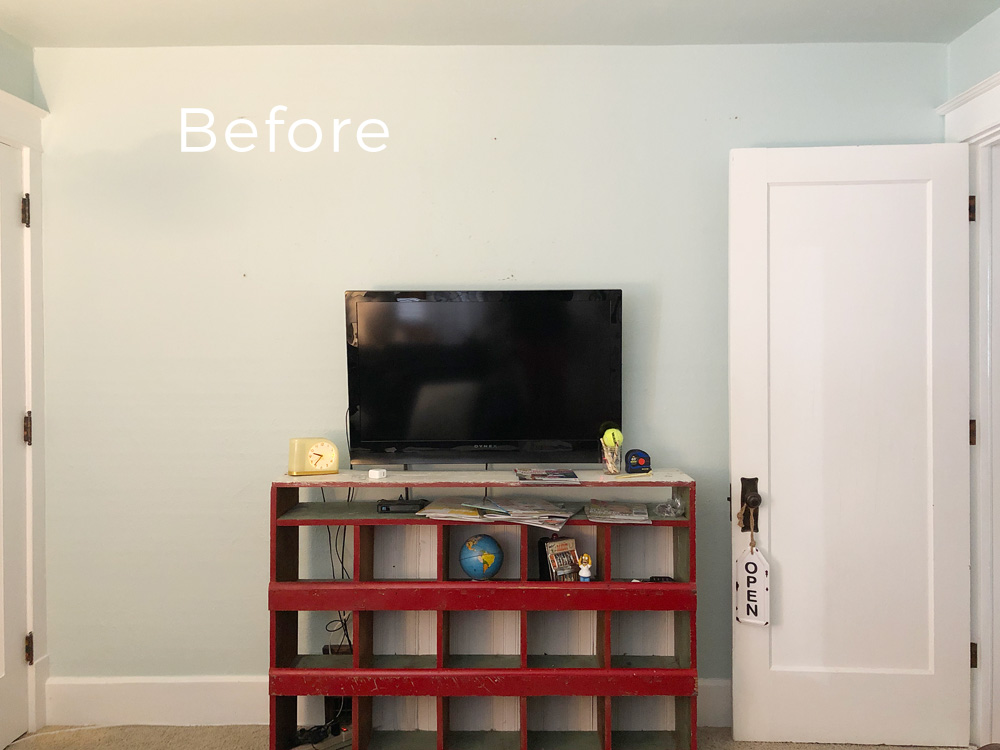 And NOW!!!
It really is a pretty tiny room, but I think we did a good job of maximizing the space without feeling claustrophobic. I'd love to know what you think!
Guess what? EVERYONE loves this new space! Mama is happier… teenagers like to read and do some homework in here. Plus, it's a super cozy spot for my husband and I to watch TV in the cold Indiana winter months.
How would you like to transform a room in your home with wallpaper or a unique wall mural? From now until March 11, 2020 you can save 20% with promo code robbrestyle2020 at Photowall. Please share! I'd love to know what you pick out!
It's been a while since we shared a room makeover on here so I hope you enjoyed it!