The perfect kitchen island combined with some eclectic vintage shelf styling became a winning recipe for this scarcely-used kitchen nook. Now it's an even prettier, but super organized kitchen baking station.
Keep reading for more of this vintage-inspired kitchen organization project and find out what made this kitchen island a perfect fit.
But first, how it started…
Repurposed Kitchen Nook
Long ago, we freshened up this corner of our kitchen with hopes that we could use it as a little breakfast nook. I had refurbished this old formica table and wanted to find a place for it. But sadly, there just wasn't enough room for our family of 4 to crowd around this tiny table. So, we never did.
It mostly became a home for piles of stuff that needed to be put away. I find this totally happens when a space isn't useful. Anyone else?
And while I adored this little nook, my kitchen truly lacks both storage and work surfaces. I like to bake… and now that I'm in my kitchen a lot more (I mean, who isn't these days) I decided it would be fun to repurpose this space into an organized and functional baking center – you know, with a brilliant piece of furniture that could store ALL my supplies but also had a beautiful work surface.  
Of course, it also had to have all the retro feels of an old kitchen. I had a stockpile of vintage kitchen collectibles that needed a home, so I really wanted to find a way to incorporate a collected look here. Plus, I had been itching for a new paint colour.
This had all the makings of a mini kitchen makeover – a space lift, if you will! But first, a little inspiration…
A Vintage Inspired Baking Station
Are you ready for a bit of kitchen history? 
Did you know that before built-in cabinets became the standard, nearly every household had a free-standing cupboard in their kitchen to organize baking supplies.  One of my favorite vintage cabinet styles was the Hoosier cabinet – so named because most of them were manufactured here in my home state of Indiana. 
In the kitchen the Hoosier cabinet was full of unique and helpful conveniences that often stored frequently used items for baking. You can still find plenty of them around at antique stores and flea markets. They are such an iconic kitchen symbol and I love that Indiana is part of its history.
I mean, look at that beadboard and the clock on the wall – this totally has Robb Restyle written all over it. 😉 
And, it's this nod to vintage Hoosier cabinets that helped inspire my plan to create an organized and free-standing baking center in my kitchen. 
So, while searching for a more utilitarian kitchen cabinet for this space, I totally fell in love with this Millstone kitchen island from Ballard Designs.
Ballard Designs Millstone Kitchen Island
I loved how the warm brass cup pulls gave it a vintage vibe, while all the drawers had me brimming with storage possibilities for my baking supplies. Plus, it has a perfect counter-height work surface! It checked ALL the boxes.
This post is sponsored by Ballard Designs, but all opinions, ideas and decorating inspo are all mine. This post contains affiliate links and I will be compensated if you make a purchase after clicking through my links. See my disclosure policy here.
Organized Baking Station Ideas
I love how cleverly designed this kitchen island is. The middle and bottom drawers are super deep, allowing for layers of baking sheets and large stacks of bowls. I was even able to put a tall bottle of vanilla along with stacks of cookie cutters inside the drawers.
There is so much JOY in having all my baking supplies organized in my kitchen. 
Here's a list of all the things I was able to organize inside this Millstone Kitchen Island:
Cake Knives and Servers

Measuring Cups and Spoons

Cookie Cutter Stash

All the Mixing Bowls!

Hand Mixer and all the sprinkles and toppings for cupcakes

Full size bottles of vanilla, baking powders and various canned ingredients for baking

Stacks and stacks of baking pans, muffin tins, cookie sheets, etc.

Pantry-sized containers or flour, sugars, etc.
I recently added these labels to my pantry containers, and now my baking ingredients are nestled here in the bottom drawer. I'll admit, a tidy baking center makes for a much more motivated baker. 
Pantry Storage Containers | Pantry Labels
Plus, this beautiful Belgian oak finish on the countertop makes such a pretty table for serving, in addition to being a versatile prepping station. 
I should also mention this Millstone kitchen island also has a matching table that would add even more countertop space to your kitchen and looks pretty amazing with a couple of stools for some casual dining! Check it out here. I only wish I had the space in this little nook!
Sherwin Williams Paint Colors | Trim Color: Copen Blue, Wall Color: Shoji White
An Eclectic Vintage Kitchen Refresh
Obviously there were a few more changes in this kitchen nook, than simply adding a baking station kitchen island! So let's take a closer look, shall we?
First we repainted the entire kitchen. I've been pinning images of really old kitchens where the beadboard and trim is painted a color, and I decided it was time to try it in my house. We love using beadboard as a "fix" for our plaster walls, plus I love the cottage feel it lends our spaces. 
I love this muted grey, blue color (Sherwin Williams Copen Blue) on the trim and it is the perfect backdrop for the pops of red in my vintage accessories.
Trim Color: Sherwin Williams Copen Blue, Wall Color: Shoji White | Vinyl Mat
The old light was way too low and since we would be using the countertop below, I opted for this flush mount ceiling light from Ballard Designs. It has the retro shop style that I love.
Don't you think these oversized Corey Counter stools from Ballard Designs feel like they were inherited from grandma's kitchen? Solid style with a bit of worn-in faux patina. And, it couldn't have a better name, right?! 😉
Corey Counter Stool | Millstone Kitchen Island | Ceiling Light | Vintage Sign | Floating Wood Shelf
And that penny tile vinyl floor mat you've seen tiny glimpses of? My favorite!!! 
I think it would be absolutely dreamy to have a hex tile floor in my kitchen, but it's not something we are ready to tackle yet. The next best thing? This vinyl floor mat from Ballard Designs.
It, too, has a faux patina like a well-worn floor – but in a very lovely way. Some of the hex tiles have a bit of muted blue that matches my trim color perfectly. 
This floor mat is smooth to walk on (not slippery at all), but also has a nice rubber grip on the reverse side that helps keep it in place. This is a heavy traffic area, because facing this baking station is a set of stairs into the kitchen. But this mat totally holds up well! And I can't get enough of this retro mosaic on the floor!
Of course, I had the old bakery signs already. They were a gift from my husband many years ago and are totally authentic. But, adding a frame around them completely elevates the look. I can't believe I didn't do that sooner. 
We both have an obsession with old wood crates, but I find they are perfect for corralling items and organizing your countertops. When you collect something, it's nice if they have a utilitarian purpose too. Not everything we collect does!! Oh, I have a post about all the ways I use vintage crates for organizing here.
Floating Wood Shelf | Kitchen Island | Flour/Sugar Jars
Mixing pretty finds that also can be used is my favorite way to display our favorite vintage and flea market finds. I love finding old pyrex and glass serving and mixing bowls that I can actually use, but also looks pretty when shelf styling. 
Just for fun, I thought I would give you a glimpse at the rest of our eclectic kitchen. There've been a few changes here since we renovated it over 5 years ago. It's even been featured in a few magazines here and here.
We settled on this faded blue trim colour because I noticed how much blue was coming through the chippy paint. It was a clever way to help more of the blue emerge once we painted the trim.
See more of our kitchen renovations over the years here and here.
I still cherish the farmhouse style of this old reclaimed wood on the walls. We added another Corey Counter Stool above and I think it's a nice addition that suits this vintage farmhouse vibe in this part of the kitchen too. 
Hampton Marble and Wood Tiered Stand
And how about this stunning Hampton Marble & Wood Tiered Stand from Ballard Designs? It's a pretty fruit display for now, but will also serve as an amazing presentation for all the baked goods I'll be whipping up on my new baking station!
Here's another look at the before and after!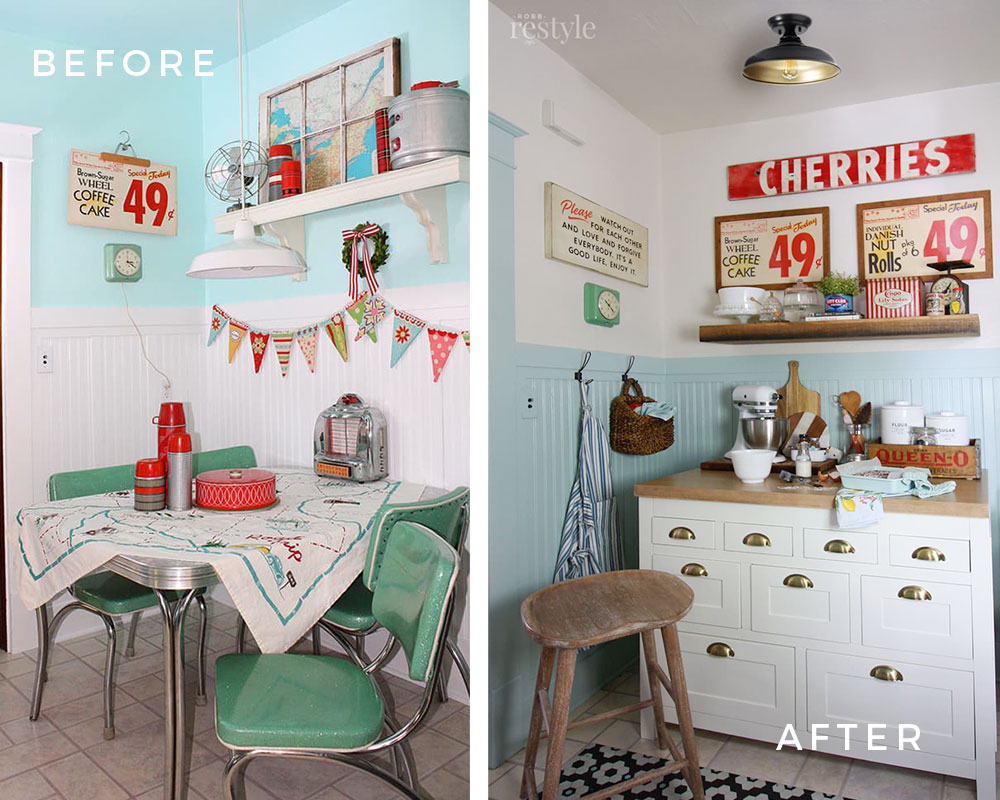 Since creating my new baking station, I've made this recipe for banana bread several times. I finally have a decent amount of countertop space for baking cookies, using my stand mixer, and even ample space for serving my delicious treats. This is one happy baker.
Turning this kitchen nook into a baking center with this Millstone Kitchen Island has been such a smart improvement. I totally dig a tidy organization project, but one that encourages me to bake more sweet treats for my family is a win-win in this household!
I hope I've given you some inspiration to create a more organized kitchen in your home too. You can find even more ideas and beautiful accents at BallardDesigns.com for your kitchen and dining spaces!
How would you use this island in your home – I'd love to hear your organization ideas!!
Stay tuned to see more of my kitchen makeover soon!