I'm back with another bedroom makeover… this time for my little niece.
I'm a mom of two boys. And I love being a boy mom.
Sure, I've had to learn to check the toilet seat before sitting down and I'm not much for following sports. Yay team, do the thing!
But, my boys love me back. They patiently explain Star Wars plots to me, teach me the names of all their favorite wrestlers, appreciate my creative skills (especially during school projects), hold the door for me without asking, and amusingly love shopping at the mall as much as I do. I think that last one simply makes them a chip off the ol' block. Ha! 
That doesn't mean I don't get to relish my girly side. Nope. Because I'm an aunt to some amazing nieces and on my side of the family… there's just 1 girl among 4 other boys. So guess what? We all enjoy spoiling this little lady.
And like all children, this little lady bug is growing up way too fast… My sister recently moved into a new house so it was the perfect time to refresh my niece's bedroom to reflect her little lady style with a Gold Star Stencil Wall.
Last summer I worked with Royal Design Studios. They provided me a starry night wall stencil but when it came time to work on my niece's room, some of the construction projects were behind and it had to be postponed. So I used it to stencil this patriotic table instead.
The Room Makeover
But alas, the time came to stencil her room.
My sister chose an amazing shade of mint green for the walls. I used Modern Masters Metallic Gold Rush paint (the 6 oz. bottle was plenty for these walls). It's a semi-opaque color with just the right amount of shimmer.
If you've been around here a while, you know that I'm impatient and haphazard. I didn't really measure the walls, just eyeballed it (and got lucky). We decided that one wall of the stencil was plenty. And I picked the only wall without windows since that was where her bed would be.
I think this gold star stenciled wall turned out fantastic! The stars resemble wallpaper and create a subtle statement wall for her room. The gold painted stars catch some of the sunlight for the perfect amount of sparkle.
We used a mix of new, found and repurposed items for her furniture and accessories. Someone gave us an antique twin bed so my mom painted it a bright and cheery pink.
The chandelier was from my old dining room before we went retro. My mom also painted it gold. My sister had picked up the little bedside table and a vintage market. The pictures on the wall were repurposed finds that we sprayed gold and updated the artwork. I love it when a plan comes together.
My sister-in-law got rid of some bedroom furniture so we added a coat of satin white paint to this old dresser for a classic look.
One of my most favorite NEW items in the room is this acrylic chair (aff: similar). Every girl's room needs one of these (including this girl writing the post). Oh, and that unicorn bust from Target… #swoon
Shop the room: Unicorn (aff)
The windows are adorned with simple white ruffle curtains and white pull shades. You can never have too many pom poms… so we added a little pom fringe trim to the shades and some colorful felt pom garland to the window.
This room design is so much fun and will grow easily with my little niece. But until then, there are still plenty of places to play and imagine. My niece loves pink, so painting the walls a complementary color makes all the pink accessories really stand out.
I love this room and I love this stencil. This wall is simply magical!
A wall stencil is a great (and remarkably easy) way to add some character to your walls without the need for wallpaper or more costly alternatives. Plus that semi-opaque gold paint is the perfect choice for a subtle shimmer.
How do you feel about stencils? Have you tried stenciling yourself? I really wish my old house had more feature walls (without windows) that I could experiment with. Until then, I'll continue to spoil this little lady and hope she doesn't outgrow her favorite aunt. 😉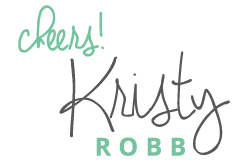 Linking up to these parties:
Creative Circle
Inspiration – Live, Laugh Rowe
*This post may contain some affiliate links for your convenience. Robb Restyle may receive a commission, but you won't pay a penny more. Thanks for supporting our flea market addiction. Click here to view our disclosure policy.*