I'm a child of the 80s. And to be honest… until recently when I thought of stencils (or the art of stenciling) my mind would fill with images of primitive decor and painted amish kids sitting next to bent willow trees with a heart in between them. I have memories of my mom dragging a ladder around the dining room to stencil a floral border on the wall near the ceiling. Many of you may have done the same. (She has since painted over them. She will read this and would want me to mention it. LOL.)
Today, however, I am sharing a project that will change your mind about stencils of the past. I'm talking about the modern, adorable stencils from Royal Design Studio. There are so many ways to use them to add a contemporary edge to any room in your home… and even your furniture!
** Sponsored Post: I was given the Starry Night Stencil from Royal Design Studio to review, however all opinions expressed here are completely mine.**
The Makeover
I love this drop leaf table. Again, this was something I picked up in our local thrift shop. I knew it would be a perfect fit for my Starry Night Stencil. We always celebrate Independence Day around here with our family and I wanted to create a special table for hosting our festivities.  
I started with a coat of Country Chic Paint's Bliss and then added a couple of coats of Midnight Sky for a layered effect when I distressed it later.
This is a wall stencil, so it is quite large. But with the table leaves pulled out, it made a great fit for stenciling the stars. I only had to move the stencil a couple of times.
I stenciled the stars in Country Chic Paint's Vanilla Frosting so it dried very quickly. I just used a sponge brush and really padded the excess paint off before applying it to the stencil. Less is always better when working with stencils. This is how it looked before I distressed it.
A Patriotic Patio Party
I was pleasantly surprised with how the Starry Night Stencil yielded a 50s retro look on the table top – it actually reminds me of the old formica-style kitchen tables of the past. It is a perfect holiday table for our July 4th party!
I also love the contrast of the bold white stars on the distressed blue paint.
With the addition of some "pretties" from my vintage collection, we toast America in style! When I said "around here" I actually meant my parent's backyard. We are fortunate to live within walking distance to the house I grew up in. They have a quaint little patio surrounded by beautiful landscaping and container gardens. This stenciled table was the perfect patio accessory  for the celebration!
Many of these old red, white and blue relics were purchased at the Urban Farmgirl Main Street Market last weekend. It's an amazing collection of vintage and handmade vendors from all over the Midwest. I hope to share more about this event with you later!
My mom loves minnow buckets as much as we do. The red advertising on hers looks super adorable with a geranium planted in it.
I gave this chalkboard to my mom as a Christmas gift and I update it for her with seasonal messages.
And it wouldn't be a celebration without a few fireworks on the patio! My little blog helper was happy to participate.
I can't wait to use this Starry Night Stencil from Royal Design Studio on more projects around the house. My mom and I are helping my sister makeover my niece's room and we are planning to use this stencil on an accent wall with mint and gold paint… So stay tuned! You won't want to miss this Starry Night Stencil used in a little girl room design.
This is your chance to rethink stencils… Accent walls, dresser drawers, porch floors, ceilings… there are endless creative possibilities! (and all without amish kids or willow trees – wink, wink!)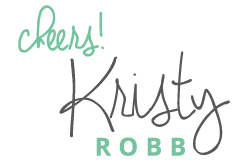 *This post may contain some affiliate links for your convenience. Robb Restyle may receive a commission, but you won't pay a penny more. Thanks for supporting our flea market addiction. Click here to view our disclosure policy.*