One of the things I love most about our kitchen space is this little eat-in nook. It's just big enough for a table of 4 and when we're all home at the same time, it's where we eat together!
I went for a more farmhouse-style in the main part of my kitchen, but I wanted to incorporate a retro feel in this space to fit in with my 50s laminate table that I refinished! This little kitchen space is brimming with retro-themed decor.
For the longest time, we left this table in the basement for kids to play around on. Then one fine day, I recovered one of the chairs and it left me with bloody fingertips and some serious frustration. If you've ever tried to work with vinyl on an upholstery project, then you know the struggle is real. It involves a hair dryer and some real muscle and sweat equity.
After that, I left the project unfinished for about a year. Then when we decided to freshen up this space with paint and board and batten, so I decided I needed to finish this table once and for all. And this little table is probably my most favorite restoration project. Ever. I LOVE the sparkly minty green vinyl!
And, I love how this entire space came together and I'm able to display some of our vintage favorites from our collection.
I had a chandelier here before we painted, but it didn't feel retro enough, and I wanted to tie the farmhouse side of the kitchen into this side so we replaced the light with a matching replica barn light. (see source list below)
This is one of the first windows we repurposed with maps. I chose this map of Canada because it had a wonderful array of blues, reds and yellows.
Shop this room:
Pendant Barn Light  //  Tablecloth Similar and Similar and Similar
I found this adorable table cloth while on vacation in Wisconsin and fell immediately in love with it! This pattern screams all things I love – aqua, campers and maps!
Oh, my little aqua door. Our house has three main staircases going through it – from the basement to the attic – one on top of the other. This little door heads down to our basement. I love the little pantry doors that I see on Pinterest, so I decided to give this one some character too with my favorite color.

We purchased this letter R from a vendor at the holiday Hobnob Market last year. It's from an old circus sign. It's a lovely addition to our collection of Rs around the house.
A few years ago, my husband gave me these old bakery signs for Christmas. They are my most favorite vintage signs! Since they are cardboard, I just used an old wood hanger to hang it on the wall. And, of course, my husband insists on replacing all our light switches with the retro push button style. Sometimes the little details make a difference too.
So, that's our little retro kitchen space. Do you collect anything and has it inspired the decor for a room in your house? I would love to hear about it!
Oh, and be sure to make plans to visit us at the Hobnob Market on November 20 and 21. We will have lots of cute little window maps and vintage thermoses for sale – so you can decorate your home with them too!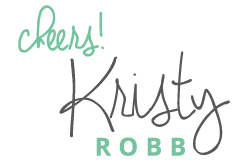 *This post contains some affiliate links for your convenience. Robb Restyle may receive a commission, but you won't pay a penny more. Thanks for supporting our flea market addiction.*
Linking up to these parties: