Whenever I ask another DIYer about painting their upholstered furniture, I would get mixed reactions. Some loved it. Some hated it. However, they all consistently complained that the process was laborious.
And while I love updating an old chair with new fabric, I think reupholstery can be super strenuous too. Like this cowhide chair I once covered, for instance.
When it comes to reupholstering, I'm self-taught and not crazy about spending days and days on one piece of furniture. So typically I only tackle DIY chair upholstery projects that are on the simple side. And also allow me to cover my mistakes with nail-head tacks and/or fabric trim. Like this grain sack chair I once covered, for instance.
But. This chair. I loved it from the minute I spotted it in our local thift shop.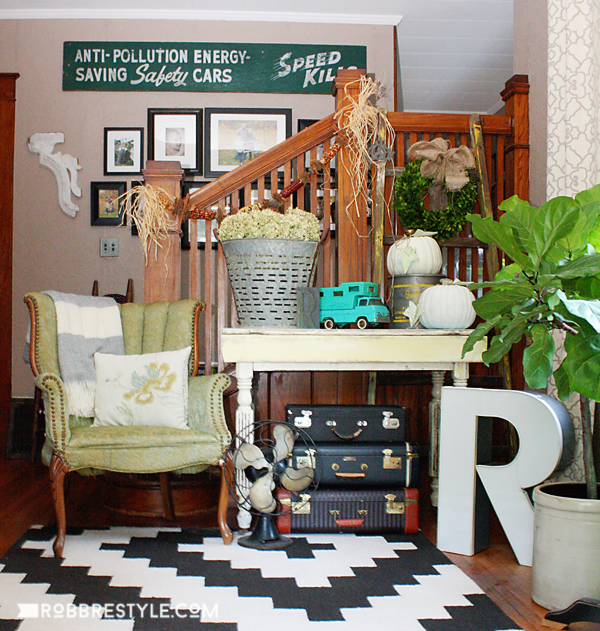 I loved the sea-shell like shape of the back. The fabric was a faded pea-green brocade and I knew this was beyond my upholstery skill set. But I'd also been seeing lots of DIY-ers tackle fabric painting. And you know how I love to paint things.
But then, when I asked a few DIYers and the reaction was mixed, I backed off… what if I messed up this chair? How would I fix the painted fabric? What would I do with it, if it turned ugly? So I dragged my feet.
I was looking for a no-fuss way to paint fabric.
Then I read this post from one of my Haven DIY Conference friends, Kellie from the Design Asylum Blog. I had worked with her Velvet Finishes paint before here. I loved that it was a no-fuss paint – as in no sanding, no priming, no prepping, etc.
But fabric? I had no idea it worked effortlessly on upholstery too!
So I grabbed this lovely bold & classic green, called Baroque. Then I dragged this chair outside and started painting it outside on a breezy summer afternoon.
I agree with other DIY-ers that the key to painting any upholstery fabric is to choose a low-nap fabric. In this case, this old brocade fabric was very smooth.
It was super easy to paint. I didn't water down the Velvet Finishes paint at all. It only took two solid coats and this chair was completely covered… I used a brush because I could apply more paint that way. Sometimes I had to press the brush to get into all the grooves of the fabric. But that was the most effort I had to apply. The paint covered the fabric so well.
With the summer breeze, it dried quickly and was very smooth to the touch. I followed the recommendations of Velvet Finishes and applied a very light grit sand paper at the end. The result is a very smooth leather-like finish. And I couldn't be HAPPIER with it!
My husband was curious about the color I chose. I explained that I was aiming for a vintage home library design – think Ralph Lauren home decor.
Bring out the old maps and globes. This color is a perfect match.
Once our living room is finally painted this summer, I think this green chair will pair nicely with my navy pillows and accessories.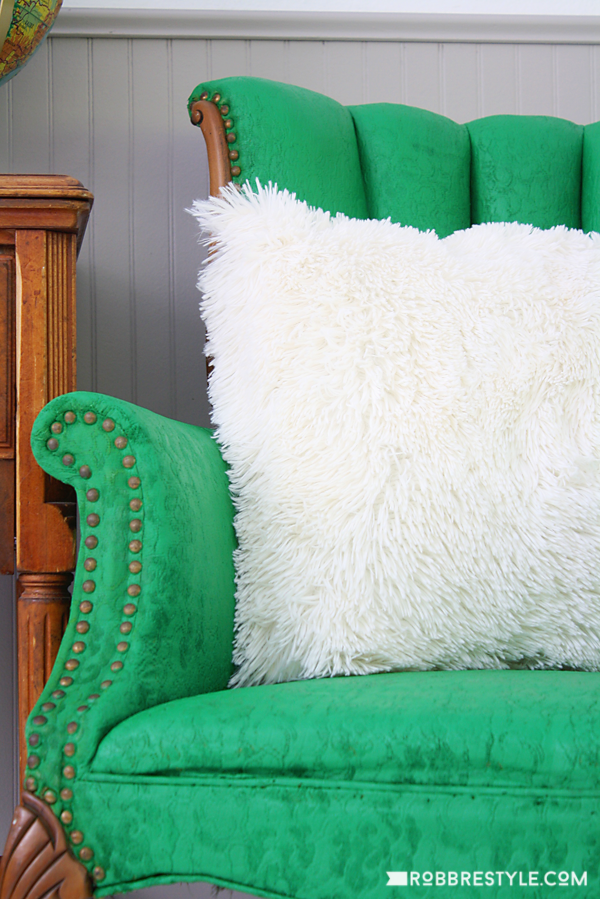 I feel like I say this all the time, but it's true. I'm impatient. I wanted this project to be effortless, so I didn't remove the nail heads before I painted. I simply painted over them generously and wiped away the excess paint with a damp cloth.
Not perfect but not bad, eh?
I love that this paint finish had a little sheen to it once it dried. It looks elegant and finished. And I didn't have to do any extra prepping or adjust the paint with fabric medium or water. I just painted it on. Easy-peasy.
A few of our flea market finds made it into our decor … and you know how we love sharing that with you.
Like these brass bookends imported from Italy. Just paid a few bucks for them at the flea market. They make the perfect accessory to these old school books that once belonged to my husband's grandmother.

What about this industrial-style wheel? I've seen plenty of replicas – but this is the real deal! And it weighs about 25 pounds!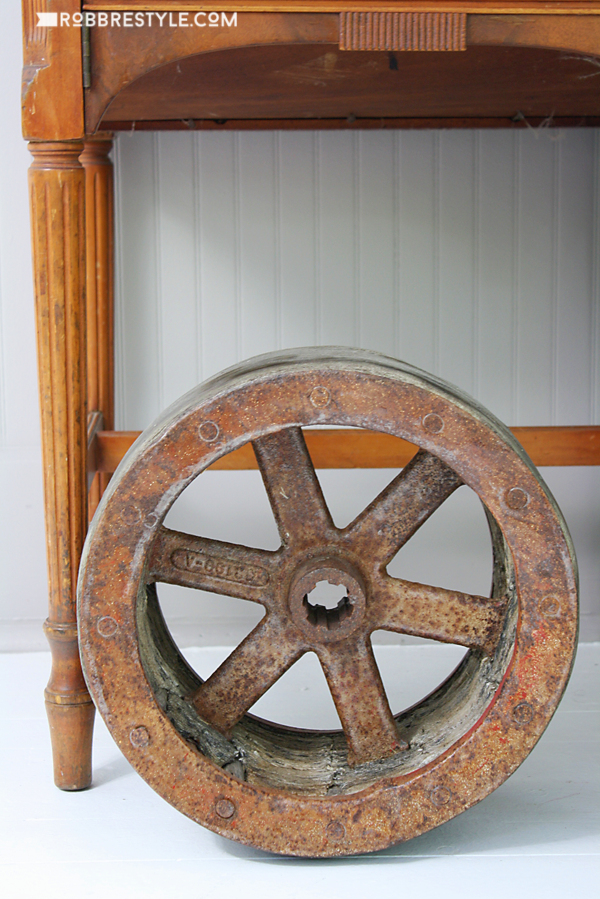 Do you have a piece of furniture that you aren't sure you can reupholster yourself? Give this paint a try. It's easy to apply and looks fabulous – it's a DIY project for an afternoon! Start in the morning and you'll be adding new pillows and decorating around your furniture by evening. No kidding.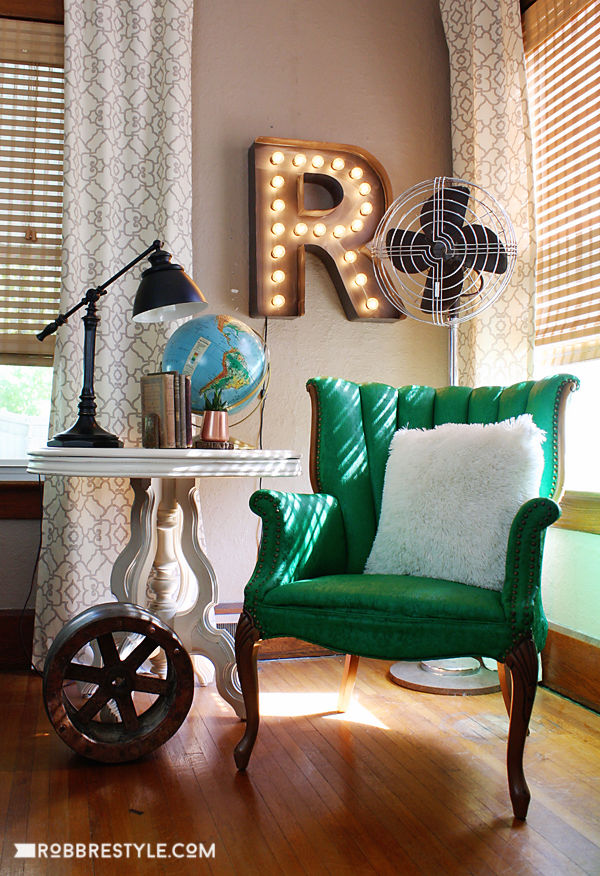 By the way, this is NOT a sponsored post. I purchased this paint because I had used it before and love a no-hassle product when I find it. Period. There are some amazing Velvet Finishes colors to choose from… I'd love to see your projects so please share if you give this a try!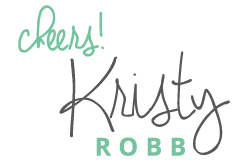 *This post may contain some affiliate links for your convenience. Robb Restyle may receive a commission, but you won't pay a penny more. Thanks for supporting our flea market addiction. Click here to view our disclosure policy.*