Hello and thanks for joining us in another Behind the Blog series. Today we are all sharing our favorite blogs.
Let's just start by saying this was a tough one for me. I read/skim/browse/save many blogs and I enjoy so many of them. Just like our eclectic home decor style, I'm all over the place when it comes to themes I like read about.
I love reading about fashion, makeup and hair tutorials and testing them out. I love cooking up a new recipe I found on a blog. I am always interested in thrifty DIY and home decor ideas. And finding others who are as fond of decorating with vintage finds as I am? Well that's like the icing on the cake.
My mom and I often have this discussion that we wish we had blogs to read and devour when we were new moms. My mom stayed at home with us until I was about 12. She said she would have loved to have an outlet to interact with other moms and bloggers to find new recipes, get thrifty ideas for decorating and just have a little community of people she could get to know and interact with after the my brother and sister and I went to bed…
I remember hearing about blogs in the early 2000s. Part of my job in marketing (early on) was to look for negative mentions of our company in blog posts. It was a pretty small task at the time. Sure, there were more blogs around by the time I had my children but nothing like the blog community of today. Heck, iPhones weren't even a thing when my boys were babies. My kids don't even know how to comprehend life before iPads. Sometimes I have a hard time too.
Anyhow, this is a very, VERY refined list of my favorites. I'd like to think of this list as the "if you were stranded on an island and could only read these blogs" kind of list.
Here are my favorite picks for hair, make-up and fashion.
To be honest, this is probably one of the very first blogs I found after I joined Pinterest. I loved her video hair tutorials and it was easy to get to know her. Kate has a knack for making you feel like she was your bestie sharing her favorite tips with you. She truly is one of the pioneers in video blogging.
Sheaffer is so adorable and funny! Like Kate, she feels like a friend sharing her must-have outfits and sales with me. I primarily catch her posts through Facebook and since I love clothes and sales – this is a perfect blog for me!
Here are my favorite picks for home decor.
I love everything about Emily's blog! I could devour pictures of her room designs for hours. I enjoy reading her Saturday Six posts where she groups 6 things that caught her eye recently like room designs, clothes, stories, etc. Her style is impeccable and her posts are mindful. She seems like someone I would like to know in "real life" and I actually learned about the Haven Conference after reading about it on her blog.
If ever there was a blog that I felt kinship to, it's this one.  It is probably one of the most unique home blogs I've found. Of course, I adore Donna's eclectic and rustic aesthetic. I love all her repurpose ideas and she inspires us to find ways to use our vintage decor in our own home decor. In fact, her kitchen post here helped inspire some of my kitchen decor here.
This is my favorite vintage styling blog. Brynne is a maker and finder like me and we met briefly at a Haven a few years ago. She also has my most favorite link party to participate in called Thriftscore Thursday. Her style is eclectic and abundantly creative. Her house transformation is a must-see, especially her green couch! I enjoy following her on instagram too. She even featured my window map project in a project guest post here.
Here are my favorite picks for creative advice.
Not only do we share the same name, but Kristie helped me move my blog from Blogger to WordPress in 2014. It was really a seamless transition and she was easy to work with. I've enjoyed following her posts and utilizing her resources ever since. If you are considering starting your own blog, Blog Ambitions is a great place to start!
I have always been a bit obsessed about fonts and lettering – that's the graphic designer in me. And most recently I've become totally crazy about hand lettering! I have nice handwriting and love to make signs, so I think this would be a natural progression for me. Dawn is an excellent teacher! She has her own book, amazing video tutorials and gobs of resources on her blog. She's an amazing artist who shares a lot of freebies too!
Here is my favorite pick purely just for fun.
I don't even remember how I found this, but I LOVE IT! It might not be considered a blog since it's more of a Tumblr account. It's sassy, sarcastic and totally clever – spoken in the voice of Suri Cruise. I am pretty celebrity-obsessed myself and enjoy keeping up with my favorite stars. This blog follows the children of said celebrities. If you like a good laugh, this is a must-follow!  Here's a pic from my own star-encounter a few years ago. Oh Mario, you were looking at the wrong camera but you did give me a free hug! 
I hope you found some new blogs to follow and enjoyed getting to know me a little better by the blogs I read. Thanks for joining us again and be sure to visit the other bloggers in this series: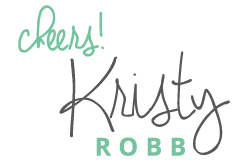 *This post may contain some affiliate links for your convenience. Robb Restyle may receive a commission, but you won't pay a penny more. Thanks for supporting our flea market addiction. Click here to view our disclosure policy.*