Transform your neutral decor with a bold and colorful area rug. I'm decorating with a bold pink rug. Plus, here are some of my favorite and affordable area rug ideas for your home.
Please tell me I'm not the only one… I fear rugs with bold colors. I always have. And I don't know why.
This might surprise you. Because I'm not afraid to paint and decorate with bold colors. I mean look at this bedroom and this door and this chair. But rugs for my living room? I usually stick to the neutral colors. Gray. Ivory. Taupe. BOR-RING.
Here's the thing. We finally painted our living room this summer and I chose a light shade of gray. Gray! We don't normally choose plain colors. No offense to those of you who love an all-white farmhouse look, but that's just not our thing.
Updated 2019: My living room has changed a bit since this post, see what it looks like here.
This is only the second time we've painted this room in the entire 14 years we've lived here. And, I wanted a cooler tone to contrast with the warm wood tones on the trim and floors. Even as the first coat went on, I wasn't sure it was right. But we did it and I am happier at how much brighter the room seems.
Here's a look at the old brown walls and neutral rug before. It's not terrible and it is still a pretty rug, but it wasn't making much of a statement. It blends in with the rest of the room.
And frankly, I was bored with it.
Do you ever get bored with your space and want to make a bold impact that doesn't involve painting or major construction?
Affordable Pink Area Rug
Choosing a bold and colorful area rug is an easy way to transform your space. And by bold, I also mean affordable because who wants to spend thousands on decor? Not us.
Today I'm happy to be collaborating with NuLoom. They provided me with a beautiful (and bold) rug to our neutral living room in exchange for sharing my honest thoughts with you.
Click here to view our disclosure policy.
After browsing NuLoom's wide selection of unique and affordable rugs, I decided on a bright pink rug (Vintage Medallion Dortha) for my newly painted living room. And I can assure you that when I told my husband I was looking for a pink rug, he gave me a funny sideways glance. But he didn't say a word. 😉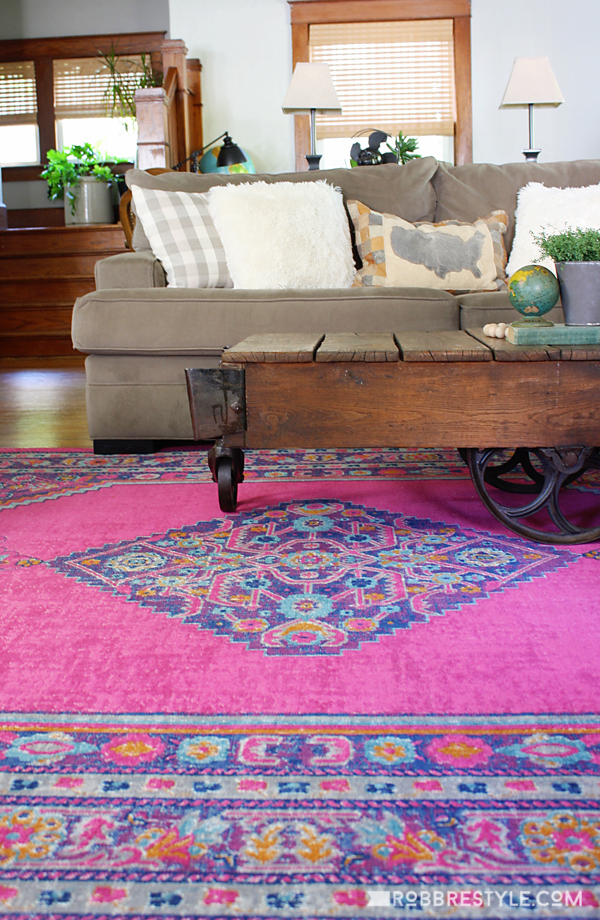 Because we decorate with an eclectic mix of vintage goods, I was afraid that a bold rug would be too much. On the contrary, it brings out the other colors around the room in a very pleasing way. And, I think it seamlessly blends the industrial, vintage and old house charm together in a cohesive way. Not an easy task.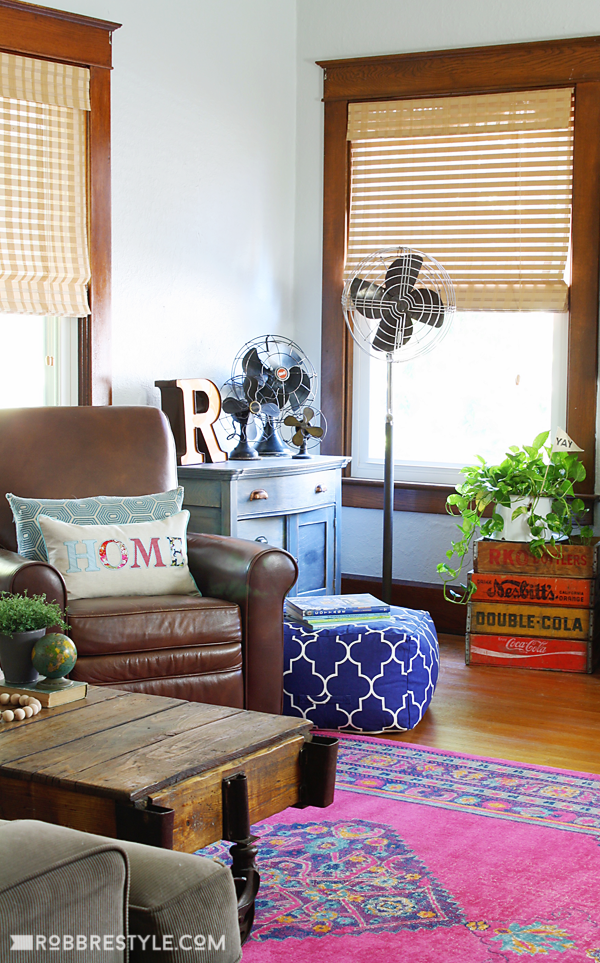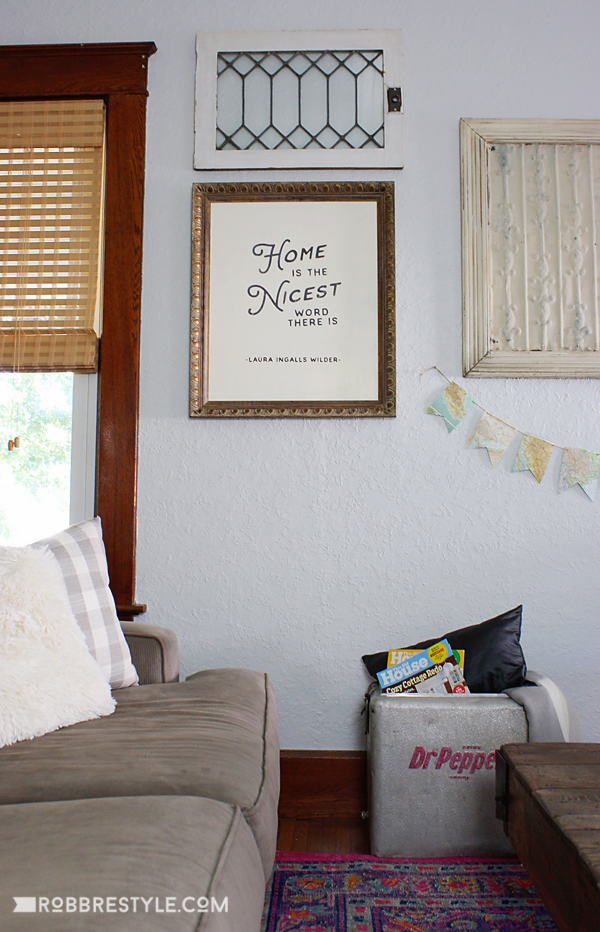 Incredibly this rug has entirely transformed this room. It brings out the wood tones in a way that feels really warm and cozy.
Did you know that adding a bold color to the floor could do this? You should give it a try!
Here are a few more of my favorite and affordable NuLoom rugs that will brighten and rejuvenate even the most neutral decor setting. All of these choices are bold, colorful and under $500 for an 8×10 sized rug.
Affordable and Bold Rugs (for neutral decor)
What's great about these rugs is that they coordinate with a lot of textures and styles. Don't try to be matchy-matchy when adding a bold rug. Just try to think in big, overall color themes or choose one color in the rug that resonates with your room.
Before my new rug, there wasn't a single pink color in the room. However, the rug still manages to breathe new life into the warm tones and textures of the room. And also BECOMES THE PINK DECOR in the room.
This is your chance to get creative. The point is to create a statement with color, rather than trying to find a bold rug that matches color for color. Remember – you are trying to liven up your neutrals! 
 I hope my pink rug inspires you to add color to your space and dispel your fear over bold floor choices. This guy isn't particular about the color of my rugs. But he does look pretty darn cute on it!
Do you fear bold rug choices like me or are you good at choosing area rugs? I'd love to know if you feel the same way!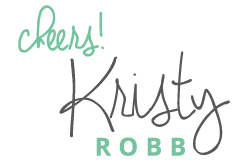 *This post may contain some affiliate links for your convenience. Robb Restyle may receive a commission, but you won't pay a penny more. Thanks for supporting our flea market addiction. Click here to view our disclosure policy.*
 P.S. Even if you're not ready for a bold rug yet, just pin the image below for later! You'll be glad you did.