Some years the fall season creeps up on me like a snake in the grass.
Not this year. Maybe it's because we recently painted our living room – after like 12+ years. And it feels like having a blank canvas to work with. I really do love fall so… as soon as the kids were back in school, I started pulling out pumpkins and fall decor.
Hello fall. This year, I am jumping in with both feet. Even if our leaves are still a bit green.
I'm so happy to be collaborating with Michaels and DecoArt this fall for a project using their Americana Decor Satin Enamels. They provided the paint and I came up with the project.
Click here to view our disclosure policy.
Of course, I already love their paint and I've been on kind of a blue kick lately… remember this post with Americana Decor's color stain? So, I chose Americana Decor Satin Enamel in Dark Denim. Seriously – when I saw the word denim, I knew this was the color for me.
I love the look of navy in my home decor but sometimes the paint color is so dark it looks more black than blue. This Dark Denim color is a really deep and rich hue. It has the feel of navy but definitely blue and very denim-like.
Speaking of denim. It's still hovering around the upper 80s here in Indiana. Too early for jeans? Nope. I'll happily sweat in my jeans if it means I can finally cover my pasty legs.
Farmhouse Flower Box
It has been fine weather for the flea markets though. And that makes us happy. We've been gathering lots of boxes lately. We always love a good soda box, but we will pretty much pick up any box we can get our hands on.
This particular box was a $3 find. Old wood boxes are such a great way to bring a little farmhouse style to your decor. Plus, they are great for storage, hiding things, and tabletop centerpieces.
But the wood on this one wasn't anything special and there was no advertising or lettering on it. So I decided to give it a coat of Satin Enamel Dark Denim and add some vintage-style lettering in Satin Enamel Pure White. Oh, and I distressed the box a little for a very vintage vibe.
From flea market to fixer upper.
I keep seeing these fixer-upper style flower market buckets everywhere! I love that the stencil actually looks like a stencil with the connected letter pieces. So I used my Silhouette Cameo to cut a similar stencil, as it might have appeared for an old flower market, and painted it with Pure White.
If you don't have a vinyl cutter though – don't sweat it – just pick up some stencils from Michaels (in two different sizes). The beauty of this project is that it's supposed to look like a stencil. 😉
Then I simply filled the box with fall goodies.
Funny story. When I finished the box I called my mom to borrow some flowers because she always has a fresh bouquet on her table. And of course, she had just picked up this bouquet of sunflowers at Trader Joe's. (why don't I do that more often?)
I texted her a photo of the box and told her I needed to take some pics of it with the flowers. She fell in love with the box on the spot and offered to buy it from me… texting, "you can't keep everything for yourself" – ha, ha!
So, I gave her the box! She is my number one fan after all. ❤️
And here it is in her little entryway decorated for fall. My parents still live in the house I grew up in – a late 19-century victorian. Her style is impeccable.
I love how the stencil letters match her dresser numbers too! I'm sure she noticed that too.
One of my favorite features of this house is the original curved staircase. When we first moved into this house all of the woodwork was painted a drab green. My parents painstakingly stripped and stained all of it. The DIY bug comes naturally.
This is a simple project you can do in a few short hours – say, after you get home from the flea market with your new finds! It's a fantastic way to transform an old box into fixer-upper style home decor that can be used far after the leaves have turned.
Where else would you paint this farmhouse-style flower market stencil? I'd love to hear your ideas – so comment below! Oh, and don't forget to pin the image below for later.
Happy fall, friends!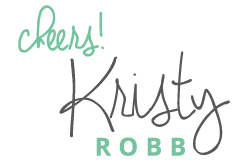 *This post might contain some affiliate links for your convenience. Robb Restyle may receive a commission, but you won't pay a penny more. Thanks for supporting our flea market addiction. Click here to view our disclosure policy.*