Have you ever tried to stain furniture yourself?
Before we met, my husband would buy old furniture pieces (many of them antiques). Then he would strip and stain them – a laborious process if you ask me. I didn't have that kind of patience.
Give me a rough piece of furniture and some paint. That's all I need. I can get it prepped and painted almost immediately. Add some distressing when it's dry. Call it done. Move on to the next project.
DIY Color Stain Project
But sometimes you find a really cool piece of furniture that begs for stain. It's a beautiful hardwood with delicate wood grain peeking through. And you just can't imagine painting over it. Meet my little oak sideboard.
Most of the prepping labor was already done on this little cabinet. Yay me!
This oak sideboard had already been sanded so I just went over it again. It was also in need of a little repair (my hubby helped fix the drawer for me). You know me, I like to buy broken pieces. They are a better fit for my budget.
Color Inspiration
My color inspiration came from my Grandin Road spring catalog. They have this wicker chair that comes in an amazing shade of blue called Vintage Denim. It's a mix of chambray with some gray tones and a little distressing. I really wanted to replicate that color on this cabinet – giving it a farmhouse aged look – without paint.
That's when I discovered the NEW American Color Decor Stains from DecoArt. They have an amazing selection of colors. But, I couldn't just pick one.
Step One: The Blues
I mixed a 1:1 ratio of Americana Decor Color Stain in Chambray and Navy. Then I painted my sideboard lightly with a brush.
I love that the color is bold, yet semi-transparent. The wood grain is still visible. The color stain actually reminded me of a thin paint, rather than a more traditional stain so I found it very easy to use and apply. It dries fast so work in small areas.
Vintage Denim is really reminiscent of a weathered piece of outdoor furniture. Once the entire piece was dry, I sanded it lightly to distress and lighten the blue for a more timeworn look.
Step Two: Gray Overlay
Next I painted a coat of Americana Decor Color Stain in Ash Gray. This time, however, I painted a heavy coat and immediately wiped away the excess with a towel. This helped tone everything down and push the gray color deep into the grooves of the wood. Again, work in small spaces at a time.
That's it. The color stain has a built-in sealer so once it dries, you are done! I have finally met a stain I can work confidently with. This stubbornly impatient DIY girl is impressed.
This sideboard looks like it was meant for my parent's new bedroom. Seriously.
This room is so on-trend and stylish. From the bed, to the rug, to the lamp, and that amazing luxe bedding from Ballard Designs! My mom pretty much rocks with decor! She designed this entire room herself.
We dug out some vintage drawer pulls – old and mismatched – perfect accessories for this weathered piece. The color is a soft and subtle blue-gray. You can really see the delicate wood grain.
NOTE: the center door panel had been replaced and glued securely with plywood. Womp, womp. So I decided to paint it with chalkboard paint. It was a quick fix and I really like how it compliments the blue. I didn't end up writing anything on it though. Sometimes simple is better.
Like what you see? Shop the room here:
Bed (similar)  //  Bedding (similar) // Vintage-style Lamp (similar)
Rug (similar)  // Felt Pom Poms (similar)  //  Gold Wishbone (similar)
You know how much I dig old-house eye candy?! Well, my parent's house was built in the late 1800's so it has some cool original features still intact, like this intricate door hardware. Amazing, right?!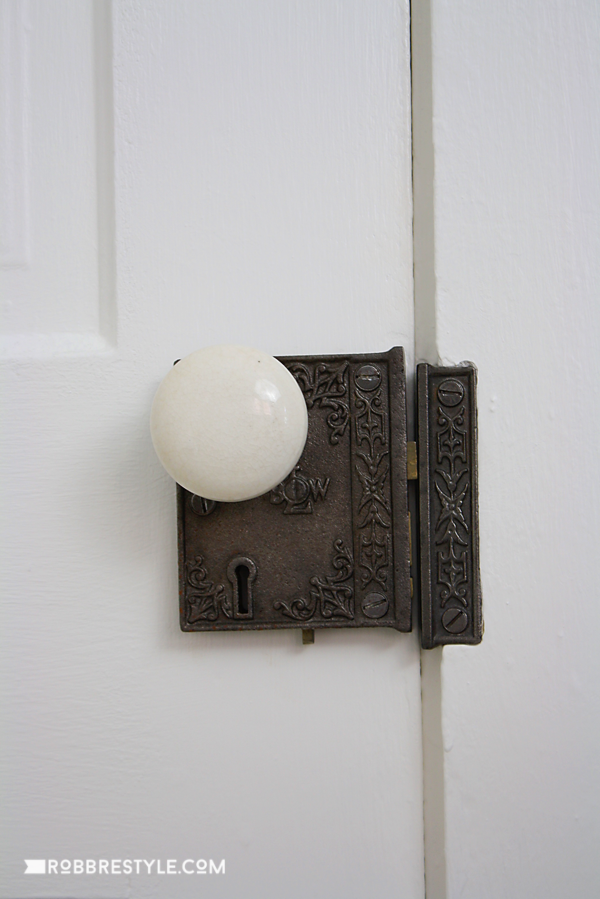 I like the look of painted furniture. Especially distressed and chippy. But this unique weathered look I created by using the Americana Decor Color Stain is so, so lovely – I want to stain all the things!
You are going to want to turn your hardwood furniture pieces into gently-aged farmhouse styled furniture with this color stain! I just know it. Check out the colors here and comment with your favorite! The color stain is currently available for purchase in select JoAnn Fabric stores.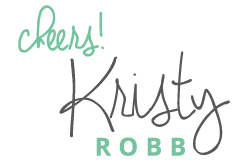 *This post may contain some affiliate links for your convenience. Robb Restyle may receive a commission, but you won't pay a penny more. Thanks for supporting our flea market addiction. Click here to view our disclosure policy.*
Linking up to these parties:
Brag About It Link Party
Remodelaholic Beautiful DIY Projects
Mad Skills Tutorial Link Party