My husband knows I change my mind. A lot. He's learned this about me over the years.
It's not that I'm a terrible decision maker, but rather I like variety. I love to change things up. I get bored easily.
It's why I invested in those little furniture mover disks. The last thing Corey wants to do when he walks in the house after a long day is to move the living room furniture around. Again. I've learned this about him over the years.
Our living room is long and narrow, so it can be a challenge finding a good fit for the furniture that is cozy, not crowded. We also have a staircase that leads into the room near our front door. I have always loved two-story homes with exposed staircases. And this little half-staircase is no exception.
Since it's the first thing our visitors see when they enter through the front door, I like to give special attention to the details in this space. In fact I change it almost as frequently as the seasons themselves. LOL. See what I mean?
Anyway, I thought I would share the history of this little staircase to give you ideas for decorating your own set of stairs. I have learned a few tricks over the years on Pinterest too… and I'm hoping you can spot the progression.
The earliest styled photos I could find were from 2012 when I was just dabbling in the blog world. Apparently I also was experimenting with photo effects too. Yikes.
What can I say about this little set up? Hmm. I think I was going for simplicity? Not bad. But not a bold statement.
Let's fast forward to the 2013 holiday season. I definitely think the vintage suitcases look better on the dresser, instead of the floor. The height of this little vignette is a better scale for the staircase. I love using an old ladder to hang my wreaths.
In 2014 I definitely opted for variety because I changed this space pretty frequently. Here's a picture from the summer of that year. I had just painted this vintage desk with Miss Mustard Seed's Milk Paint in Kitchen Scale. I love this color and thought it was a nice contrast to the unpainted wood on the staircase. I hadn't found a stool for the desk yet.
Sometimes I move things around because I'm crafty. In the fall I had painted gold chevron on this vintage mirror and whipped out a festive wreath to boot. What better reason to change things up again?
The placement of our Christmas tree often dictates changes to this space. I used to put the tree in this area but when we sit on the couch in our living room, our backs were to the pretty tree. Not very festive. So in 2014 I moved the tree to the other side of the living room.
That meant this little white table needed a new home for the season. I really like how it tucks into this corner. It left some space for our Pottery Barn stockings.
And now we visit last year – 2015. I found this chair in the fall and while I'm not a fan of the pea green fabric, it does make a nice earthy accent for fall with my bouquet of dried hydrangeas. We switched out the tables again so I would have someplace to display my DIY faux-painted pumpkins. Oh, and I picked up that darling vintage camper over the summer. I love the pop of aqua in this little vignette.
For the holidays, I didn't make any dramatic styling changes. I used the same pinecone garland but added a little more greenery this season too.
I switched out my olive bucket with a woodland christmas tree instead. Olive buckets are so versatile and I wish I could find more vintage ones! Here's a cool replica olive bucket. They make a great vase in any season.
After the holidays I moved my living room around yet again. I got bored one night when I was cleaning and my husband wasn't home. Nothing surprises my him anymore. I also added a lamp here since we finally have all our electrical upgrades complete around the house.
To be honest, this is probably my favorite staircase styling to date.
But will it stay this way? Only time will tell.
So tell me, do you think I'm crazy? Wait. Don't answer that… Instead, tell me which is your favorite? What you would you change about this space? I'd love to know… in case I decide to move things around again (wink, wink).
Thanks for stopping by!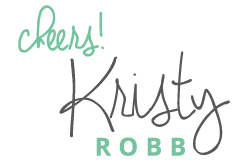 Linking up to these parties:
Creative Circle
AKA Design Weekend Retreat
*This post may contain some affiliate links for your convenience. Robb Restyle may receive a commission, but you won't pay a penny more. Thanks for supporting our flea market addiction. Click here to view our disclosure policy.*