Don't pass up one of these retro kitchen relics at the flea market (or in grandma's attic). It's easy to recover your vinyl step stool with a heat gun and make it a modern addition to your kitchen.
According to Better Homes and Gardens, every well-disposed housewife of the 1950s had to have one of these Cosco step stools in their kitchen. I mean, how else was she supposed to sit pretty AND reach those pyrex dishes on the top shelf?
I consider myself a modern working mom, but I can still appreciate some aspects of the 1950s housewife lifestyle. Traditional conformity (and wearing high heels while cooking dinner) was the ideal back then and even though that's not how I roll, I do have one of these step stools in my kitchen.
*This post is sponsored by Wagner FURNO 500 Heat Gun. I was compensated for this post, but all opinions and creative inspo are all mine! This post may also contain some affiliate links for your convenience. Robb Restyle may receive a commission, but you won't pay a penny more. Thanks for supporting our flea market addiction. Click here to view our disclosure policy.*
Mine isn't the vintage version, but a pretty good replica. I've actually had this for about 15 years, so it's still pretty old. I had long tired of the yellow color and really wanted to bring mine back to a vintage sparkly vinyl look. Like I did a here with my retro dining table set.
I recovered those sparkly vinyl chairs in my kitchen and had some white vinyl left over. And, since I finally got my hands on a new heat gun, it was time I tackled my vinyl step stool makeover. Keep reading for all the how-to details and why my Wagner FURNO 500 heat gun makes this project SO MUCH EASIER.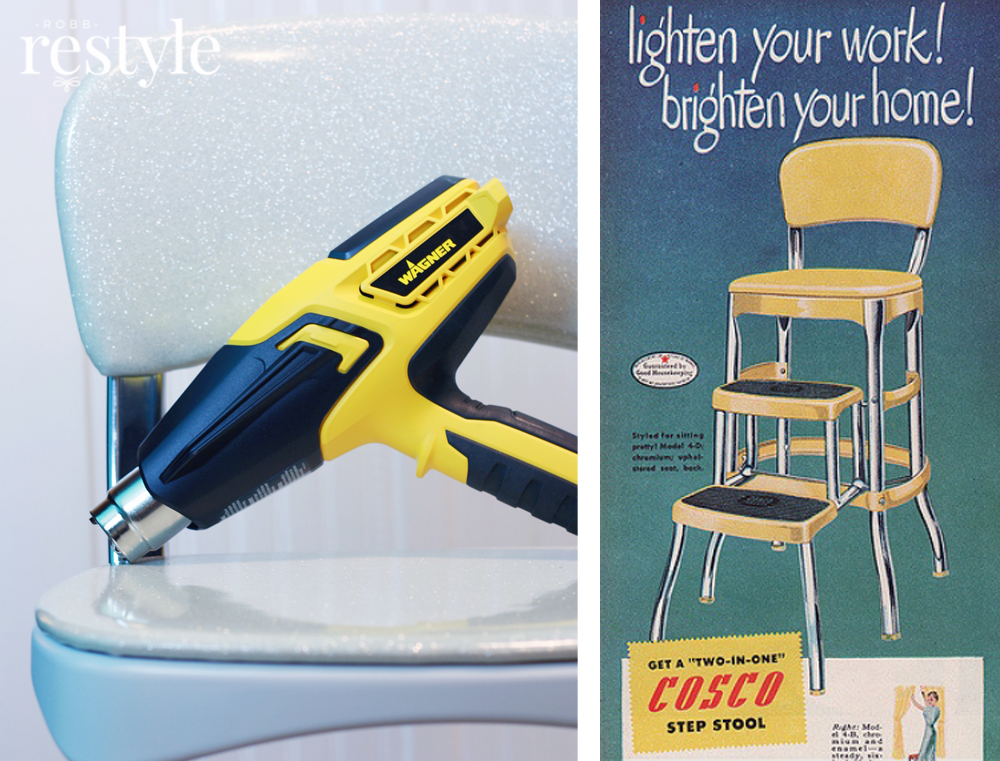 Before I get started on this DIY tutorial, don't forget to visit these other great home decor projects that are made easy with a FURNO 500 heat gun from Wagner. As far as power tools go, this one is easy to use, runs about $35 and has tons of handy applications around the house!
Even more heat gun projects:
Hunt & Host bent plexiglass with her heat gun for cool 3D wall art.
See how Seeking Lavender Lane weathered wood with her heat gun for a gorgeous furniture finish.
This tutorial from Atta Girl Says will show you how to master removing with wood veneer with a heat gun.
Supplies Needed
Here are the supplies you'll need to start your DIY Vinyl Step Stool Project.
FURNO 500 Heat Gun
Staple Gun
Vinyl material (Here are tons of colors/options. My chairs are sparkle vinyl turquoise and this step stool is sparkle vinyl silver)
Scissors
Screw driver
How to Recover Vinyl
First you'll want to take apart your step stool. Don't worry, it's a pretty simple puzzle. All the pieces really only fit back together one way, but take a photo of your step stool first so you have a reference. You could skip this step if you wanted to spray paint the entire thing, but I really wanted to keep the legs chrome and unpainted.
Here are the parts you'll want to paint if you are changing the color of the vinyl. You'll also need to unscrew the vinyl seat and seat back from the base. There are visible screws on the back.
Since I am using white sparkle vinyl, I needed to paint these pieces white. I just used spray paint because some pieces were plastic and some were metal. I also taped off the black rubber step tracks to avoid getting paint on them.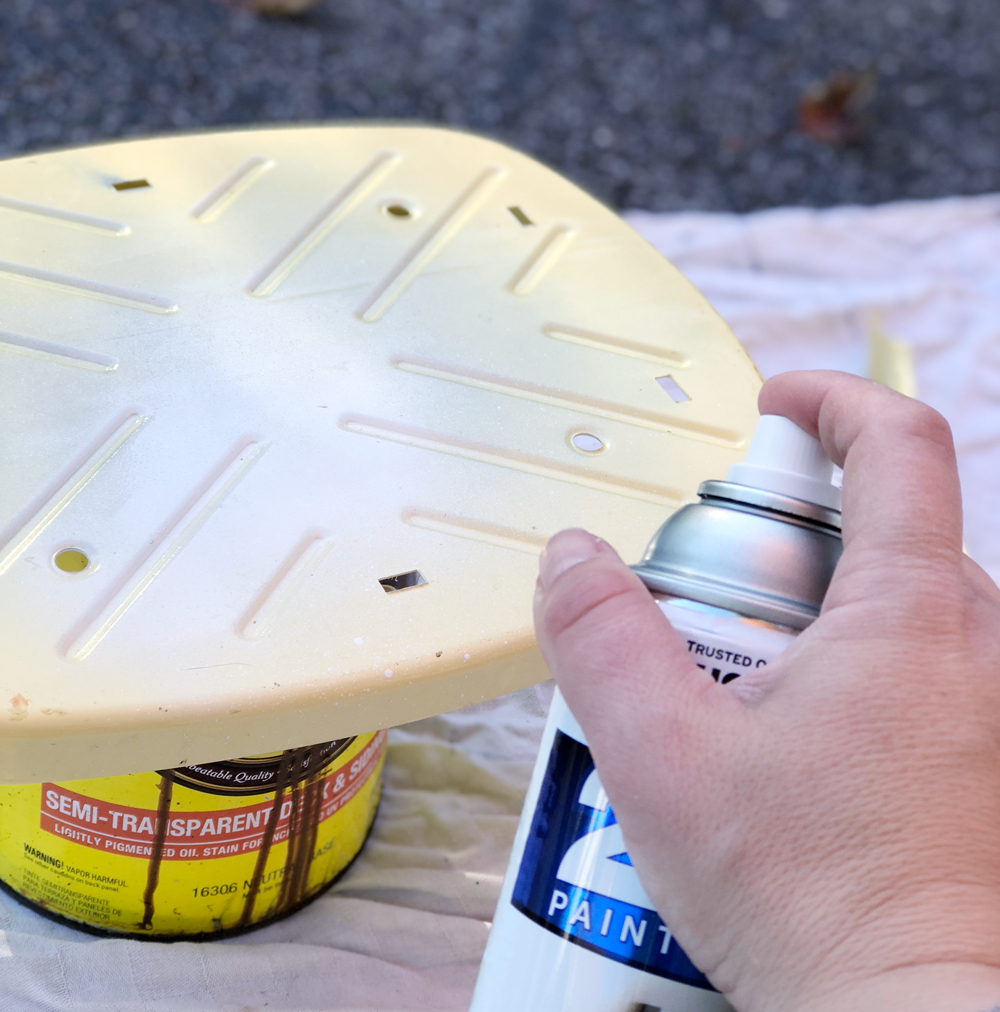 Next is the fun part!! Once all your pieces are dry it's time to recover the seat back and seat base. They are made of plastic so you can use a regular staple gun with really short staples to attach your vinyl. Since my step stool is a replica, it was actually covered with oilcloth instead of vinyl. So I didn't need to remove it first because it was very thin. You may want to remove your old vinyl, especially if it has tears or rips in it.
First, turn on your FURNO 500 heat gun. It has 12 settings between 150 and 1,200 degrees Fahrenheit and an easy-to-read interface. I started with airflow mode low at 750 degrees (4 bars) but found that once I got going, I only needed it at 550 degrees (or three bars). It's so easy to adjust as you go.
Then you simply hold the heat gun up to the fabric until it heats up and becomes more pliable. This is the really key to using a heat gun in this project. Vinyl is not as flexible as you think when trying to recover flat shapes with round edges. And you will want a solid and smooth finish. The heat helps you pull it more taut so you can staple it.
Feel free to set your heat gun down with its side supports and integrated stand – perfect for switching between your staple gun as you go.  Plus, the accuracy of the heat is way more efficient for a project like this. I have seen other tutorials that use a blow dryer for vinyl upholstery, but I can tell you that the heat is not as consistent or precise with a blow dryer. A heat gun is a MUST for all your vinyl upholstery projects!
When you're done using the heat gun, just turn off the power button and it automatically goes into cool-down mode. Easy, right???
Once your vinyl is secure, simple put all the pieces back together again. And that's it!
I am so happy with this new bright and sparkly vinyl step stool.
And, while I don't cook dinner in high heels, I love having this helpful step stool and pretty seat back in the kitchen.
I had banished this step stool to the basement after the yellow color became tiresome. But my 5'2″ frame is glad to have this handy companion again! And it looks so adorable next to my vintage turquoise dinette set, doesn't it?
If you have one of these sitting in your basement or see one at the flea market – grab it and get started! Don't forget your handy FURNO 500 heat gun from Wagner as well.
This is my first heat gun project, but I'm so excited to use it for other projects around the house too. According to Wagner, over 50% of consumers who buy a heat gun for a specific project end up using it for 2-3 additional projects around the home.
You've probably heard that heat guns are helpful for removing old paint, but did you also know the FURNO 500 heat gun can bend plastic pipes, help remove stickers and restore plastic trim on your car, as well as various arts and craft projects like candle making, shrink wrapping and embossing? I just love a multi-purpose tool!
If you still aren't convinced that you need this super affordable and easy-to-use tool, then take a look at this video.
And, if you have a retro dining set or step stool that needs recovered… I'd love to hear all about it!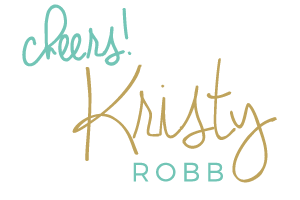 PIN FOR LATER