If you like putz houses, you'll love learning how to decorate your own retro diner for your Christmas village with DecoArt dazzling metallics paint.
For me, there's nothing more nostalgic than Christmas villages made of putz or paper houses. I love their snowy sparkle and colorful rooftops. The neighborhoods scattered over a delicate landscape of cotton snow banks and glitter always make me think of Christmases past.
My sister and I would fight over who got to set up my grandma's alpine village. Every year she displayed a tiny Christmas village in her dining room. I remember the houses were fragile, even back then.
And I loved the glow when all of them were finally put together and lit with classic multi-colored C4 bulbs tucked in between layers of glitter cotton. It was our mini holiday town and we adored it.
I am part of the DecoArt core blogger team for 2018-2019.  This post and paint is sponsored by DecoArt, but all opinions, ideas and creative inspo are from me.
I've collected a few vintage putz houses over the years, but thought it would be fun to paint and decorate my own this season. I found this pre-assembled retro diner on Etsy and new this would be the perfect addition to my little Christmas village. It had that 50s vibe I was looking for in my retro-styled kitchen.
Keep reading to see how I decorated and then styled this Christmas village retro diner.
Supplies Needed:
DecoArt Dazzling Metallics (Peacock Pearl, Festive Red, White Pearl, Shimmering Silver)
DecoArt Glamour Dust Glitter Paint (Ice Crystal)
DecoArt Glamour Dust Iridescent Glitter (Crystal)
Paint brush
Kraft board diner (I found this one on Etsy – or you might want to paint some houses like these)
Vellum paper for windows
Tealights
How to DIY Christmas Village Retro Diner.
I decided that I wanted most of the diner to be this metallic aqua shade called Peacock Pearl from DecoArt's line of Dazzling Metallics. The metallic paint really helped transform the kraft board to look more like a steel building.
The kraft board is good at soaking up the paint and drying quickly. I painted three coats to really give it a nice sheen. I started with the blue, then painted the doors and railing silver, and finally painted the words "diner" in red.
Next, while your paint is still wet, sprinkle on DecoArt Glamour Dust Iridescent Glitter. A little goes a long way so sprinkle lightly! This gives your diner a snowy sparkle.
It's a super fine glitter that I absolutely love using in my craft projects. See how I used this glitter last season on these painted ceramic houses.
Then, take your bottle of DecoArt Glamour Dust Glitter Paint and create fresh drips of snow. This helps cover up some of the seams and also gives a wintery look to your diner. While the paint is still wet, add some more DecoArt Glamour Dust Iridescent Glitter to the drips you create.
Once the paint and snow is dry, it's time to add the windows. Cut out shapes from the paper vellum that overlap the size of your windows. Then add glue to the overlapping edges to attach them to the inside of the diner. This will give your diner a lovely glow from the tealights.
I added a tiny wreath made from a pipe cleaner to my diner doors. I love the pop of color it adds to my Christmas village.
Plus, that metallic sheen from the paint really gives it a realistic metal look that emulates the stainless steel exterior of 50s diners.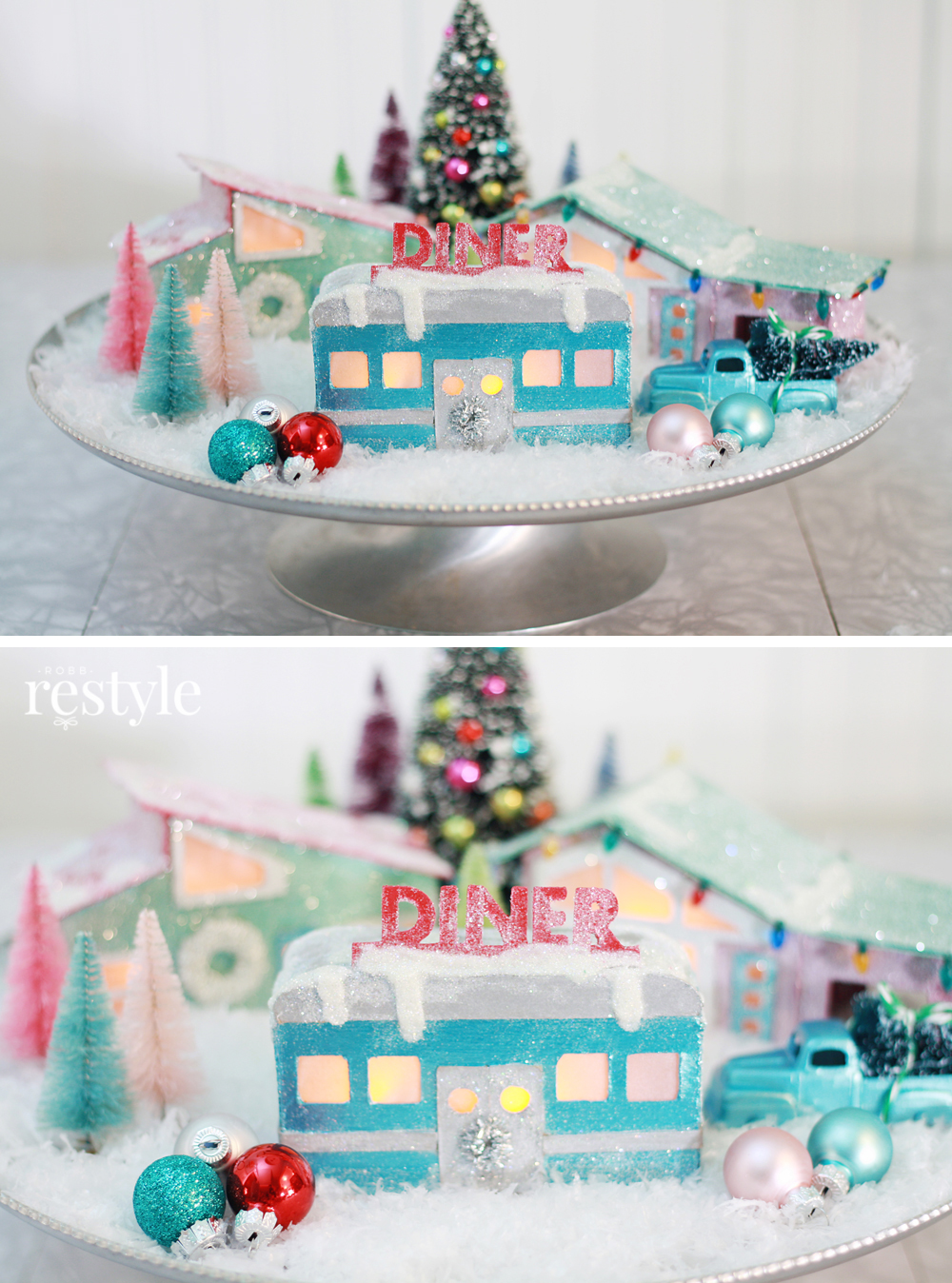 The combination of my pressed aluminum tray and the formica tabletop make the perfect setting for my little mid-century village. Fake snow and bottle brush trees add the holiday ambiance.
Don't forget to turn on the lights!
If you want that warm glow inside your little diner, don't forget to add some battery tea lights underneath. I think it's much easier to use these, than string lights.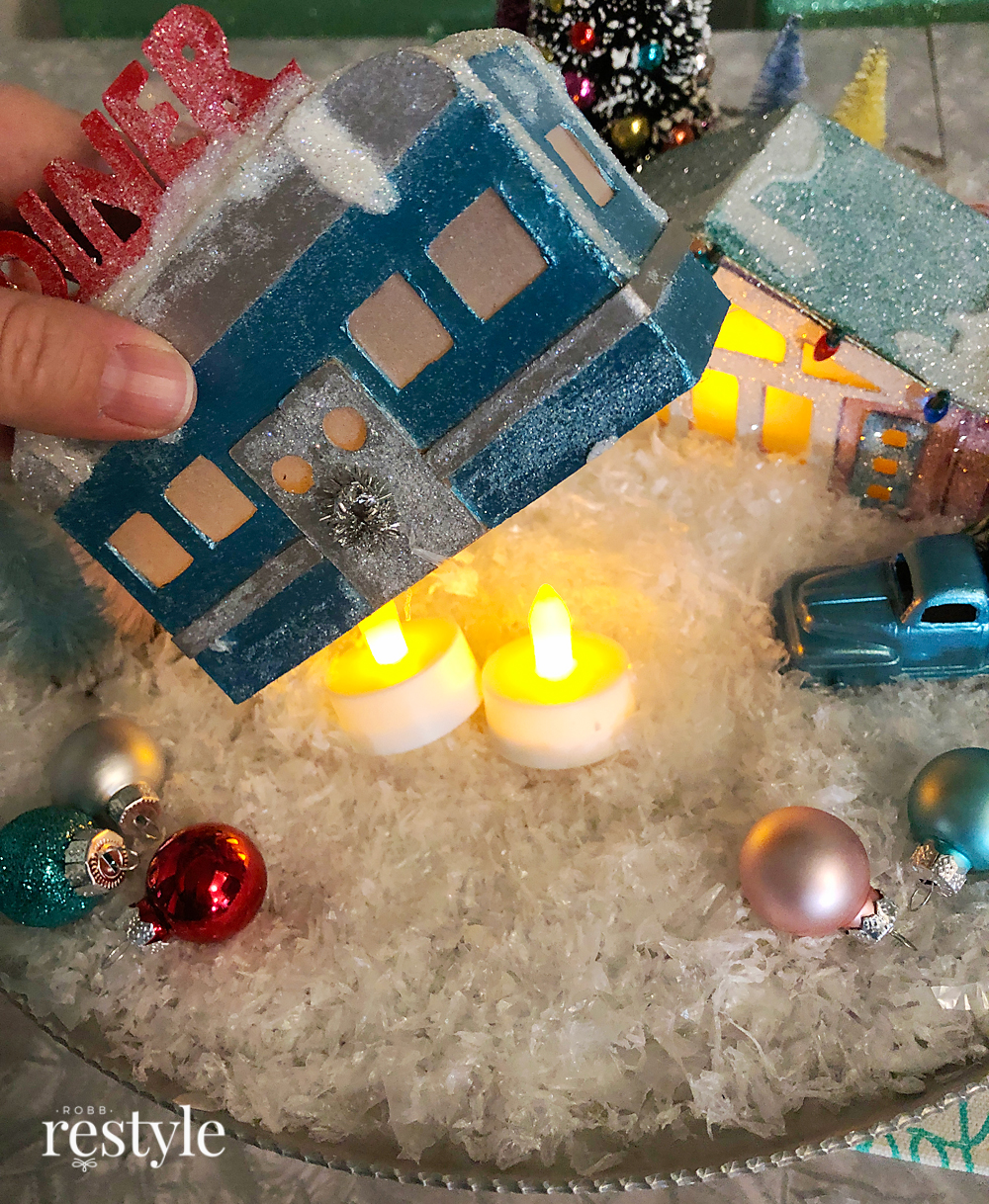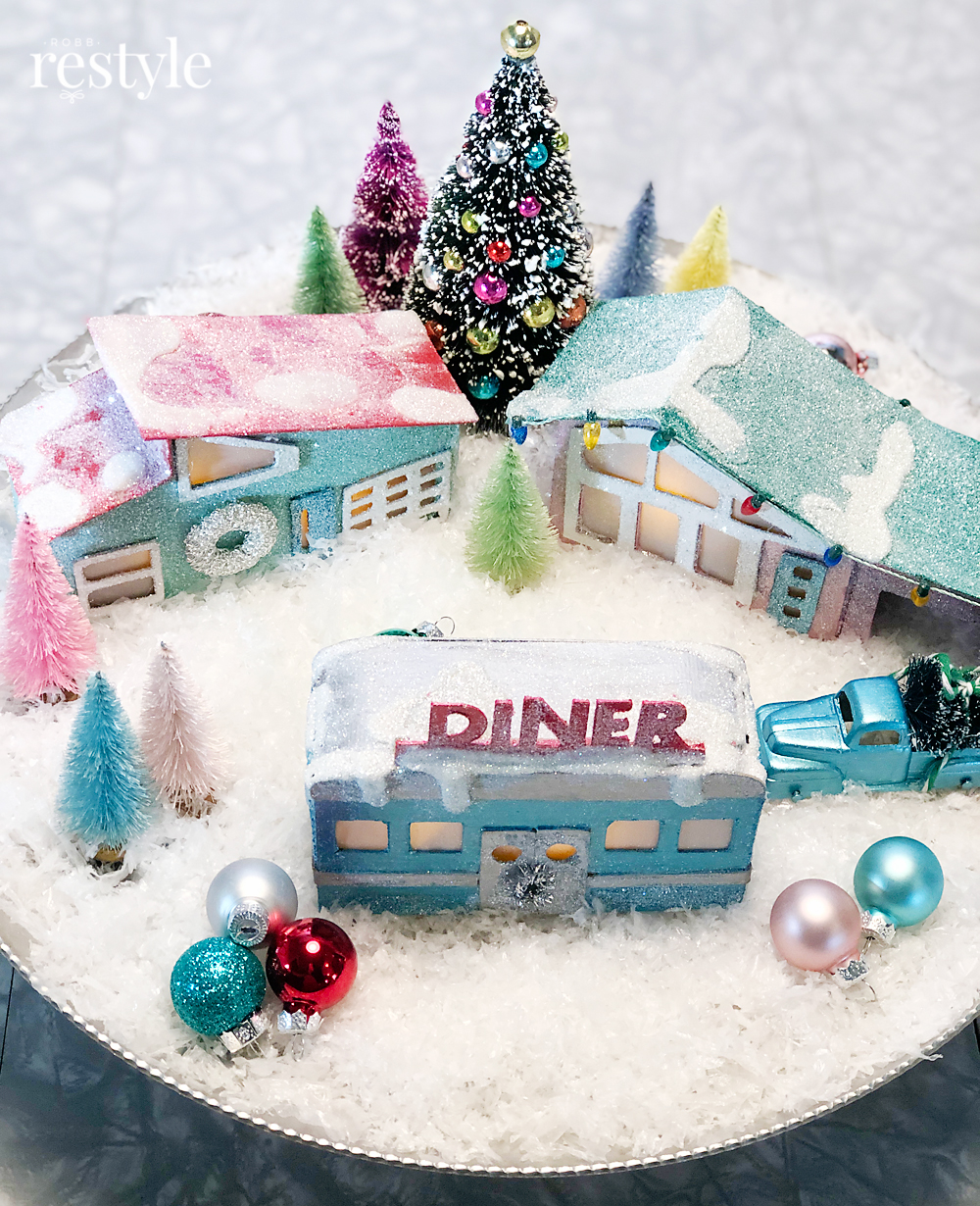 I found this little truck at the flea market and decided to give it a new coat of metallic paint as well! Isn't just perfect for this scene?
This was such a fun Christmas craft project. I've decorated vintage trucks before, but this was super easy and just as enjoyable.
And, don't fret if you don't have the space available for an entire Christmas village. With this little vignette on a tray, I've created a holiday display that fits easily in a small area. It's also just as easy to move when I need to use our table. Grab a tray, an old crate, or even a vintage box of shiny brites to create a little vignette for your putz or paper house village.
I hope this inspires you to tackle more holiday crafts with DecoArt Dazzling Metallic paints like I have here. What kind of building will you add to your Christmas village? Maybe a church or a storefront? Get your creative juices flowing…
Happy Holidays!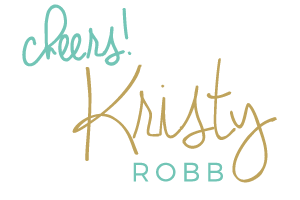 PIN THIS FOR LATER