Just because your bathroom is small, doesn't mean it has to be boring. Add a little character to your  space with a few small bathroom ideas with vintage decor.
I can't promise that these ideas will make your bathroom look bigger. It is what it is, right? But, your bathroom will look way more stylish – and that's what really matters!
This isn't the first time I've tackled this little bathroom space. In fact, this was one of my most popular posts, where we replaced our light sconces with ball jars.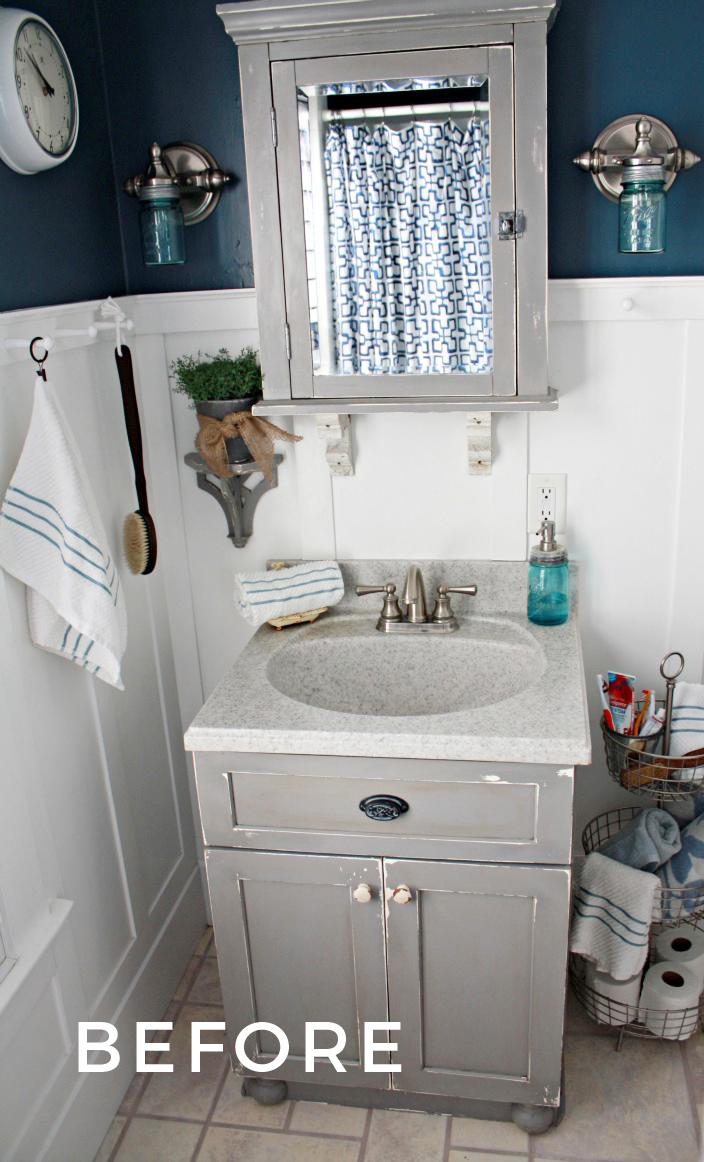 We finally decided to replace our jar sconces with this simple, beachy light.
To add more farmhouse vibe (way back when), I had painted and distressed our builder-grade vanity. But it had been looking a little dingy lately so I decided to give it a fresh coat of color!
Don't be afraid to paint your existing vanity. It's and easy and inexpensive way to make a big change in your bathroom. And if you change your mind often (like me) you can always paint it another color a few years later. Ha!
Oh, and new hardware goes a long way… I love using these milk glass knobs and had some leftover from our kitchen update. They look a little more chic that the distressed knobs I was using before.
You can see this bathroom as soon as you enter our back door, so I wanted this wall to be a little more interesting. A vintage-hanger-turned-towel-holder makes a pretty vignette.
I love using hairpin legs in projects. Remember this vintage crate? Hairpin legs easily turn an old box into really cool furniture and storage.
Someone had combined three soda crates into one large box. We discovered it at a flea market and added our own hairpin legs. I also happened to have an old drawer that fit inside.
This little combination makes chic storage for our bathroom essentials.
In the side view, you can totally tell it's made from old soda crates. Oh, and egg baskets are a great way to keep all that TP corralled at an arm's length from the toilet.
Every good bathroom update begins with a new shower curtain, doesn't it? 🙂 I loved the bright pop of colors on this one from Target… and even though I think it was meant for a kids bathroom, it looks great with my vintage style.
Towel storage in this small bathroom is also in the shape of a vintage crate. What can I say? I adore old boxes.
There's not much space on this wall above the toilet, but turning an old box on it's side is a perfect fit for towels. And, it leaves some room for pretty vintage finds above.
Who says you can't squeeze in a little locker basket storage too?
Small bathrooms mean small storage. But keeping our cleaning supplies tucked away by the toilet is a great way to maximize vanity storage and makes cleaning quick and easy.
And finally, one of my favorite ways to save space is using barn door hardware. You can hang virtually any door that fits and we thought it would be fun to use this chippy old front door we picked up at an antique shop.
First, the hubby snagged some extra woodwork for above the door frame from one of our closets. We wanted to hang this sliding door hardware on the trim work. Amazingly our house even has the fancy trim around our closet windows. I love old house details like these, don't you?
Then I grabbed some frosted film to add privacy to the glass. That was kinda necessary.
I absolutely love that we were able to use this amazing antique door! The chippy patina is perfection so we sealed it with a little poly. Plus, it saves a lots of space by sliding against the wall, instead of being hinged open in this tiny hallway.
Around here, there are no stuffy rules for home decorating. We prefer to do what makes sense for how we live.
Our medley of vintage vibes, flea market finds and repurposed architecture, in the spaces (both big and small) we use every day makes our home feels less ordinary – and that makes us happy.
Your small spaces don't have to be boring. Add big personality and character with your favorite vintage finds.