Today I'm going to show you where the magic happens. Instead of a traditional home office, my creative space is a nook carved out of our dining room. For this busy mom, it is an ideal way to multi-task homework, dinner, bills and of course, blog posts and DIY projects – right in the heart of our home!
Oh, and this old house wasn't equipped with an office (or even a closet on the first floor). Work with what you've got. Right?!?
Behind the Blog
Thank you for stopping by our Behind the Blog series again!
My Home Office & Craft Space
Last year I was lucky enough to be a member of the Country Chic Paint blogger team. I used this opportunity to renovate this room and make better use of the space to define my little home office. See all the before and after details here and here.
Let's be honest. Looking at these photos, I felt a little sheepish. The designer in me says this space is cluttered. There's a lot going on in this area of our house. Both in design terms and real life too.
But I have come to love this space because I made the best of it. Ultimately I filled it with decorations, photos and things that I love. Isn't that really what a creative space is supposed to be?
This is my dining room, home office and craft space. This huge farmhouse style table is perfect for crafting, painting signs, creating silhouette projects and homework. It seats 8 and makes a great table for hosting guests.
I heart the red metal dining chairs and the pop of color they add. I found a set of four for a really great price here.
If you stop by our house in the weeks before a show or market, this table is covered in sign projects, paint supplies, crafts and more!
My Workspace
You can see my desk in corner. The swinging door to the right leads into the kitchen. I use a vintage metal kitchen cart for my Silhouette machine and files.
I couldn't just have a simple white desk, so I added gold circles that I cut with my Silhouette machine all over the top surface. Because plain just doesn't sit well with me. See what I mean?
I purchased these adorable party fans recently for our handmade vintage market booth. I loved them so much that I had to find a way to incorporate them into my home decor – no party required. They are a perfect fit for this little space! I would put them in every room if I could. I am not kidding.
My Sewing Area
I love having my sewing machine next to the window. It's been all over the house but I think I've finally found the sweet spot. The window provides extra light for my sewing projects and it can be tucked away when not in use.
We found the old typewriter table in a dumpster and my hubby's aunt picked up the old school chair for me from the thrift store. I keep all my sewing notions and miscellaneous craft supplies in the vintage metal drawers.
Creative Storage
Keeping this space organized is a challenge, but necessary. The table needs to be easily freed from clutter for impromptu dinner guests and/or daily homework assignments. We also have this built in cold air return that I repurposed for some extra desk space. It is the perfect nook for my printer, working files and additional craft tools.
The gold glitter pennants are also from my vintage market booth.
My buffet (below) is my most favorite storage piece. Ever. Most people keep dining room essentials in their buffet, mine is filled with craft supplies. This was a furniture makeover with Country Chic paint – get the details here.
I am grateful that I can just toss things in quickly and easily. Plus all my Silhouette machine supplies and pretty papers can be stored flat inside the drawers.
Looking Back
Here's a little tour of this room from a few years ago. We covered the 70s paneling with red paint… and learned a lot about painting dark colors. I think it took 5 coats to get it right. Never again.
Last year we were contacted by a woman who stumbled upon our blog and who had lived in our home as a child in the 50s. She sent me  a few amazing photos of our home from that time period. This is a glimpse of the same area in my dining room. How cool is that?
Even though the wall color is a soft shade of blue, I still feel like the room is neutral enough to compliment my colorful decor and vintage accessories. Vintage soda crates also make nice containers for our table centerpiece and can be adapted for any season.
And while this room performs a lot of tasks for our household, there is still a nice balance. Redefining this space helped us carve out a special work area that fit our needs without losing our dining room… and our minds!
My home office and craft space is both whimsical and eclectic – very much like my personality! And since I spend a good deal of time in here, I love that it is bright, inviting and inspiring – all at once!
Do you have a dedicated craft space in your house? What creative ways have you found to store your goods and supplies? I'm always looking for more ideas.
Thanks for stopping by and don't forget to visit the other bloggers in our series.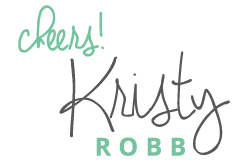 *This post may contain some affiliate links for your convenience. Robb Restyle may receive a commission, but you won't pay a penny more. Thanks for supporting our flea market addiction. Click here to view our disclosure policy.*