Finally… I am sharing the rest of the dining room mini makeover we finished a few weeks ago. As part of the 2015 Country Chic Paint Blogger Squad, I shared more details on their blog for the buffet and our repurposed cocktail shelf. If you haven't already, please check them out!
The Before
Not terrible but the red walls were driving me nuts. It was so dark in this room and it's really hard to coordinate red colors in accessories, etc.
As I mentioned before, it's been a long while since we have repainted an entire room in our house. Painting is soooooo refreshing… and inspiring. This room has never stayed so clean and organized than it has since being repainted. It's amazing how that little change helps us keep this room clutter free! At least for the time being.
Of course, as I mentioned before, our inspiration for the color scheme stemmed from our collection of vintage globes that we wanted to display in here. Plus, I LOVE my red metal chairs so they had to fit into the design plan as well.
I chose mostly blue and gray paint colors from the Country Chic Paint palette for my furniture and decor. The walls were painted a light bluish-gray from Valspar too. Then I accented with gold where I could. You'll find specifics here.
I love decorating with antlers. I added gold stripes to these.
We found this globe lamp while picking a few years ago. We had an electrician fix it up for us and it's one of our favorite finds. EVER.
We found the projector at a flea market, but the little camera belonged to my grandmother and was something my sister and I played with at her house. It fits nicely in this vignette.
I loved this lamp I received for Christmas a few years ago… My sister helped me stock it with wine corks (given to her, not drank by us… although I've added a few of my own). I am loving stripes right now so I used Country Chic Paint's Midnight Sky to paint some stripes on the shade and added a little gold spray paint to the base.
My husband is pretty proud of this auction win. We use the industrial cabinet to store the rest of our liquor bottles. Because, really, you can never have too much liquor storage. The items on top are more industrial vintage picks and finds from our collection.
More details about how I painted our repurposed cocktail shelf is here… and a little history behind the vintage items I styled with is here.
I love working with Country Chic Paint's Transfer Medium and can't wait to share some future projects with you. I transferred a vintage road map to add some color to these cabinet doors.
Thanks for stopping by.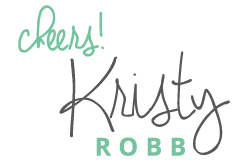 UPDATE: See how this home office and craft space has changed a bit since we painted it…