Good morning friends… Today I'm trying something a little different. This marks the beginning of a new relationship with you – not just pretty pictures of styled spaces. I'm opening the window into my little personal space.
In true Kristy form, I wanted to come up with a really clever name, something that sounds like me. But I struggled to think of anything creative or clever. What is something I say all of the time? Or, what is something I do regularly… I wanted this weekly bit to reflect that. And the only consistent thing I could come up with was beer. #sorrynotsorry
Beer has always been my go-to cocktail. And, these last few years I've been captivated by the craft brew scene and it's artisans – it really is a DIY/Maker scene for beer drinkers. So, with that spirit in mind, welcome to What's on Tap.
Every Friday I'm going to check in with you and share a peek inside my life – the unedited version if you will. Outside of the occasional Instagram story, there are so many things that I don't often share with you… like life at the Robb house, other projects I'm working on, what I'm reading, or even what I'm crazy about (or why I'm just crazy) at this very moment.
Like friends talking over coffee (or a cold brew), I'll blab away about life happening right now. The good. The bad. The ugly – like that upstairs bathroom leak we discovered this week…
Why Friday? Because it's my favorite day of the week. There's an entire weekend ahead to look forward to. Friday dinners at the Robb house are always ordered out. Fridays also mean we often stay up late and binge-watch our favorite shows, share a few cocktails, and generally relish in the weekend vibes – before we tackle any DIY projects around the house.
What I'm working on.
I have always thought it would be fun to write for a magazine. I'm a journalist at heart. So I'm finally giving it a try. I'll be featured in the next issue of Haute Life magazine. Haute life is a quarterly lifestyle magazine produced in Indiana for women celebrating home, family, fashion, and community. I am writing my own article about how I decorate with vintage – shocking, I know. 😉  I'll also include some photos of rooms we've renovated. I'm a creativity-comes-at-the-last-minute kinda girl, so I'll be whipping that out this weekend. Wish me luck.
What I'm reading.
Recently I've been reading anything written by Liane Moriarty. So far I've finished (aff links) Big Little Lies (I really enjoyed the HBO series with my girl Reece – it's a must-watch even if you haven't read the book), The Husband's Secret, and Truly Madly Guilty. Right now I'm reading What Alice Forgot. In all of Moriarty's books, she drops hints like breadcrumbs drawing you deeper into the mystery. And, I love trying to piece it all together before it's revealed by the author. There is always a little humor sprinkled in too.
I am a huge fan of Audible and mostly listen to my books. I love when I can multitask while I'm reading. It's the only way I can get through so many books without feeling guilty because I should be doing something else. I listen during my commute, while on the treadmill and sometimes while I'm cleaning the house. But I always try to have a book at my bedside too for winding down at night. My current bedtime read is Have a New Teenager by Friday… for the moms and dads of teens, I'll let you know if this book works. #fingerscrossed
What I'm looking forward to.
Summer is my favorite season. Always has been. I love warm weather, extended daylight, and celebrating my June birthday! Now that I'm a mom of school-age children, I also cherish homework-free nights, not getting kids dressed in the morning and the generally slower pace that summer brings to the household. T-minus 7 days.
In that same spirit, I'm also looking forward to coffee with a dear friend this morning. We are enjoying a few adult moments before our kids are out of school bickering with each other, eating all our food, messing up our houses, and generally making us wish we signed them up for more camps and activities to fill their free time at home. Ha!
Houston, we have a leak.
Bathtub drain gets clogged. Husband and wife try to free the stubborn clog on Mother's day. Husband leaves town for a conference. Water leaks from the pipe through the downstairs pocket doors and onto the living room floor.  Wife looks up at newly finished ceilings in the living and dining room and swears. A lot.
Old house = old pipes. We assume that our cast iron pipes have narrowed to the size of a straw. It's happened before in this 100+ year-old house. We are still waiting on the plumber to assess the damage. Our new pantry renovation will have to wait since a leaky tub trumps fun DIY projects. [sigh] I'll keep you updated on this new plumbing adventure of ours.
Random moments.
We enjoyed seeing this little guy at the famous Hoosier museum at his elementary school. All the 4th graders selected a famous Hoosier (living or dead) to impersonate. He chose Ernie Pyle and he had his whole history memorized to recite for the museum visitors. He did an amazing job!
Oh, and he got those super-shiny shoes last week for his birthday. They attract a good deal of attention.
And just for fun… I was snapping photos while he was chatting with his dad, who was clearly annoying him. Corey looked at me and said, "He just gave me the exact face YOU make when I've annoyed you." Ha, ha! Glad to see he's inherited some of my best features.
That's enough rambling for now. Thanks for stopping by… see you next Friday.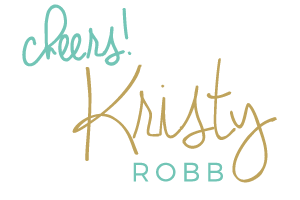 *This post contains some affiliate links to make shopping easier for you. Robb Restyle may receive a commission, but you won't pay a penny more. I only share links to products I love. Thanks for supporting our flea market addiction. Click here to view our disclosure policy.*