Happy May Day! Today we say goodbye to April showers and hello to May flowers (I wish it were actually that easy to say goodbye to rainy days). And yet, the days of May grow longer and promise more sunshine, more warmth, and more flowers. Oh, and the end of homework school around here. Yippee!
To celebrate all things May brings, I'm sharing this DIY flower garden globe project I created for the patio table on our backyard deck.
I am part of the DecoArt core blogger team for 2017-2018.  This post and paint is sponsored by DecoArt, but all opinions, ideas and creative inspo are from me.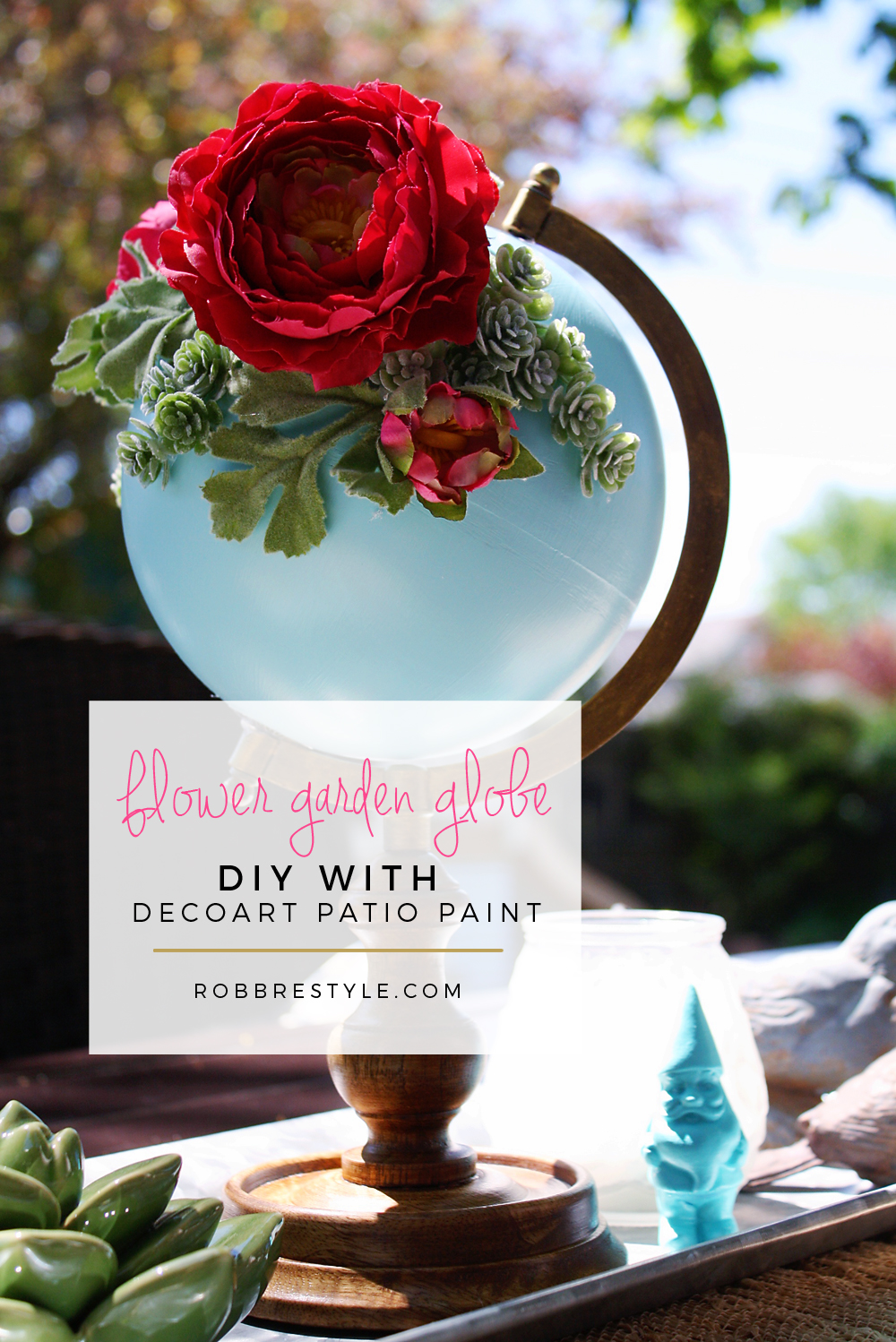 My whole body seems to be magnetically attracted to globes. Really, I don't miss a beat. Wherever we go I spy these little wonders. And, that's how I found this discounted globe on an endcap at a craft store.
The map was ripped and the globe was cracked. As a result, it was marked way down. Although I didn't know what I would be doing with it at the time, I knew I couldn't pass it up.
Of course, I haven't got around to planting my container gardens yet, but I wanted to add some color to my patio table without worrying about the chilly spring evenings in Indiana. Remember last fall when we got to create the deck party of our dreams? Well, I've been anxious to decorate and accessorize my new patio furniture. I decided to paint this thrifty globe and add some faux flowers for a colorful table garden display.
How to Make a Flower Garden Globe
First, I had to dismantle the globe for painting. That meant I also had to remove the ripped map. It came off easily and I used a little water to remove the remaining paper and glue from the surface.
This globe decor really wasn't designed for outdoor use. But with DecoArt Patio Paint, that's about to change.
To start, I chose the following colors: Coastal Surf and Splendid Gold for the globe and Clear Coat for the wood base. This bright pink flower stem came from the craft store along with a faux succulent stem. I chose coastal blue because I wanted it to still look like a globe and I loved the contrast with the bright pink flowers.
I painted the globe with coastal blue. Because painting a sphere is challenging, I painted three coats on the top or northern hemisphere and let it dry before painting the bottom or southern hemisphere. The metal arch that attaches to the axis of the globe needed to be brighter so I painted it splendid gold. Next, I covered the entire wood base a few times with clear coat.
What I love about this patio paint is that it works on multiple surfaces. The globe is plastic, the gold arch is metal and the base is wood. By covering these surfaces with patio paint – this little globe is weatherproof and can now happily reside outdoors!
Finally, when the paint was dry, I put the globe back on its axis. I trimmed off the flowers and leaves and used hot glue to apply them to the globe. I didn't want the weight of the flowers to cause the globe to spin, so I glued that in place as well. The big pink blooms were placed first, then I added the smaller succulent blooms and arranged them in a semi-circle across the top of the world – so to speak!
Isn't it adorable? I love that it adds a nice pop of color and height to our patio table decor. It's such a clever way to fix a broken globe.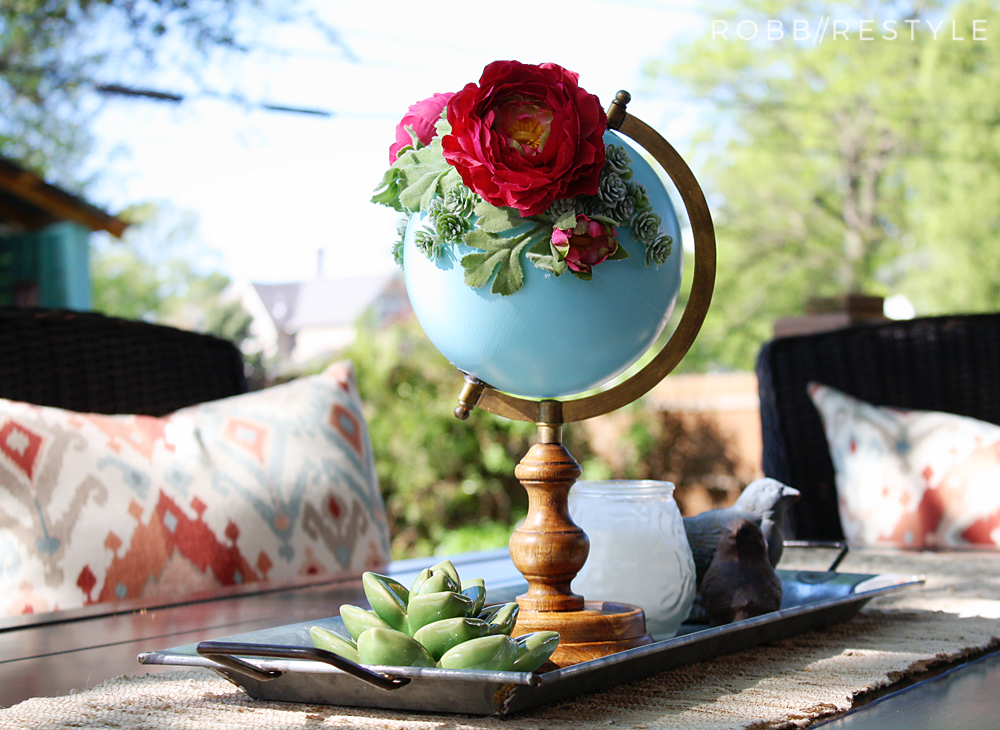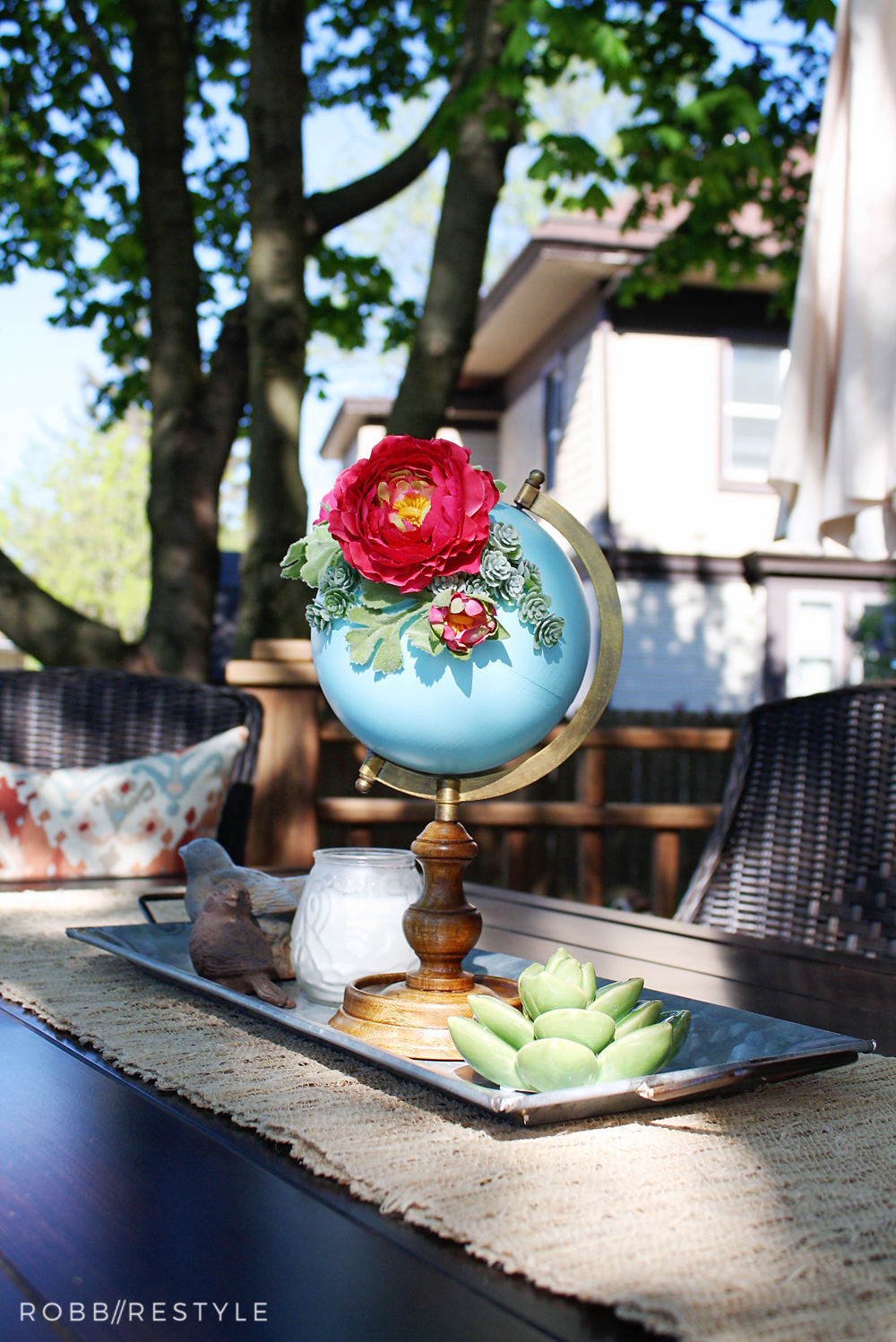 So, I realize this globe was a lucky find, but I can tell you that I see old globes all the time at flea markets, garage sales, and thrift shops. This project would be a fantastic way to freshen up a globe that has some damage or isn't the right colors. Now, I'm looking for another globe on a taller stand that I can paint with DecoArt Patio Paint for my garden and flower beds. Seems like my globe obsession continues…
It's finally May! Head outdoors this month to accessorize your porch, patio or deck. And, don't forget to grab some DecoArt patio paint to freshen up those planters and birdhouses too – like these little gnomes I purchased at the dollar store recently. The possibilities are infinite. And most of all, be sure to enjoy the extra Vitamin D in the coming months. I know I will.
*This post may contain affiliate links to make shopping easier for you. Robb Restyle may receive a commission, but you won't pay a penny more. I only share links to products I love. Thanks for supporting our flea market addiction. Click here to view our disclosure policy.*