Find out how to repurpose a vintage gumball machine into a succulent planter for your spring decor.
It's an easy craft project that will have you combing the flea market for retro gumball machines to upcycle in all shapes and sizes.
I am part of the DecoArt core blogger team for 2018-2019.  This post and paint is sponsored by DecoArt, but all opinions, ideas and creative inspo are from me.
I love discovering vintage gumball machines at the flea market. I always try to snatch them up when I see them. I prefer the metal ones with ornate coin operators. They are so nostalgic and come in interesting shapes and sizes. When my kids were little, I kept one in the kitchen filled with skittles candies. They loved redeeming coins for a quick treat.
I've also repurposed old fashioned gumball machines into holiday decor with a little fake snow and a retro toy truck.
This particular find wasn't fit for candy, but I had another idea in mind.
DecoArt recently sent me their newest acrylic paint colors for spring and I immediately fell in love with a color called Vintage Pink.  I mean, that shouldn't surprise anyone with vintage right in the name – ha! But seriously, it's this adorable peachy-pink color that marries well with shades of green.
So I decided to give this little gumball machine and new coat of paint and turn it into a succulent planter. It was so easy, I'm going to make a few more and give them away as gifts! Keep reading for all the details.
Supplies Needed:
Americana Acrylics 2oz – Vintage Pink
DecoArt Extreme Sheen 2oz – Champagne Gold
Americana Paint Adhesion Medium 2oz
Succulent picks
Filler (this is what I used)
First you'll want to disassemble the gumball machine. I've found that most of them operate in the same fashion. Unscrew the lid on the top and them all the pieces separate from there. Set aside all the pieces you aren't going to paint. For this project I'm only painting the metal lid and base.
I love using Americana acrylic paints in my craft projects. They have more shades of on-trend colors than any other. Most of the time I'm painting wood or plastic, but since this project is metal, I mixed a 1:1 ratio of metal adhesion with with my paint color to improve the adhesion.
I painted two coats of Vintage Pink over all the red painted metal.
Once it was all painted, I decided that the metal mechanism was a little too shabby. So I grabbed my favorite metallic shade of gold – DecoArt extreme sheen in champagne gold – and gave it a few coats too. It made a world of difference!
When everything is dry, start to assemble the gumball machine – putting everything back except the top lid. Then grab a cotton ball and stuff it into the hole (inside the globe) where the candy would come up. This will help stop the rocks from falling through.
Spoon in your rocks and allow room for the succulent picks. I am using faux succulents because I'm kinda lazy. But, I think it would be super chic to grab some air plants and toss in here instead.
The center pole can be tricky, so it helps to have a few different sizes of succulent picks so you can use what fits best. Add the lid when you're finished and screw it back in.
Here's a close up of the inside. Don't you just love the combination of cactus greens and vintage pink?
Giving an object (new or old) a fresh new color is the perfect way to update your decor for the spring season. I already had a lot of gold accents in this space, but the Vintage Pink gumball machine adds a burst of happy color!
Just in case you can't seem to score a vintage gumball machine, you can purchase a newer one instead.
Even though spring temperatures haven't made it to Indiana yet, I can relish in adding spring color around the house instead. My gold marquee letter R and this alarm clock are the perfect accompaniment to this adorable pop of color.
If you want to see more of DecoArt's new 2019 colors, click here.
How else would you repurpose a vintage gumball machine? I've seen projects that fill the globes with clever objects like old fashioned buttons or even a fish tank – crazy, right?! I'd love to hear your ideas.
Happy spring crafting!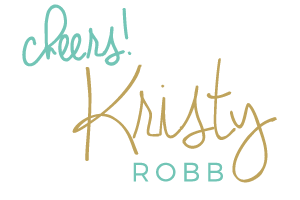 PIN THIS FOR LATER