It's the most wonderful time of the year… and once again I'm sharing a little glimpse into our home. Feast your eyes on an eclectic and vintage mini holiday tour. This little post may make your head spin… but my house was clean so I couldn't help taking lots of photos of all the pretty things.
We are hosting a holiday party for my husband's family this year, so I wanted our home to be extra festive! One thing I tried to do this season was only put out the holiday decorations that I truly loved… because we had so many curated vintage pieces that we wanted to work in as well… whew, that was a challenge, but a yard sale is in my future!
The Kitchen
Around here this season, it's all about the vintage thermos. We're not kidding! Seriously, though, I love the rustic 'ski lodge' style they bring to our home – especially this time of year.
Now that my farmhouse kitchen is complete, it has been a treat adding sprinkles of holiday accents this season to a kitchen that is no longer covered in wallpaper scraps! The red accessories and decorations really pop on the neutral wood and stone textures.
It's definitely full of interesting vintage goods we've curated for this space (in other words, more than a bit cluttered). But, it makes the space feel warm and very lived in. This isn't your average kitchen, but we're not your average home owners. *wink, wink*
The Dining Room / Office
This was also my first holiday season decorating our new dining room! I love mixing all the blues, reds and gold tones together in this room. It looks fantastic in the morning sunlight. I'm so happy with this room renovation.
I channeled a little more rustic charm for our farmhouse table centerpiece with my vintage soda box, some camp-y thermoses, pine cones, and cedar candle holders. I just threw down a scrap of leftover plaid flannel for the table covering.
We picked up the little truck from a vendor at the Hobnob Market last month and the camper is actually an ornament, but it just looks too cute here on the table instead!
The Living Room
I didn't change it up a whole lot in the living room… but I did finally find a bucket that would hold my Christmas tree base! I love how simple and chic it makes my tree look on our hardwood floors! My mom said she found a similar "bucket" that wraps around your tree base from a craft store, but this is the real deal people! 🙂
Like everyone else, I am mad for plaid. I purchased these buffalo check pillow covers  (psst… they were less than $10 – such a steal!) for my couch and added an old plaid throw that I found at a thrift store last year. I also switched out my desk chair with a plaid bench. It's a great way to quickly winterize my living room decor for those cozy nights ahead!
The Entryway
Now we've got to get back to some house cleaning before the guests arrive… hopefully we can share a recap of our holiday market with you soon. Thanks for stopping by this little eclectic and vintage holiday home tour. Sending you the warmest holiday wishes this season!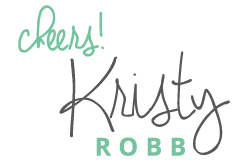 Linking up to these parties:
AKA Design Weekend Retreat
The Creative Circle
*This post contains some affiliate links for your convenience. Robb Restyle may receive a commission, but you won't pay a penny more. Thanks for supporting our flea market addiction.*