Here's how to create a DIY terrazzo outdoor tray with just stencils and paint. It's a great way to add a mid century modern flair to your spring/summer patio.
As a result of my new obsession with all things mid century, I've been pondering how to add some terrazzo into my home decor. I mean, doesn't it totally remind you of the floor in your school cafeteria? Or the bathroom floors in a vintage theatre? Terrazzo is hand-crafted treasure found in many historic structures. And only recently have I begun to really appreciate its beautiful aesthetic.
But real terrazzo? It's pretty darn expensive! Often made by setting colorful chips of marble, granite or even glass into a cast surface like concrete, terrazzo is a work of art and can be a real headache to install.
So this maker decided to recreate my own terrazzo look. I decided to create it on an outdoor tray. Because even though it is snowing in Indiana as I made this… spring is just around the corner. #fingerscrossed
I am part of the DecoArt core blogger team for 2018-2019.  This post and paint is sponsored by DecoArt, but all opinions, ideas and creative inspo are from me.
Supplies Needed:
Americana Decor Outdoor Living Paint (here are the colors I used: Lady Bug, Sunset, Poolside, Fountain, Frosted Glass, and White)
Brushes and a dabber (or a makeup sponge)
Wood surface (I used this one from Walnut Hollow)
Stencil (If you have a Cricut – here's a link to the stencil I created for this project)
Handles or hardware for the tray
Let's get started!
Watch the full demonstration here, or keep reading for my instructions:
https://www.facebook.com/DecoArtAcrylicPaints/videos/412424716246411/
First I painted the top of my wood surface with white. I wanted to "chips" of colors to really pop. The wood plaque I chose had a beveled edge, so I painted it with a dark color (Fountain).
The Americana Decor Outdoor Living Paints are fantastic for adding color to your outside decor. This paint is durable and doesn't need a sealer – perfect for easy weekend projects!
I created my own terrazzo stencil using free vectors I found online and mixing them up a bit into two separate stencils. Here's a link to my project in Cricut, so you can replicate it on your machine. I cut it on Cricut's stencil vinyl.
One of the terrazzo stencils has small chips and the other one has larger chips. I stenciled the smaller ones first and removed the stencil.
NOTE: Don't worry if you don't have a Cricut or a terrazzo stencil – you can achieve a similar look using a flat paint brush and dabbing on paint (in an up and down tapping motion) to create varying shapes/sizes of chips. Or, cut little pieces of sponges in different sizes to create your own "chip" stamp. 
Then, when those chips were dry, I placed the larger chip stencil on top and added even more painted chips. I think this gives it a more authentic layered look.
Next, turn your piece of wood into a tray simply by added some handles to the sides. I chose some vintage copper chevron handles I discovered on Etsy. They totally complete my mid century look!
That's it – now my DIY terrazzo outdoor tray ready for serving cocktails on the patio.
Terrazzo is a little bit like confetti!
Feel free to mix and match your own mix of colors together – or simply add varying shades of the same color by mixing a dark shade of Americana Decor Outdoor Living paint with some white.
Both will look chic on your tray. And I don't have to worry about the colors fading on my patio since this paint is made for the outdoors!
Terrazzo is such a refreshing pattern choice for your spring decor projects. There are so many other places I want to try this pattern, like terra cotta pots, outdoor pillows, and sidewalk pavers!
How about you? Where would you try a terrazzo painted patten?
I hope you enjoyed this project! Join me on DecoArt's facebook page later today (6 p.m. EST) for a live tutorial!
Thanks for stopping by.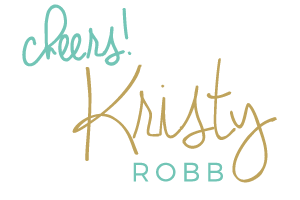 PIN FOR LATER
6dcd5366e6bad1ee6b93548bbaf6ae5ddc631638de34ae15c6