Add a little charm to your birthday parties, wedding showers, or family dinners with this easy tabletop chalkboard sign for celebrations.
Making signs is my love language.
It's also kinda what got the Robb Restyle pop-up market business going. I used to repurpose all kinds of things like old barn wood, door panels, crates – basically whatever I could get my hands on that had a surface to paint – to make signs with all sorts of sayings! Chalkboards also fit into that category of sign-making for me. And you can never have too many of both.
So, today I'm combining both my loves into one super easy chalkboard sign. This project is perfect to use at your celebrations, parties, weddings, events – or even just for fun at your family's dinner table.
*This post is sponsored by Walnut Hollow. I was compensated for this post, but all opinions and creative inspo are all mine! This post may also contain some affiliate links for your convenience. Robb Restyle may receive a commission, but you won't pay a penny more. Thanks for supporting our flea market addiction. Click here to view our disclosure policy.*
First, let me introduce you to Walnut Hollow… just in case you haven't discovered this online treasure trove of wood surfaces yet! It has all kinds of unfinished wood for your crafts, decor and DIY projects. The prices are super affordable and there are tons of possibilities. Plus, they have all kinds of crazy-good sales, so I recommend you follow them on Instagram too!
Ok, here's what you'll need to get started on this easy chalkboard sign project.
Supplies Needed:
Tabletop sign from Walnut Hollow
Chalky finish (or chalkboard) paint (I love this one!)
Paint or stain for base (This is my favorite!)
Chalk (NOT the dustless kind – just regular basic chalk)
Lint free cloth for erasing – I like to use a piece of cut up T-shirt
First you'll want to stain the base of your sign and then paint both sides of your sign with a chalk finish paint. This sign is made of pine and has a smooth surface which makes painting and staining easy. Plus, I love that it's mounted on a wood slat so you can display it effortlessly.
And that's really all the prep work you need to do… well, other than seasoning your chalkboard and prepping your chalk! If you haven't tried making your own chalkboard before, then you might not be familiar with the seasoning and chalk-prepping process, so I'll share the steps here.
How to Season a Chalkboard
By the way, I prefer regular old chalk to the paint markers. Chalkboards are meant to be a little rustic and homey-feeling. I prefer the cozy look of dusty lettering to the clean look of bold markers. But you could totally use chalk markers here if you prefer and skip this step altogether.
First, rub chalk sideways over the entire chalk-painted surface. Then rub away the chalk with your lint-free cloth in a circular motion. This preps your chalkboard surface so your chalk writes smoothly doesn't leave shadowing or ghosting when you erase the message.
Next, I like to soak my chalk in water first before I start lettering or drawing. Writing with wet chalk actually brightens up once the lettering or pictures dry on your surface. It's an AMAZING trick! This is also why you don't want to use the dust-less stuff. It will dissolve into powder if you soak it in water.
And finally, if you need a finer point for writing, simply grab a pencil sharpener and give your chalk a few twists. You can even sharpen wet chalk!
This next step is completely up to you… there are so many ways to use this little sign! Maybe they are table decorations for a bridal shower or wedding? Use it to help remind your guests of your wedding hashtag.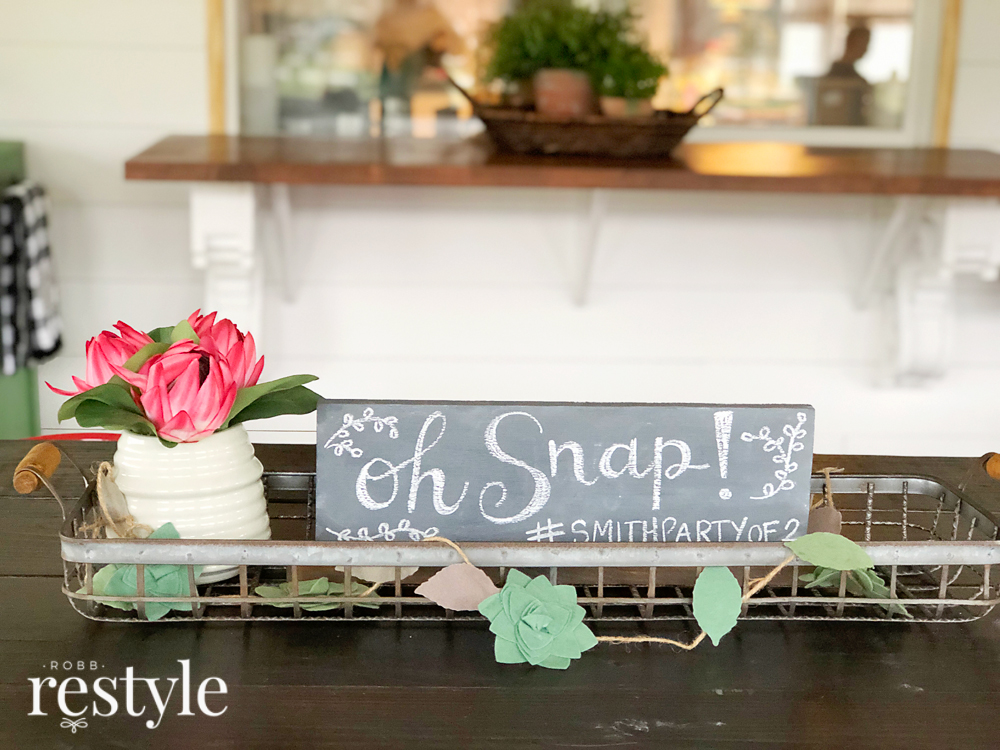 Or, maybe you use is as part of your birthday party table decorations. Remember, it's double-sided so everyone around the table can see your messages!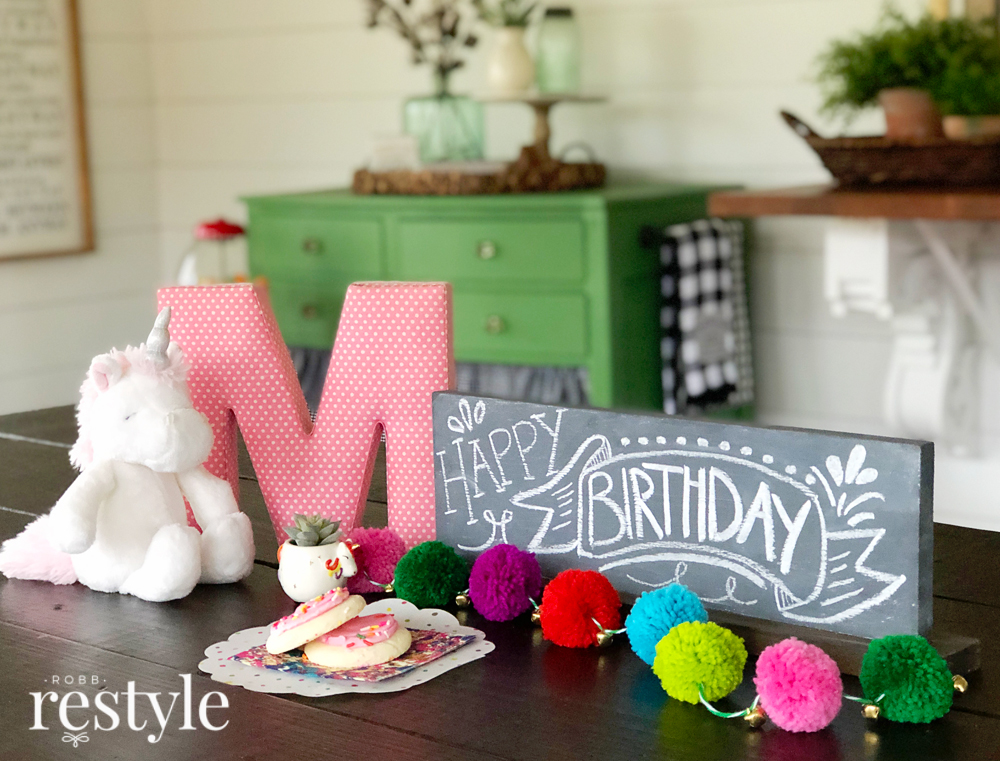 You could also use this chalkboard for a closed/open sign at a boutique or shop! It would be perfect for when you needed to customize your welcome message.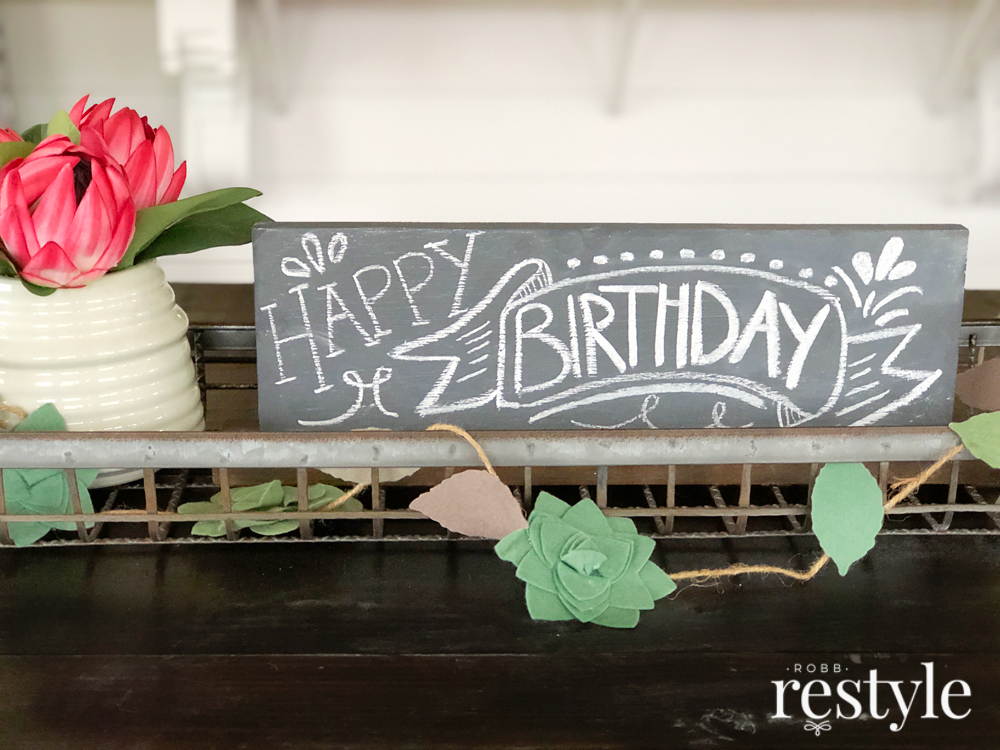 Head on over to Walnut Hollow for dozens of surfaces that are ready for your creative ideas… Plus, we're hosting a GIVEAWAY!!
Visit these other project ideas with surfaces from Walnut Hollow to enter to win! Keep reading for all the links.
Walnut Hollow Sign Kit Giveaway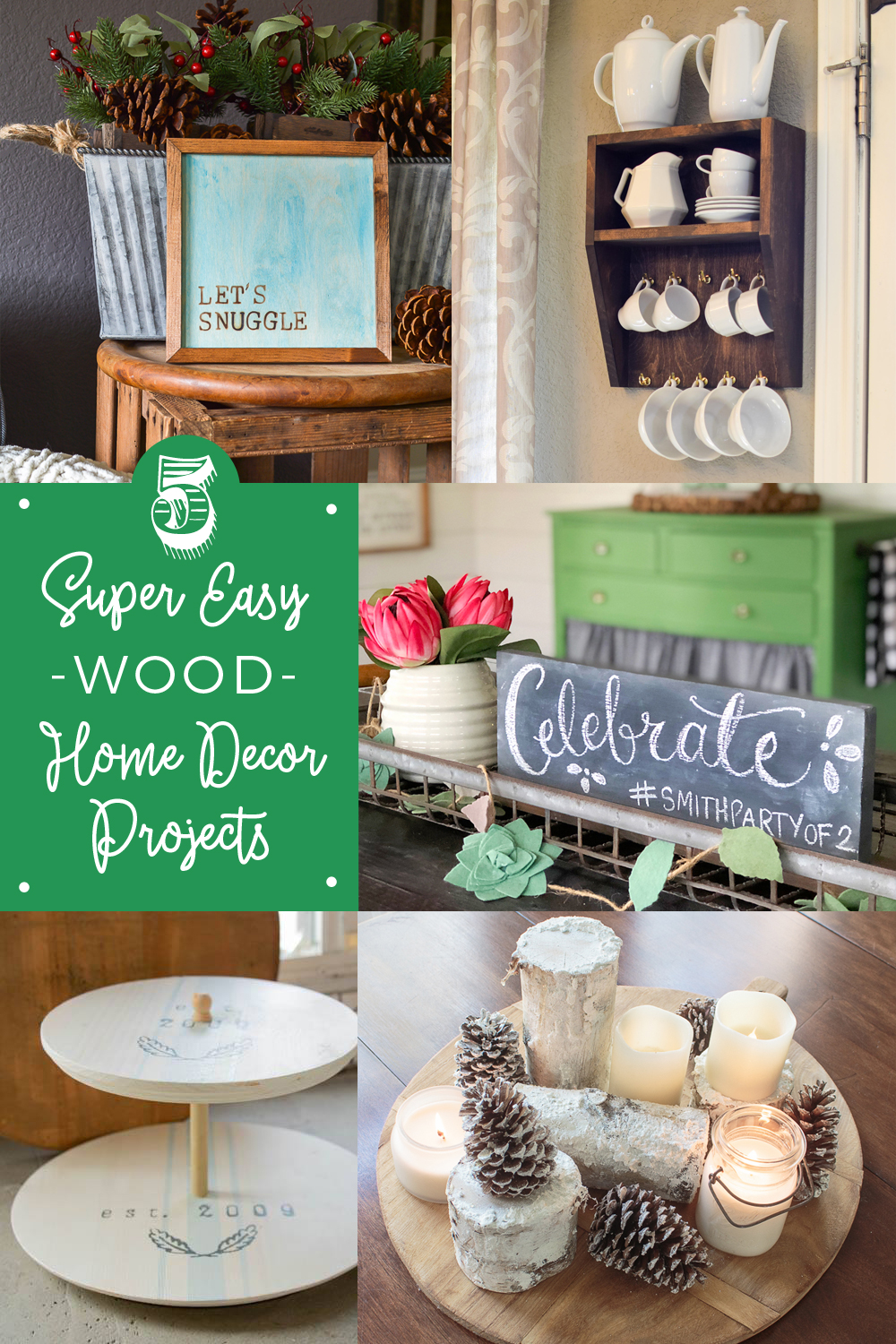 Atta Girl Says created a wintery centerpiece with birch logs
Major Hoff Takes a Wife fashioned some clever coffee storage
Seeking Lavender Lane assembled a tiered tray from clock faces
Hunt and Host whipped up a cozy winter sign using her hot tool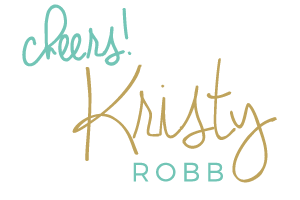 PIN THIS FOR LATER