Our yardstick projects are some of our most popular inventory at the pop-up markets we participate in so I'm super excited to share this DIY teacher gift idea. This handmade project is a fantastic way to celebrate the teachers in your life – and I'm going to tell you how to make it yourself at home!
My sister is an elementary school teacher and my husband was a middle school history teacher before becoming a high school principal. So, I know a thing or two about teachers. 😉
When I told my sister about this blog hop, she said that we definitely needed to share one of our ruler/yardstick projects. She has a table and a tray at her house that we created using vintage yardsticks – and she knows her teacher-friends love them.
We really love using yardsticks in a variety of our repurposed projects. My husband started using them on furniture or instead of the usual wood trim on a handcrafted project. They are easy to cut, glue or nail into place and make a perfect substitute for things like picture frames, boxes, table tops, trays, and more! Visit our Etsy shop for more goodies.
These last few years I've noticed a lot more patriotic-inspired handcrafted goods.  And really, what better way to repurpose an old American staple than to shape them into the United States of America?
Oh, and this gift idea appeals to both men and women teachers!
Here's what you'll need:
(some links may be affiliate – you won't pay a penny more but Robb Restyle may make a small commision – thanks for supporting our flea market obession)
Several yardsticks and/or wood rulers – if you don't have enough around the house, you can purchase some here or here. Remember to pick a few up from your local hardware store too.
Some scrap wood. We used wood from an old pressed-wood TV stand that we weren't using anymore. We also like working with luan board (aka 1/4 inch plywood) when we don't have a scrap that fits.
A shape of the USA you can trace. We used an old map and mounted it on a piece of cardboard to make our template.
Let's get started.
First you'll want to trace your image on the board. Then use a jigsaw to cut out the USA shape.
You can precut some of your yardsticks to the widest part of the shape, then start applying them randomly or in a pattern that you choose. Attach them with a nail gun or wood glue (if using wood glue, allow time to dry before next step).
Use your jigsaw again to trim the excess yardstick pieces off. In the photo below it looks like we did it after every piece, but he normally covers the entire piece in yardsticks and trims them all at the end.
Finish by lightly sanding the edges.
That's it! Add some rustic wrapping paper and call it done! You've just created a one-of-a-kind handmade gift to show your favorite teacher just how much he/she means to you and your child at Christmas.
This is so adorable, you're going to want to keep one for yourself so you might as well make two while you're at it. I'm keeping this one for myself.
More project ideas using yardsticks.
Here are a few more projects we've created with our yardsticks. Be sure to scout some out at the next flea market.
This is a really easy way to whip up some holiday decor with your yardstick scraps!
If you don't like cutting yardsticks, this is the perfect repurpose project for you. Corey added some yardsticks to a yard of board then finished it off with some vintage hooks for the perfect coat hanger.
Sometimes when we thrift old pieces of furniture, the tops aren't in good shape. Old yardsticks make a unique addition to the furniture we upcycle.
We took an old picture frame that was missing its glass and trimmed some yardsticks to fit in behind the frame. Then we added some handles and turned it into a chic tray.
We thrifted this old box and added some yardsticks to the bottom – super easy transformation!
DIY Teacher Gift Round Up
Looking for even more ideas? This project is part of a blog hop! Stop by these fabulously creative bloggers for even more DIY teacher holiday gifts:
Hunt & Host
11 Magnolia Lane
Craving Some Creativity
I Should Be Mopping The Floor
My Life From Home
Lehman Lane
I hope all of these DIY teacher gift projects inspire you to create your own handmade gift this season.
Teachers are special people. They are also usually a crafty bunch so they will be super impressed by your skills! And if you don't have time, visit our Etsy shop to purchase a handmade or vintage gift instead. I won't tell anyone you didn't make it yourself.
I'd love to see your finished projects so email me at Kristy @ RobbRestyle dot com with your own creations! Do you have another use for yardsticks and rulers? Comment below… I'm always looking for new ideas.
Oh, and don't forget to PIN THIS for later!
Happy Holidays!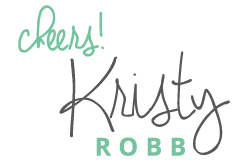 *This post may contain some affiliate links for your convenience. Robb Restyle may receive a commission, but you won't pay a penny more. Thanks for supporting our flea market addiction. Click here to view our disclosure policy.*