We never win anything. That is, until we did. And we won something pretty amazing.
We are thanking our lucky stars for what happened this fall. To our surprise, we were selected as the grand prize winner in the Deck Party of Your Dreams contest hosted by Thompson's WaterSeal. And, it was kinda like hitting the deck lottery.
But first… We have a pretty amazing backyard space that we're really proud of. We love spending time outdoors hosting family and friends, eating family dinners together, relaxing in the evening with a cocktail, and well, you get the picture.
A few years ago we completely rebuilt our deck to better fit our needs. It was the first major renovation that we completely designed ourselves and hired someone else to build. We didn't want your standard out-of-the-box deck. We wanted unique details like diagonal floor boards and craftsman-style railings. So that's what we created.
Then last summer we added a stamped concrete patio and a firepit to extend the use of our space during cold nights. Plus, there's nothing better than sitting around a fire with a cocktail in one hand a marshmallow roasting in the other. Am I right?
We also love Thompson's WaterSeal and have been using their waterseal since building our new deck. In fact, it was time again this summer to reseal the deck so we were already working with Thompson's WaterSeal to feature their Signature Series product line.
We used their Signature Series Stain & Sealer – Transparent in Timber on our deck. I love the rich color it adds while also providing protection against Indiana weather. We finished the deck just weeks before we learned we found out that we won the Deck Party of Your Dreams contest!
The Prize
Here's what we won (to the tune of about $20k):
Light deck refurbishment including our new farmhouse style roof complete with additional electrical outlets, barn lights, string lights and step lights
Outdoor kitchen furnishings including our new grill and smoker
All new deck furnishings and accessories
A catered party for our friends and family to celebrate our new deck
The Deck Consultation
Once we were officially named the grand prize finalist, things moved very quickly. We selected a date for the party of our dreams and set up our deck consultation (as part of the prize) with Jeff Wilson (deck expert, past HGTV and DIY Network host, and spokesperson for Thompson's Waterseal).
Our visit with Jeff was fantastic! It turns out we have a lot in common when it comes to a passion for old houses, repurposed style and craft beer. 😉 We told Jeff that we love to dine and entertain on our deck. In fact, we cook on our grill year-round. We also mentioned that we've never had an awning over our door and would love to add one someday.
Jeff suggested that we use the prize to create a roof over the entire upper deck space to create an outdoor kitchen. It was something we could have only dreamed about doing… and it was the perfect idea! 
This is how our deck looked before. It's funny, because when I look at these before photos now, I think my decor looks kind of tacky. But I was happy with it. Most of our decor was mismatched and pretty old. We also didn't spend a lot of dough on anything to begin with. It's an outdoor space, you know?
We use corrugated metal on the roof of our shed and the kids' playhouse so we decided to carry that theme onto our new deck roof. We wanted to replicate the style of roof that you might find on an old farmhouse or barn.
The contractor who built our deck happened to be available (LUCKY US) so we shared some ideas with him and he came up with a plan. He estimated it would take about 10 days to complete the job and we got approval on the project at about 12 days out from the party. Whew! Things moved quickly and the thankfully the Indiana weather actually cooperated for once.
Here's the project all framed up. Quite a difference already, isn't it?
The Outdoor Kitchen
Since we decided to create an outdoor kitchen, we had to upgrade our grill, right?!? My husband informed me that he was ready to become an artisan outdoor chef. Sa-weet. That means I get to eat some good grub and my kitchen stays relatively clean. He researched a new Weber grill (aff) model to replace our old one. Seriously, this grill is amazing. When you open it, you just expect angels to sing.
He also decided purchase a Big Green Egg for smoking meats. We are smoking a turkey on Thanksgiving this year and I can't wait!
The Farmhouse Style Deck Furnishings
Next, it was my turn to select some new furnishings for the deck! I've never spent this amount of money furnishing ANY room in my home. I'm not kidding. I'm a thrifter… I buy things on sale or broken things I can fix and paint. Buying all new furnishings all at once was SO MUCH FUN! I could get used to this kind of thing.
I wanted the deck furnishings to compliment the farmhouse style roof we were building so I created a design board with my ideas and then headed to the websites of my favorite stores to find all these beautiful things.
See something you like? Don't be shy!
Here are the affiliate links to some of my design choices:
Cafe String Lights  //  Olive Branch Wreath //  Galvanized Metal Urns
Concrete Console Table  //  Aqua Garden Stool  //  Terra Cotta Planter
See something you like? Don't be shy!
Here are the affiliate links to some of my design choices:
Metal Glider Sofa  //  Metal Glider Chair  //  Terra Cotta Planters
Aqua Garden Stool  //   Galvanized Garden Stools  //  Outdoor Dining Set
The Deck Makeover
And here's the final reveal with all our farmhouse style deck roof and all the outdoor furnishings in place. It has become such an amazing space for us. We are so grateful to have won this prize!
How cute is this "hello" doormat?!? Click here to get one for yourself… (aff) Hello Doormat
I'm not gonna lie. Winning a contest isn't' all sunshine and rainbows. Remember when I said that things moved quickly? There's a lot of stress that comes with picking out thousands of dollars of merchandise and planning a construction project – all in a matter of weeks!
I probably sound like a whiny brat. But, if I'm being totally honest, we were really glad when it was all over. Now we can just relax and enjoy all of this outdoor goodness! And that's truly what it is! Loads and loads of wonderful outdoor memories to be made with our family in this fantastic outdoor space.
I love seeing the side-by-side pics too… Such a huge transformation!
To top it all off, we ended this crazy ride with a fantastic Deck Party of Our Dreams! Seriously, I've never hosted a party where I didn't have to cook a single thing! It was wonderful. All our friends and family were amazing during this whole process and we are so lucky that we got to share this experience with them!
And, I have to thank my parents… oh my, did they help us out! My dad would drive by and see packages in the driveway and then stop over to help unload, assemble, mow our yard, or whatever we needed! And my mom helped me select furnishings and food, run errands, lent me a shirt for my TV appearance (oh yea, did I mention that??), and so much more! We couldn't have stayed sane during this process without their help!
So, what do you think? I feel like our outdoor space is so fancy now!  I'd love to know your thoughts OR how you would have used your prize winnings to refurbish your own outdoor space. Please comment below!
I'm sure this isn't the last time you'll see this space on the blog… I'll be sharing it again when the Indiana weather breaks for spring and summer. Oh, and another Indiana blogger, Hoosier Homemade, stopped by for a visit and shared some deck design ideas on her blog so you should check it out too!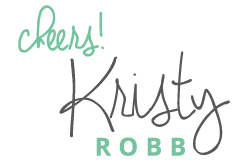 *This post may contain some affiliate links for your convenience. Robb Restyle may receive a commission, but you won't pay a penny more. Thanks for supporting our flea market addiction. Click here to view our disclosure policy.*