Sometimes I have house envy. To those of you with a fireplace mantle to decorate for the holidays, I'm so envious. I love my old house and all its character. But, this old house didn't come with a fireplace.
What's not to love about a fireplace? Cozy fires in the winter and a fantastic little space to decorate for the season. Growing up, we even roasted marshmallows occasionally in my family's fireplace.
So, my sister let me borrow her fireplace instead. She lives in a 60s ranch house nearby that she is currently remodeling. It has a fabulous traditional wood-burning fireplace with a brick exterior. And it was begging to be styled. (I can say that because she's my sis. And she loves when I come and decorate her house while she's at work. Win-win.)
She has some cute accessories – like that lovely polka dot chair she just snagged at the Hobnob Market and that amazing flower market bucket she got for her birthday from my mom and I. But, there just wasn't any holiday pizzazz.
I brought a few of my own accessories and borrowed a few from around her house to restyle and decorate her fireplace for the holiday.
By the way, sometimes the best place to hang your TV is above the fireplace. But don't fret. You can still make use of the space around and under to make a pretty holiday display. And that's just what we did here.
Even though I don't have my own fireplace, I'm going to share a few quick tips here for decorating yours.
Hide all electrical cords.
If you have a TV above your fireplace or you have christmas lights on your mantle (or if your TV is on mounted on any wall in your home) then you must, I repeat MUST, do this one simple thing before you do anything else. You will be amazed at what a difference this ONE SIMPLE THING makes – no matter the season. I simply used some Command hooks (aff) and was able to tuck all her cords and satellite box behind her TV in about 5 minutes. Look how much nicer and cleaner this looks with no cords showing.Ok, now that we have that out of the way, let's move on.
Hide what you don't need for the holidays.
It's hard not to feel cluttered when you decorate for the holidays. I have a dresser in my living room that is empty, except during the holidays so I can tuck away any extra decor I don't need. It helps me stay organized so I can easily find everything when the season is over. The two topiaries she had on the fireplace when we started are adorable, but we needed the space for holiday specific decor, so I tucked those away for her.I also removed the firescreen for a prettier setting. Of course, when she lights the fire she can add it back, but I loved the idea of adding some woodland decor inside of it. Most of the time, the fireplace is like this, so it should look pretty when it isn't hard at work, right?Oh, and she uses that adorable metal bucket for holding blankets. So I just threw a plaid blanket scarf (from the dollar spot at Target) over the top of the mismatched blankets. This makes it look like part of the decor but is still practical for everyday use.
Select a color theme.
She has lovely gray walls and most of her furniture has blues in it so I decided that I would primarily use reds to decorate with. Even if it isn't the holidays, keep your fireplace decor theme simple with just one or two main colors and you'll be happier with outcome. Since the rest of her house is primarily a modern farmhouse style, I wanted to make sure the fireplace decor complimented this style as well.

Use what you already have.
This is my favorite advice no matter where or what you are decorating. Sometimes just moving things around feels fresh and new – and it doesn't cost you a thing! We repurposed some old soda boxes and stacked them for height. Then I just added some of her extra holiday decor to this space. If your house is like mine, you always have more holiday decor in storage than you actually use. I personally like to have a few choices when I decorate and it allows for a little different arrangement every year. So, look around your attic/garage/closet and dig out some of those treasures.

And, don't be afraid to look for other decor around your house that fits into your color theme. Perhaps it doesn't seem like holiday decor by itself, but when you cluster with other items it becomes part of the larger picture – like this little camper birdhouse or the vintage red and green children's books.
This was a super simple and speedy fireplace restyle. I only had a small window of time before the kiddos came home from school. So, it doesn't have to take a long time or cost a lot of money to create a special holiday space around your fireplace.
I hope you are inspired to incorporate some of these tips for your own fireplace mantle. Got any more tips? Drop them in a comment below. I'd love to hear from those of you with fireplaces of your own. For now, I'll just see who is willing to let me borrow there's for the season. (wink, wink)
Oh, and don't forget to pin the image below for later…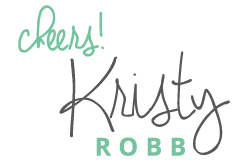 *This post may contain some affiliate links for your convenience. Robb Restyle may receive a commission, but you won't pay a penny more. Thanks for supporting our flea market addiction. Click here to view our disclosure policy.*