Try this new DecoArt suede faux finish paint to amplify your diy home decor projects. A little texture provides a super interesting finish to this plain wood tray.
I am part of the DecoArt core blogger team for 2019-2020.  This post and paint is sponsored by DecoArt, but all opinions, ideas and creative inspo are from me.
A little texture goes a long way. Distressing is one way to add character to my painted projects, but that's not always in keeping with the look I'm going for.
Using a paint that has a bit of its own texture is another way to add depth and dimension to your craft home decor projects.
And this new suede paint from DecoArt, now available at Michael's, is just the ticket to add a little personality to a plain wood tray.
Here's what the tray looked like before. Pretty boring.
There's a bit of a technique that goes alongside using DecoArt suede paint, so I made a short video to show you how to create the most luxurious texture using this new suede paint.
DIY Suede Faux Finish Farmhouse Tray
Watch how to create suede-like texture with paint here:
Here's another close up of the textured finish with two coats of paint. Pretty cool, isn't it? It's a little like really fine granules of sand that form this unique texture.
Adding a DIY faux suede finish with paint a fun way to add a little dimension to solid painted surfaces in your home. And, it's a bit more luxe than plain ol' paint, don't you think?
It's perfectly subtle but also adds just the right amount of character at the same time.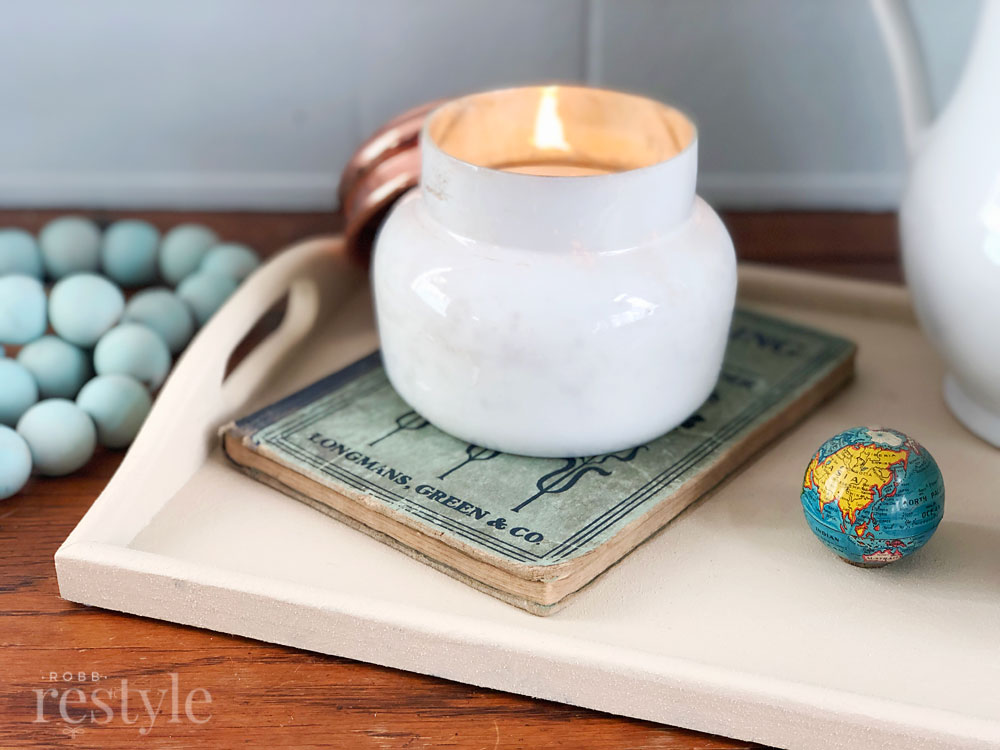 I hope you enjoyed seeing this new paint effect – just another way to take your home decor from blah to Ahh-Mazing with DecoArt paint.
I'd love to know what you think of this texture!