This is a sponsored post written by me on behalf of Plasti Dip. All opinions are 100% mine.
Are you mad for plaid this fall season? Find out how easy it is to spray paint a plaid pattern on this playful plaid stool upcycle project.
For me, more time at home means more time for crafting! And I love putting a new spin on chippy or rusty treasures.
I snagged this old rusty stool at a flea market a while back and it's just been waiting in my garage for a fun transformation. I love thrifted stools because they are easy projects to makeover. You can always use extra seating or repurpose it as an end table for small spaces.

This particular metal stool had seen better days. It had also clearly spent the latter part of its life outdoors building up a little chippy rust. But, that didn't scare me away.
That's because I was equipped with a few cans of Original Plasti Dip spray paint in some of my favorite vintage-inspired Classic Muscle colors. Rusty metal, meet your match.
Shop now on Amazon (affiliate link)
There are lots of ways I could have tackled this old metal stool project, but Original Plasti Dip spray paint is a speedy, quick fix with a flexible coating that resists chips – an important consideration before I bring something rusty inside!
I chose four of their retro Classic Muscle colors for my project: Wimbledon White and 50s Aqua for the base and added in Go Mango and Grabber Blue for the plaid pattern. You'll want to be sure to use Plasti Dip in a well-ventilated area. My furry helper didn't seem bothered by my setup.

I started by painting the top part of the stool in Wimbledon White. I love the soft, rubbery feel of the spray paint. It really gave a nice matte look to the rusty metal.

Next I taped off a section of the legs to add some color and dimension with 50s Aqua.

And because I was inspired by the first feelings of the fall season, I decided to add a playful plaid pattern to the top. #madforplaid
I know what you might be thinking. That plaid pattern looks a little complicated. But, I promise it's really easy to create in three easy steps with three different paint colors. The only tool you'll need is some painter's tape.
How to spray paint a plaid pattern (no stencil required)
Start by painting wide vertical stripes. Use painter's tape to create your stripes and to keep it easy, I make my stripes the same width as the tape so my stripes are even without having to measure. [orange]
Once those are dry, paint horizontal wide stripes. Make these stripes perpendicular to and in the same size as the first stripes you painted. [mint]
Finally, once those are dry, create a small stripe pattern. You'll paint the small stripe in the center of both of the wide stripes (both vertical and horizontal). [blue]
And, that's it! You just created a playful plaid with spray paint! Imagine all the surfaces you could add a little plaid to!?
Of course, this playful plaid stool upcycle is perfect for styling a few of my favorite vintage thermoses. I love repurposing old stools in my home. They are perfectly sized as a plant stand or place them next to a chair for an extra table in small spaces.
I love how Plasti Dip paint gives a velvety texture to what was previously rusty and brittle. That's something that regular old spray paint can't do.
Get yours at Amazon (affiliate link)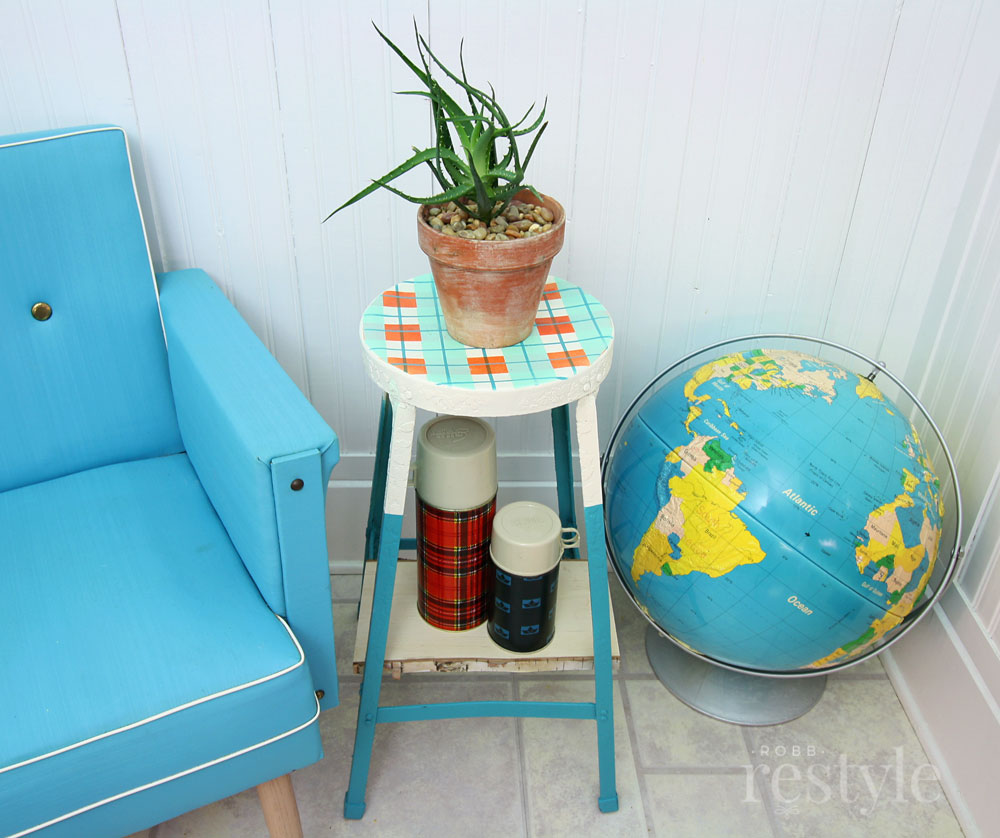 Rusty metal vintage finds can be transformed into smooth and chic home decor easily with the Original Plasti Dip. Check out all their amazing colors – and especially the Muscle Car line.
I'd love to hear your ideas for upcycle projects with this pliable spray paint. Have you ever tried painting plaid?
Thanks for stopping by!