Roadtrippers, wanderlusts and those of us obsessed with all things vintage… let's make something together! 
A good ol' vintage camper trailer is both nostalgic and a bit cheeky. And, I especially love decorating with them for the holidays.
Don't forget to PIN THIS project for later.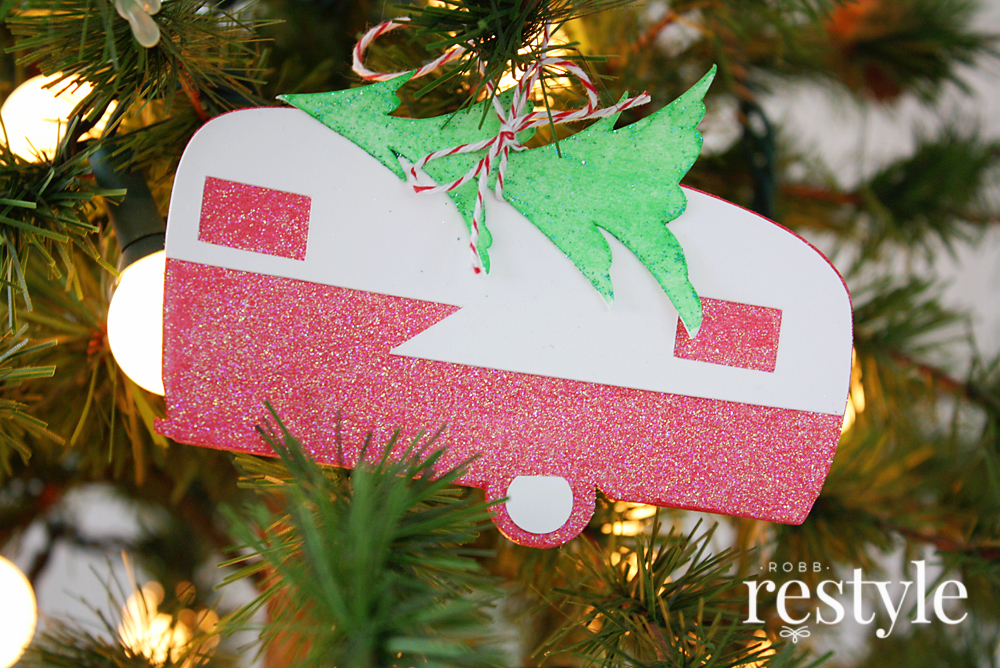 As a result, I'm back with another handmade camper project, but on a much smaller scale than my retro camper photo booth. I mean, you can never have too many vintage campers in your life. Can you?
*This post may contain some affiliate links for your convenience. Robb Restyle may receive a commission, but you won't pay a penny more. Thanks for supporting our flea market addiction. Click here to view our disclosure policy.*
Oh, and this is my first time using the new Cricut Maker machine. If you don't have one already, you better tell Santa to put it on your list.
I am part of the DecoArt core blogger team for 2017-2018.  This post and paint is sponsored by DecoArt, but all opinions, ideas and creative inspo are from me.
Here's what you'll need for this handmade holiday camper project.
Supplies:
Cutting with Cricut Maker
Start by creating a project in Cricut Design Space to cut out your shapes. I wanted the camper and truck bases to be really sturdy so I used this chipboard. Remember, you'll need to use the deep cut blade and adjust for more pressure. I only used the chipboard to cut out the camper base and truck. Then I used white kraftboard for the camper top and trees.
Because the chipboard is so thick, I used the contour tool in Cricut Design Space to minimize the amount of cuts in my shapes. I love that you can hide and unhide different cuts to get a more custom shape. Here are the Cricut shapes I used for this project.
Pine Trees (

#M32B35) – 

Only used the shortest tree for the campers

Christmas Tree (

#MEFB20) – 

Removed the star and trunk for the red truck

Truck (

#M34343) – 

Removed all the inside cuts except the window

Camper (

#M3601E) – 

Cut top and bottom of camper separately, removed small details
Painting with DecoArt
Next, I painted my camper bases with DecoArt Dazzling Metallic in Festive Red and DecoArt Crafters Acrylic in Ocean Green.
While the paint is still wet, lightly tap the glamour dust on the camper starting from the bottom. Then tap the glitter towards the top because you'll be covering the top later. Then allow it to dry completely.
By the way, this was also my first time using DecoArt's Glamour Dust and it's my new favorite way to add some sparkle. This super fine glitter is just like snow! It actually adheres to the wet paint – no need for extra glue – and so fun to use! #makeitsnow
Since I wanted my trees to have a little less sparkly I painted them with DecoArt Crafters Acrylic Holiday Green and then added a light coat of DecoArt Twinkles in Christmas Green.
Once everything is dry, glue the top of the camper onto the camper base (you can also add the tire if you desire). Then wrap a lengthy piece of bakers twine around the tree before you glue it to the camper so you can easily hang it.
Decorating with handmade holiday campers and trucks.
Now, for the best part… these handmade holiday campers (and trucks) are just the best little adornments for anything from holiday trees, garlands, gift tags, wreaths, and so much more!
Here are a few ways I am using them in my holiday projects.
Handmade Holiday Camper Garland
I love making and decorating with handmade banners around my house all year 'round – and these handmade campers are just the right size to tie onto some leftover pompom trim or a strand of pine garland.
Handmade holiday truck wreath.
By the way, I didn't show the steps for the trucks here. Just follow the same steps, only glitter the top of the truck instead of the bottom. And, use the other tree shape and glue it to the back of the truck. Finish by wrapping the bakers twine around it a few times.
I mean really, can you think of a simpler way to dress up a wreath for the holidays?
Handmade holiday camper gift tags.
You can add a little handmade love to your gifts this season by tying a camper to it.
Handmade holiday camper and truck ornaments.
Lastly, this is my favorite little tree to decorate for the season. I call it my woodland tree (because when you have several trees in the house, each of them has a name). Plus, I've had those lights for years and they remind me of full moons. Decorating it with little camper and truck ornaments? Yep, transcendent.
You might know that I've been using a Silhouette machine for years but I discovered the Cricut Maker to be really powerful with its new rotary blade and quieter mechanisms. I think I've found my new favorite cutting machine! Oh, and it also looks super sleek on my tabletop with it's matte gold cover. I can't wait to come up with more projects to share.
See more DecoArt and Cricut holiday creations and enter to win some fantastic prizes (including the NEW Cricut Maker) all month long on the DecoArt Blog!
Can you think of other uses for these little handmade adornments? Comment below with your ideas! I'd love to know…