I'm going to be honest. I'm not sure I would have made time to organize this space this month if I hadn't joined my other blogging friends for an organizational blog tour. Sometimes, I need a deadline. And that's just what it took for me to finally bring some harmony to our once-jumbled kitchen nook. Enjoy these quick tips for kitchen organization and then visit some of my blogging friends for even more organization tips around the house! Links included at the end.
Here is the kitchen space that I decided to organize.
I'm always surprised by how long I will let a drawer or a cabinet look like chaos before I actually take action. It's almost as if we all get used to the erratic mess. Or maybe it's because I could close the drawer and look away so easily. Raise your hand if you have a few cabinets or drawers that could use a little organization. ✋?
Before we added this set of lower drawers/cabinets during our kitchen remodel, this was an empty corner (<= click to see how this space was transformed). We repurposed our existing kitchen cabinets for the rest of the remodel. But these were purchased new. They are a lovely weathered gray with smooth, soft close adapters. I wish all my cabinets could be this glorious!
Organizing Deep Drawers
These drawers are super deep. That makes them so much more efficient for grabbing something quickly and storing larger items, like cereal boxes. I don't have a lot of countertop space so this little kitchen area serves as a makeshift pantry for us.
To start, I grabbed one two three large garbage bags. Sadly, a lot of the food was expired. What a waste. That's what happens when disorganization takes over.
Here is the top drawer – both before and after.
My part-time work schedule allows me to fix breakfast for the kids. But, it's hard to decide on what to fix when we don't even know what we have. Now all our breakfast items are neat and tidy in the top drawer.
Plus, I love having a grab-and-go area for those mornings we have to hurry out the door. Because sometimes, mornings don't go as planned.
I knew I wanted to find some prettier storage vs. using all plastic containers to organize these drawers. I measured the drawers first and I always keep a mini tape measure in my purse just in case. That's how I knew this tall oval basket would be a perfect fit.
Here is the bottom drawer – both before and after.
We organized the bottom drawer for snacks. We put all kids snacks in the basket on the left. Then we put all open boxes of crackers into serving-sized baggies in the middle basket. Chips are now stored in the tall containers in the back with nuts and crackers in the basket on the right.
Organizing a Cabinet
We were not being very efficient with this little cabinet. I am a k-cup hoarder. I mean, I like to purchase k-cups in bulk – cuz this mama doesn't ever want to run out of coffee. But crap would just fall out of this cabinet anytime someone opened it and I didn't have a good handle on my coffee supplies… or really anything else in this cabinet. No staging here. This is really how it looked.
I purchased a few pretty boxes to hold my k-cups and additional coffee mugs. Then I repurposed a shallow vintage box to hold the espresso stuff. I also decided to find a different home for the appliances we rarely used, which left more space for the things we regularly need.
I seriously can't believe how much space we gained just by organizing it! My blender recently broke, so now I feel like I have space to store the new one when we replace it. And, we can actually see everything and reach what we need easily. Success!
Organizing Coffee Stuff
I got this beautiful new coffee maker for Christmas! I love the color that it adds to this multi-gray space. My little guy also got this espresso machine from Santa (yes, he's been a coffee drinker since he was about 3 years old – don't judge me, I love having someone to share my coffee passion with).
So we needed to make room for the additional machine and supplies. The k-cups in the box seemed cluttered to me and the counter just wasn't pulled together. (yes, that's the box I ended up using in the cabinet instead)
I used the underside of the shelf above to hang my coffee mugs in reach using these little hooks. I've also seen these adorable countertop mug racks that are both useful and stylish.
And now this coffee area looks much more pulled together and less cluttered.
I have been dying to find a way to use this industrial metal box we picked up at a flea market for $10! Right?!?
It has that vintage vibe we absolutely love! Plus, it has an attached lid and happened to be just the right size for organizing all our coffee and tea supplies. I simply added a chalkboard label and hand lettered coffee on it.
My thrifty industrial find holds all my coffee and tea essentials, plus it has a lid to keep everything stowed neatly away – but still easily accessible. Inside I just repurposed some pretty glass dishes for our coffee, sugar, etc.
Is there a more adorable and useful way to store my coffee supplies? I can't think of one.
Coffee is just one of those things that I want my guests to feel comfortable helping themselves too. So, I made sure to label everything so that anyone could find what they needed easily – like extra K-cups and mugs in the cabinet below. You can find cute pre-made labels on Pinterest and Etsy, or simply use some chalk vinyl like I did here.
5 Quick Tips for Kitchen Organization:
Here are some key takeaways that you can apply to your own kitchen, or really any space in your home that you want to organize.
Find ways to group similar items together. Use baskets, boxes, plastic containers or whatever you can find. Be sure to measure your space first so you know exactly what will fit.
Use smaller storage containers or plastic baggies to pre-package your boxes of crackers and chips. It helps them last longer, especially if you package according to serving size and it makes it easy for packing lunches or snacks on-the-go. Bonus: it takes up less room in your drawers.
Be creative! We find lots of unique vintage boxes in all shapes and sizes at the flea market – usually for just a few bucks. Corey usually adds a coat of polyurethane to keep them nice and clean. It makes my heart happy to find new uses for old things.
Use lightweight boxes and containers with handles in cabinets so you can easily pull them in and out. It also helps to store things that don't stack wellin some sort of container (like my extra coffee mugs), instead of on a shelf where they could topple over.
Think outside of the box (or in my case, inside the box). Find a unique container to assemble your countertop necessities in one tidy space. Adding visual interest and hiding the clutter is a win-win in my book.
Kitchen Organization = ✔️
Most of all, I love that I can see EVERYTHING in the drawers and cabinet now. It's easier than ever to reach in and find what we need. Both of my boys tell me they love the new cereal and chip storage containers… (awwww, my boys actually appreciated my organization efforts).
This is just a small part of our kitchen, but the result is a large part of our mornings. And, anything we can do to make mornings smoother is a good thing.
What about you? Are you resolving to get rid of clutter and organize some spaces in 2017? Maybe you're not ready to begin? Just pin the image below for later.
Get organized with more tips from your favorite bloggers.
Monday:
Domestic Charm
11 Magnolia Lane
Tuesday:
Evolution of Style
Just a Girl and Her Blog
Southern State of Mind
Wednesday:
Redhead Can Decorate
Chaotically Creative
Thursday:
Ciburbanity
Suburban B's
Windgate Lane
Friday:
My Uncommon Slice of Suburbia
This is our Bliss
Remember, kitchen organization doesn't have to cost a lot or take a huge chunk of time. Start small. Just tackle one area of the room at a time and don't let it overwhelm you. By the end of the year, we might make it through every corner of every room in the house. The glass is half full here, my friends.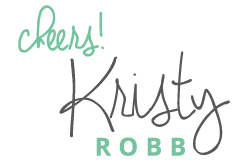 *This post contains some affiliate links to make shopping easier for you. Robb Restyle may receive a small commission if you decide to make a purchase, but you won't pay a penny more. Thanks for supporting our flea market addiction. Click here to view our disclosure policy.*