If you are finally ready to shed the extra winter decor around your house, declutter the countertops, freshen up your space, and add a little green to your spring – then this post is for you!
I'm so excited to be joining a huge group of talented bloggers to share simple ideas for adding seasonal touches to your home this spring.
Welcome to our spring home tour! If you're new here, thank you for stopping by! Let's get acquainted.
Here at Robb Restyle we love to share ideas for home design, decor and DIY inspired by vintage charm. Long before we were ever bloggers we were makers, DIYers and lovers of all things old and rusty. Our current home style is a little more refined but our passion for incorporating vintage frills hasn't changed.
We've been restyling this century-old home in Indiana for the last 15 years. We love the charm and character of older homes. I read this article once and it perfectly describes this innate magnetism we feel for this old house of ours. Take for example, our hardwood floors. They are flawed and blemished with countless signs of lived-in traffic. But they are over 100 years old. And original. And beautifully, imperfect.
Loving what you have isn't always easy.  Things like plaster walls can make for big messes and expensive fixes. But we've learned to awaken our home's charm in thrifty ways. We enjoy reviving and updating each room, and ultimately shaping this house with our personality from the inside out.
Our friends and family always use the back door. So, come on in.
Spring Decor in the Kitchen
Like all households, our kitchen is both the busiest and hardest working room in our home. So, I try to remain practical about the extra seasonal decor I use in here. Keeping our countertops free of extra papers, mail and whatever else my boys bring home is a full-time job. Cluttering it up with seasonal items is only going to add to the frustration.
Remember this post with all the creative ways to use vintage boxes? I think vintage boxes are a great way to help gather all the miscellaneous decor on our countertop. But I like to change them up with the season too.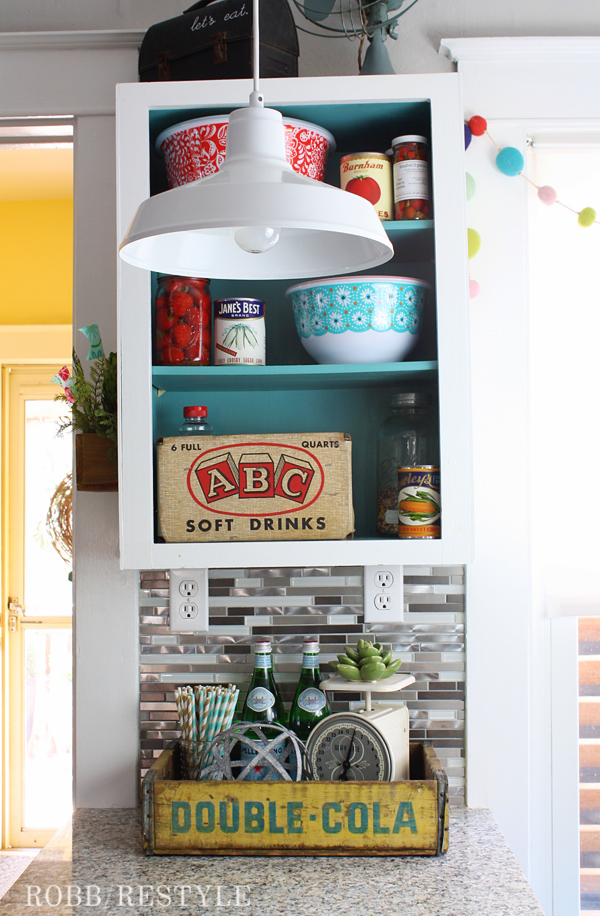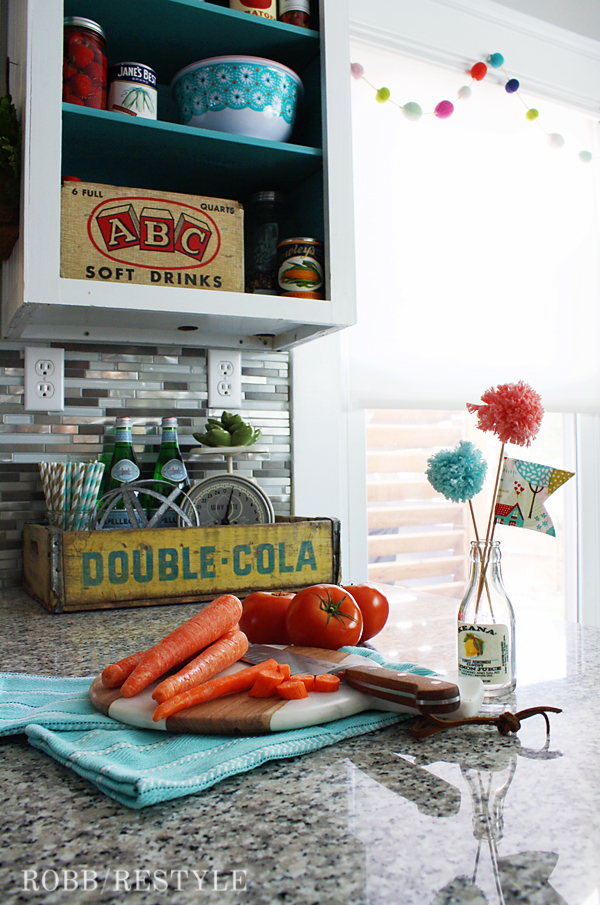 Our kitchen is full of grays and neutrals, so I like to add pops of color where I can. Last year I repurposed some vintage bottles into little vases with old labels – like this old lemon juice one. Get the project details here. I have a black thumb indoors, so yarn poms are my go-to vase filler.
See that adorable garland above my window? It's actually a Christmas decoration I got a few years ago from Target. It also looks super cute as a spring window decoration. Heck, it may just stay there all year long.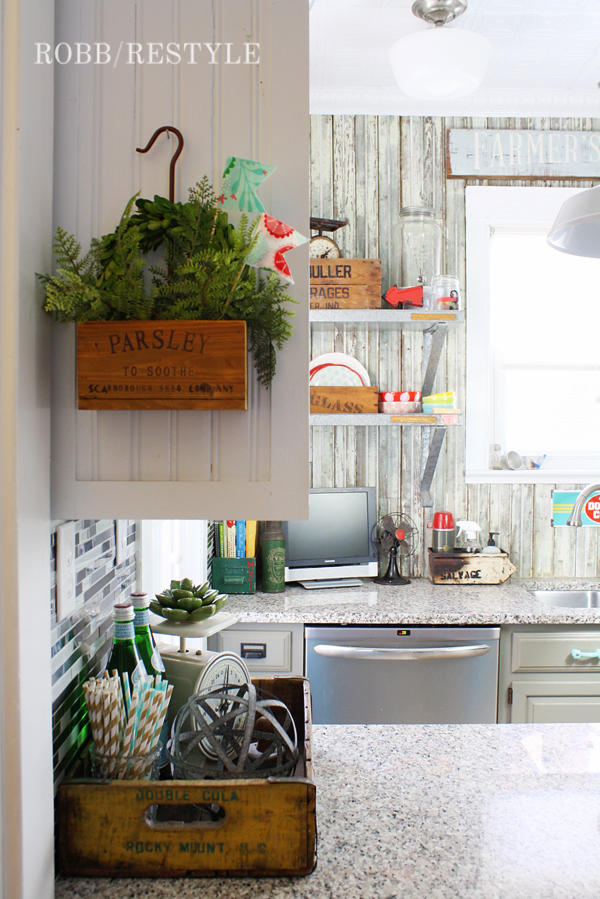 I made these little flags to sell at a spring market last year. I love buying fabric quilting squares for projects like this. They are a cinch to sew and when attached to wood skewers, they add color to your vases and greenery around the house.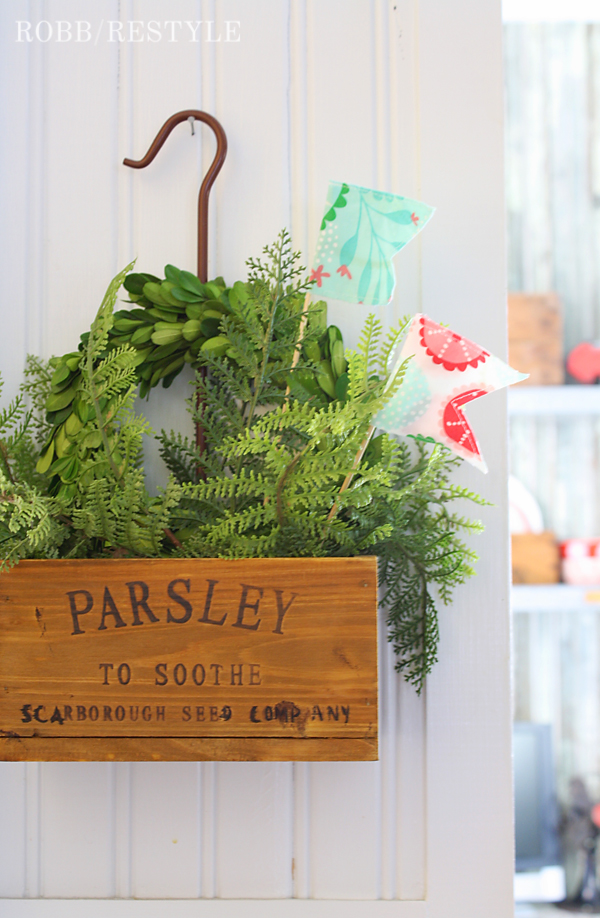 Get the look:
This little eat-in kitchen is a mix of 50s retro and vintage wanderlust. I painted an old crate in a bright spring green to complement my formica dining set. The chairs used to be red, but I recovered them in a bright, glittery vinyl for this space. (More details here.)
Cloches are my new favorite. It makes something as simple as a faux bird nest and an antler look kinda fancy, doesn't it?
Spring Decor in the Dining Room
The hubby surprised me at Christmas with this felt message board. It's a simple way to add seasonal messages to my decor. I chose this quote because my dining room is where all the planning magic happens. The dining room is also my craft and office space. Put it this way, if the kitchen is the heart of the home, than this room is the brains of the operation.

These paper fans were part of a spring market display last year. I adored them so much, I wanted to look at them everyday. Paper Fans are a super easy way to add a little playfulness and color to your spring home decor. I just used finish nails to hang them through the center hole of the fan and then layered them on the wall.
Get the look:
A long time ago when we repainted this room, our globe collection was the true inspiration for our color scheme in here. And, I finally moved most of my globes together on this shelf. I love seeing our collection sprinkled all over the house, but it's a much more powerful statement when they are grouped together like this, isn't it? And these galvanized metal trays were also another Christmas gift. I love changing them up with seasonal decor.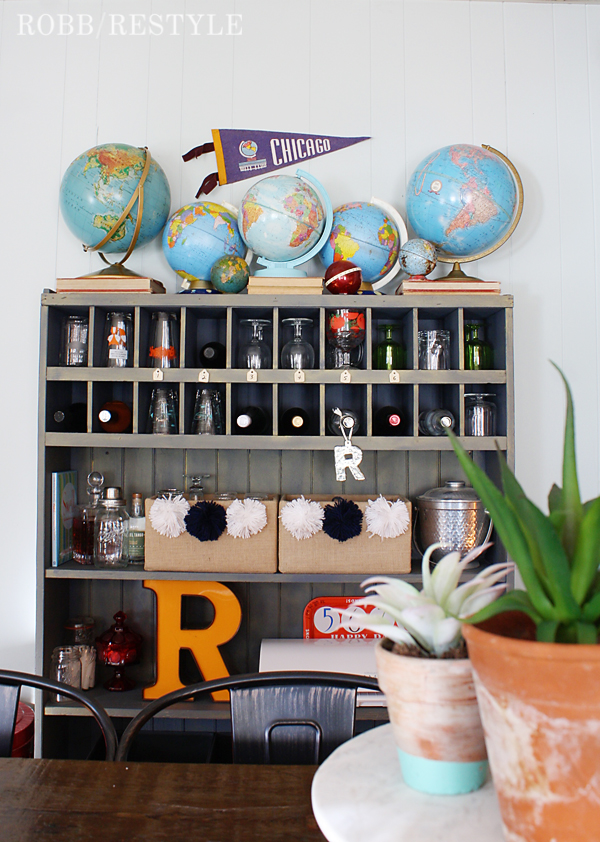 Get the look:
Remember when I mentioned earlier that I have a black thumb when it comes to indoor plans? Well, succulents are pure torment for me. I LOVE decorating with them. I'm so obsessed that I keep buying more of them. And over and over again, they die. Sometimes I even hide the dead ones from my husband, because I know he thinks it's an unhealthy obsession. 😉
I don't know what I am doing wrong. But, I'm tired of investing in these little fireworks of green.
So, I did the next best thing. I went to Hobby Lobby and purchased a bunch of faux succulent stems and some floral foam. Then I gathered my favorite vintage terra cotta pots (some of which once hosted a live version of these plants) and made an indoor garden that never needs any special care. I even added real dirt to the top of them for a more authentic look. You guys, I cannot tell the difference!
The irony of celebrating spring with faux plants is not lost on me.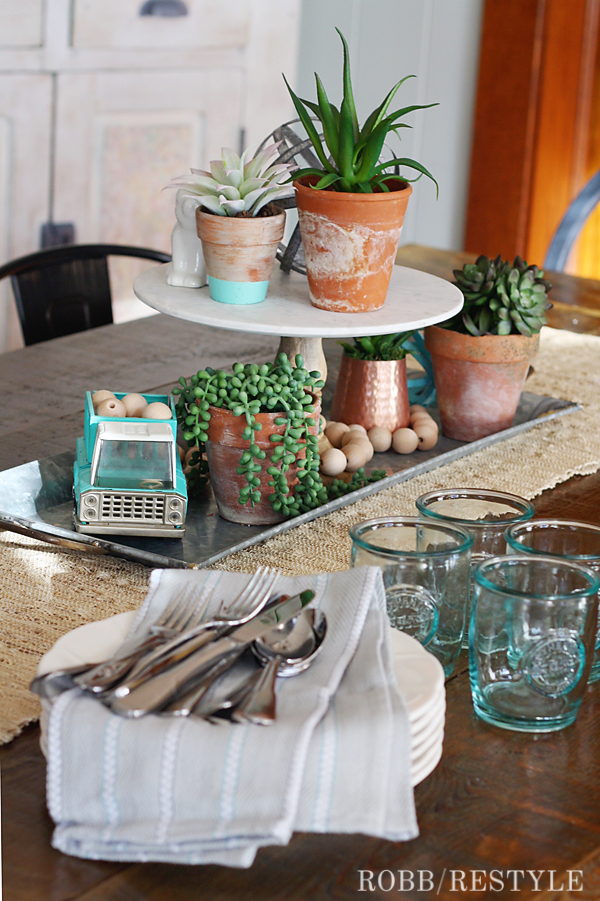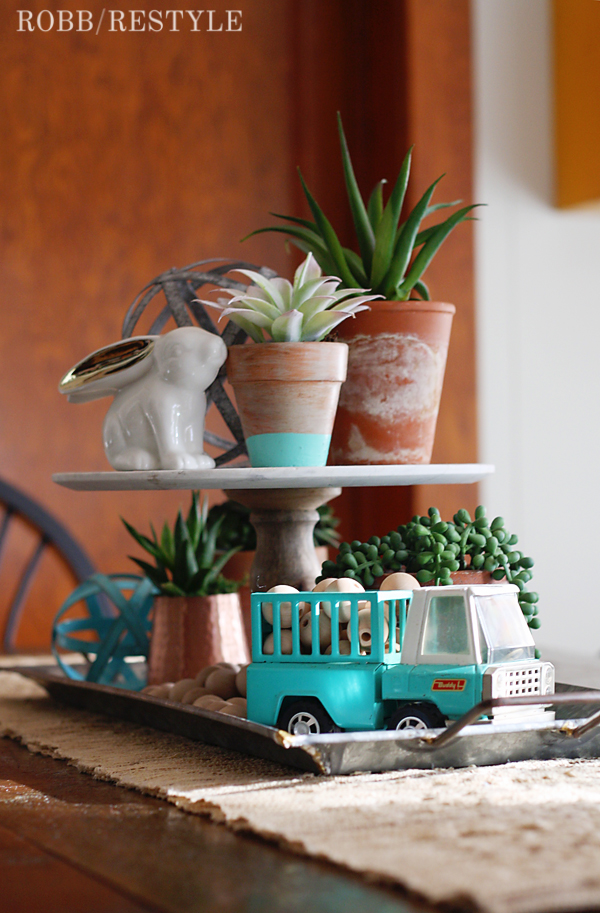 Ok, let's talk about this adorable aqua truck. Aqua is another obsession of mine and this adorable vintage toy truck is just the right size for my display.
Chalkboards are a great way to spread seasonal messages too. This bright space and built in window seat makes a perfect craft corner in the dining room.
Spring Decor in the Living Room
Adding color has never been a problem for me. However, I've recently discovered that if I paint my walls in lighter neutral tones, I can actually add even more colorful accessories. So that's what we did last summer when we painted over our taupe-y brown living room.
I like to change out my pillows with the seasons (pillows are another unhealthy obsession of mine). I snagged the navy gingham pillows from the dollar spot at Target last fall. This spring I added a bright pink pillow to the mix.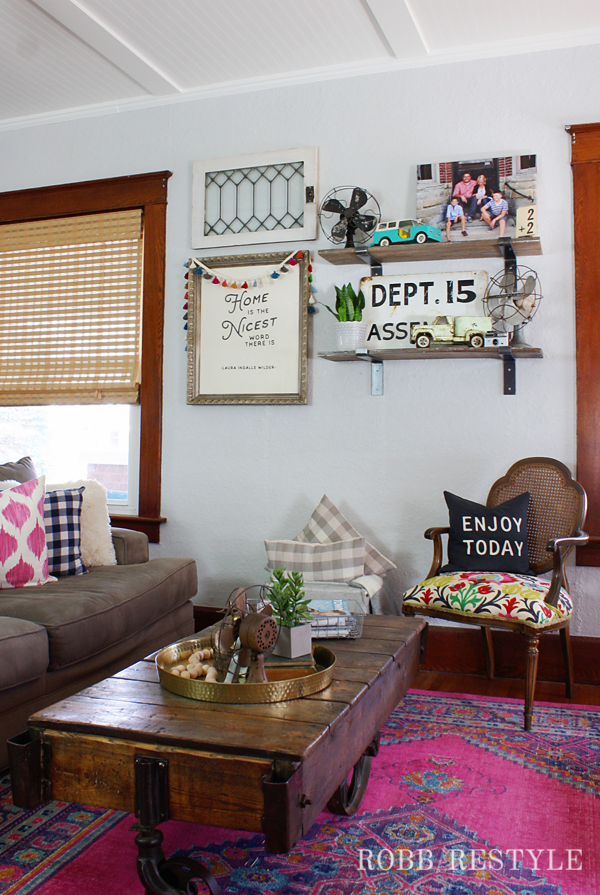 If you've ever repainted your entire living room, then you know how it makes you feel about adding fresh holes to the wall. Right?!? So, I've been slow to hang items in this room. We haven't even added curtains back to the room yet.
We certainly don't have any trouble curating eclectic vintage decor, so wall space like this typically fills up fast.
I originally set up this wall to accommodate a sectional couch. But that purchase might not make it into the budget for a while. You have to plan ahead for these kind of things… you know, and also convince your husband that a new couch is a need, not a want. I've got my work cut out for me.
Laura Ingalls Wilder books were some of my childhood favorites, so I made this sign for our living room using a vintage art frame. We pick up frames like these whenever we are at the flea market. Then my husband cuts some thin plywood to fit the frame and it makes the perfect sign canvas. Oh, and here's an easy way to add color to your existing signs or artwork. Just pick up some colorful tassel trim and drape it over your frames.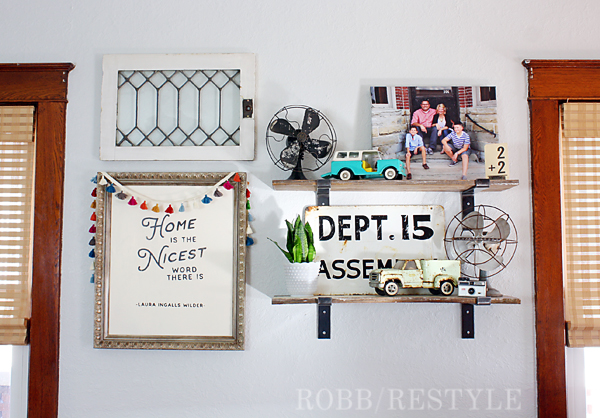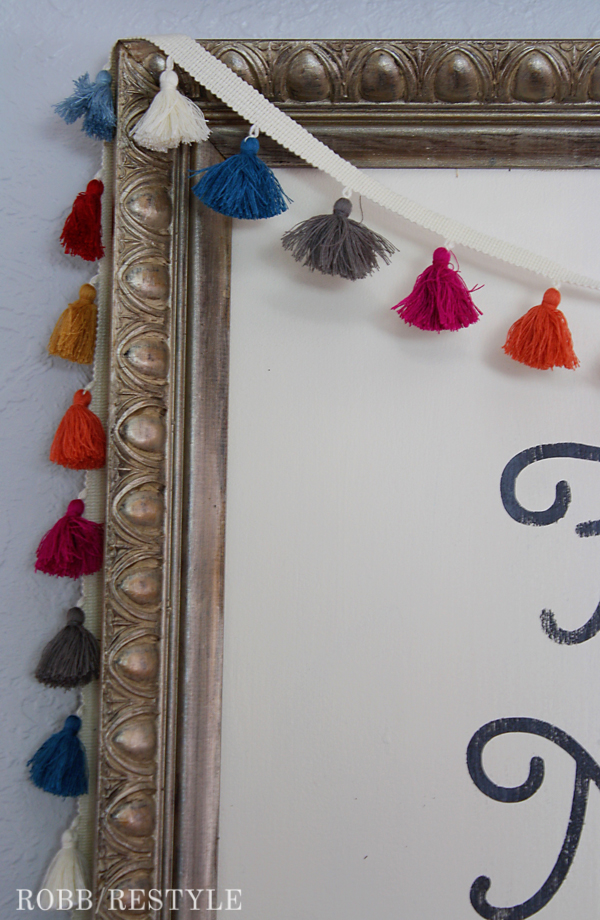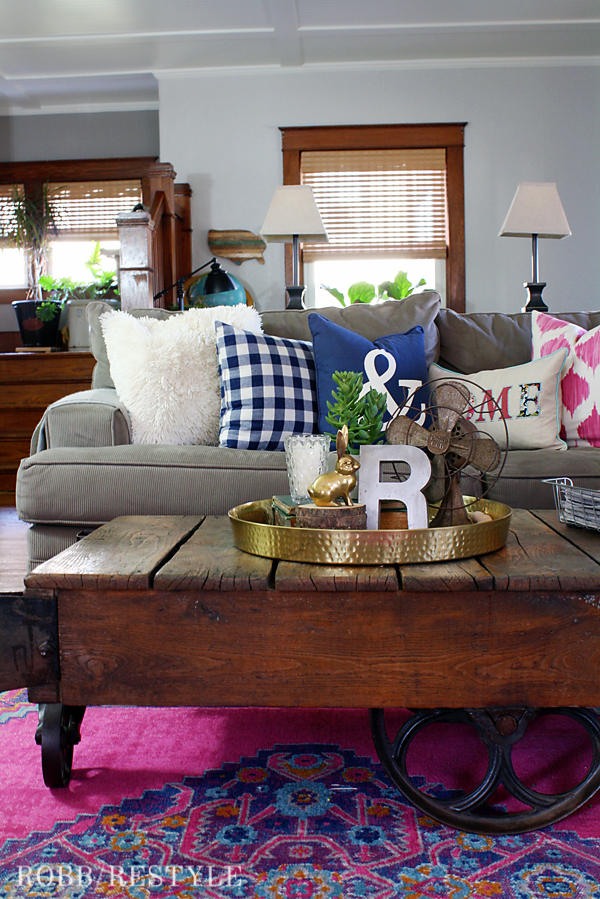 Get the look:
Thank you for visiting our 2017 seasonal simplicity spring home tour. Hopefully you've found some inspiration here along with easy ideas for adding seasonal touches to your home. Be sure to stop by the rest of the home tours from the entire week as well. There are gobs of adorable ideas!
Monday
House by Hoff / The Happy Housie / The Turquoise Home / Maison de Pax / Refresh Restyle
Tuesday
The House of Wood / Simplicity in the South / Place of My Taste / Tidy Mom / That's My Letter
Wednesday
Sincerely, Sara D. / at HOME with the barkers / Paint Me Pink / Nina Hendrick Design Co. / A Burst of Beautiful
Thursday
Just a Girl and Her Blog / Cherished Bliss / At Charlotte's House / House 214 Design / Town and Country Living
Friday
Cassie Bustamante / Robb Restyle / Erin Spain / My Fabuless Life / The Wicker House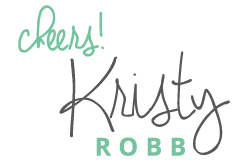 *This post contains some affiliate links to make shopping easier for you. Robb Restyle may receive a commission, but you won't pay a penny more. I only share links to products I love. Thanks for supporting our flea market addiction. Click here to view our disclosure policy.*