I'm totally becoming a crazy cactus lady over here, so I thought it was time to share some of my favorite cactus-inspired home decor. Don't worry, you don't need a green thumb to decorate with these succulent-inspired items.
*This post contains some affiliate links to make shopping easier for you. Robb Restyle may receive a commission, but you won't pay a penny more. I only share links to products I love. Thanks for supporting our flea market addiction. Click here to view our disclosure policy.*
I can't seem to get enough of anything related to succulents, and really all cacti. Many of these items would also make great gifts.
Here are nine of my favorite succulent-inspired finds.
Clicking on the item will take you to the online shop where you can purchase these finds for yourself. 
 Succulent Tea Light Candles
How adorable are these little succulent tea lights? Seriously. As soon as I spotted them, I knew they must be mine. I plan to use these on my outdoor patio table for one of our deck parties this summer. But they would look adorable on a tray in your kitchen or dining area.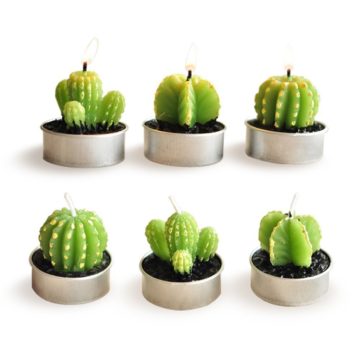 Hello Cactus Doormat
If you read this post, then you know that I'm also obsessed with doormats that say hello on them. I can't believe I didn't find this one sooner. I love the hand-lettered font and the adorable little cactus with a spot of pink.
 Succulent-Meets-Ice-Cream Beach Towel
I scream, you scream, we all… ok, you get it. But, what a sweet combination?! This beach towel is a must-have for summer vacation.
 Succulent Tea Towel Set
Why not bring a love of succulents into the kitchen? This little set would also be a great gift paired with a little planter or some kitchen utensils. I love the quote too!
 Succulent Plates
Cactus covered plates are perfect for your outdoor parties this summer. So adorable and fun. In addition to these plates, they also have cups, storage containers and tablecloths to match! And, since you can find these at Walmart, they won't break the bank.
 Paper Succulent Kit
This is for all the makers in the house! I've seen a few paper kits for cacti and succulents, but this one is my favorite. It has perfectly-hued paper and realistic looking pre-cut shapes. This would be a fun activity for a kids birthday party too.
 Cork Cactus for Your Desk
I tend to be super practical – and I've been honest about my inability to keep succulents alive at home. So, when I spotted this little gem for my desk, I couldn't resist! It can be used as a pin cushion or hold your reminders and notes. Plus, you can lift up the cork to store notions or loose change below. I might even paint the terra cotta pot for a little color. Either way, this would be a great gift and doesn't need watering.
 Succulent Pillow
This pillow is adorable with its watercolor versions of little succulents and it's simple enough to coordinate with home decor in all colors.
 Succulent Sheets
THESE. ARE. SO. CUTE! If I had a teenage girl in my household, I might just restyle her room in pinks and greens along with these adorable sheets from Urban Outfitters. Wouldn't this just be the best choice for a vintage camper too? So, subtle and so lovely. I totally need these in my life.
And if you still can't get enough when it comes to all things cacti, here's a little bonus.
Decorating with succulents doesn't have to cost a dime. Dress up your workspace or home office with this FREE desktop wallpaper that I designed.

Succulent Desktop Wallpaper by robbrestyle
As we roll right into spring and summer, succulent decor goods are a trend that I'm happy to get behind. I hope these treasures were fun to browse and you discovered something new. Thanks again for stopping by!