Each year I try to create a little something different with my holiday decor. I'm kind of neurotic that way – just ask Mr. Robb. But I love taking inspiration from magazines, TV shows, bloggers, and even from the holiday craft shows that we participate in each year. And every year new ideas pop into this noggin of mine.
This eclectic and merry holiday home tour is a little bit vintage, very eclectic and celebrates the season in a way that only the Robb family knows how. I hope you enjoy taking a look around our home as much as I enjoy sharing it with you.
Kitchen
We finished our kitchen renovation last year. You can catch all the details here, here and here. My kitchen design is pretty unique but it's also a project we are super proud of. If you're a fan of white cabinet kitchens, this design probably isn't for you. But I absolutely love all the textures and pops of color – as well as our favorite vintage finds tucked all around. It's my happy place.
By the way, this new Oasis Keurig machine is on my wish list this year… I really think this retro color would be so cute in this space! Hopefully Santa is reading this!
Oh, and you'll find all kinds of vintage crates and boxes around my kitchen. For more creative ways on using vintage boxes in your decor, click here.
Eat-in Kitchen Nook
We are lucky enough to have a little extra nook in our kitchen for a dining table. This area is inspired by retro 50s decor.
And I was super lucky to score this old metal dollhouse for around $6 at a vintage store this fall! Isn't it adorable? I remember playing with one at my grandma's house when I was a kid – likely one of my aunt's old toys.
This one was missing a few pieces but it cleaned up rather nicely. I was able to add leftover holiday decor from my vintage toy decorating project and some lights from the Target dollar spot. It has all the retro feels and is perfect for this nook. Plus, I had so much fun decorating it. I didn't have any little girls in the house so no dollhouses for us!
Dining Room
I must confess that I visited the Target dollar spot on at least 5 different occasions this season. And, I found adorable holiday treasures every. single. time. Seriously Target, you're killin' it with the dollar spot decor.
Living Room
Much to my delight, we finally painted our living room earlier this year so it was like having a blank holiday canvas to work with this season.
We made a few of these vintage bottle brush trees inside repurposed door knobs for the holiday Hobnob Market this year. I loved them so much that I had to keep a few for myself.
I also decorated a Christmas tree for my holiday market display but I sold nearly all the pennants on it and all the soda crates it was stacked in. So, I decided to recreate a similar tree in my house this season with a few extra vintage pennants we had around the house.
It is so perfectly *me* and believe it or not, I created this little vignette before I saw the cover of the Country Living magazine. If you haven't looked at the December issue, it's a must for anyone who loves holiday styling with vintage!
Remember that chair makeover I did with Velvet Finishes paint? Doesn't it look so lovely mixed in with my holiday decor and some plaid?
This yellow vintage toy Buddy L. truck is my last one. We sold all of the others at the holiday Hobnob Market. They were one of our most popular items. But this one is available in my Etsy shop if you're interested in one for your holiday decor! If you want to try this yourself, be sure to check out this post.
And of course, a tour wouldn't be complete without a shot of our tree! We are still using the flocked tree I wrote about here, but I added a few feather boas this year to create a snowy effect. These boas were a perfect way to add softness and dimension to our holiday tree. They are pretty easy to work with, but I wish I had put them on before I added our ornaments – note to self.
Thanks for stopping by. Please pin the image below for later (or even next season)… If you're like me, you collect as much holiday inspiration as you can!
It's been cold and snowy here in Indiana – the perfect setting for an eclectic and merry holiday season. I am so excited to celebrate Christmas with our family and looking forward to the new year. I hope you and yours have a very merry season and a happy new year!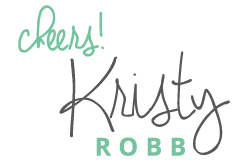 Linking up to these parties:
*This post may contain some affiliate links for your convenience. Robb Restyle may receive a commission, but you won't pay a penny more. Thanks for supporting our flea market addiction. Click here to view our disclosure policy.*