Before there was an official Robb Restyle blog, there was just us… two pickers and makers, passionate about vintage treasures, working together to create beautiful things for our old home. Of course, now Robb Restyle has grown to share these treasures with others at nearby markets. And today we give you a little behind the scenes peek at how we built our market display with Ryobi tools.
Our schedules seem to get crazier the older our kids become so we decided to focus on just one holiday show (
the Hobnob Market
) in 2014… and began working on our market inventory back in January. There are many reasons we love this market, but one of them is that they emphasize the importance of amazing and creative shop displays. With that in mind, we are constantly coming up with new ways to display our goods in a retail setting.
My creative and talented builder-husband takes this role very seriously. Thankfully we met the fun people at Ryobi this summer and he was able to test out a few of their tools while we were at the Haven Conference. And, for the rest of our time there, that is all I heard about! Sadly he didn't win any of the tool giveaways at the conference. Womp. Womp.
So when Corey's old tools finally gave out this fall, we reached out to Ryobi and they gladly sent us a compact drill/driver kit, a cordless narrow crown stapler and a brad nailer from their 18v One+ system – very fine tools indeed to help us build a spectacular display onsite this year!
We recommend putting these tools on your holiday wish list this year! 
NOTE: We were provided product from Ryobi to try out with our Robb Restyle projects and share our experience with you. All opinions are our own… and we think Ryobi tools are the best!  


Our Market Space
We have a double space at this market, mostly because our inventory is large and unusually shaped. We also want to have enough room to create a space for our customers that:
feels like stepping inside a retail shop
shows our vintage and handmade goods in a way that allows you to visualize how you might display the item in your own home
Since our friends and family know us well as
hoarders
pickers, we were able to acquire some old farm doors shortly before the market that allowed us to really create an intimate shopping environment. Markets have a unique challenge in that there are other vendors on nearly all sides of you. Corey used the impact driver to connect the doors in an accordion fashion to form a wall on two sides of our tent.
He was able to use the original door hinges in some cases. These solid hardwood doors can be difficult to drill, but the impact driver's lightweight design and powerful torque made it easy for Corey to attach them.
This is sometimes a stressful time for us… building displays around our vision doesn't always go as planned. Combine that with the demand of time and we sometimes end up a little cranky with each other before it's done. Thankfully we didn't have to sweat the reliability of our tools.
We love the natural and rustic patina that the old doors provide. We weren't confident in their stability by themselves, but attached these half-moon shaped tables that I picked up at a thrift shop for $3 each to the front.
One of our most popular goods are the items we make with vintage maps. We needed a sturdy place for customers to browse the windows that also allowed us to display a few of them. Corey built a temporary wall out of an old pallet (also with his Ryobi impact driver) and we attached this feed sack curtain to the back so the vendor behind it didn't have to look at an ugly pallet.
This was a perfect job for the Ryobi One+ stapler! He loved how we could load 2-inch narrow staples into the gun. It easily drove the staples all the way through the tough pallet wood. My husband was impressed. Very powerful and handy.
Personally, this is my favorite cordless Ryobi tool. A good staple gun is a must-have tool for any crafter or DIYer. And for someone like me who lacks any upper arm strength, the Ryobi stapler is very easy to use.
A Few Market Display Tips
We love the challenge of trying to step up our game for this holiday market. Here are a few tips we've learned over the years.
Create sturdy, solid displays that help your customer visualize the purpose of the product, whether for hanging on a wall or displaying on a shelf. When possible hang wall decor up and organize your tabletops as if it was in your living room, etc. (only slightly more cluttered).
Create dimension with your inventory and/or decor. This may seem counterintuitive to the tip above, since you wouldn't likely put an end table on another table. However, it's more interesting and appealing to have varying heights in your display.
When hanging your goods up, make sure the price tag is easily seen. Some customers might not ask you and when you're busy with other customers it can be difficult to get things down to find the price.
Use a variety of textures and patterns. We try to soften the hard lines of our inventory with curtains, fabric bunting, table coverings, etc. Don't be afraid of repurposing objects either. An old ladder is one of our favorite display pieces.
Be prepared. Draw out your display. Visualize your space. Build your display offsite before you build onsite. And, bring your best Ryobi tools with you!
Here's a partial view of our fully-stocked shop before the customers entered. Stay tuned for an in-depth post about the Hobnob Holiday Market coming soon… including a few pics from other vendors too!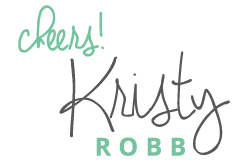 *This post may contain some affiliate links for your convenience. Robb Restyle may receive a commission, but you won't pay a penny more. Thanks for supporting our flea market addiction. Click here to view our disclosure policy.*