One of my most favorite jobs next to being a mama to my two boys is being an aunt to all 7 of my nieces and nephews.
When I met my husband he was already an uncle to this adorable four-year-old who also stole my heart the first time I met her. It was very clear she adored her uncle YaYa – an endearing nickname she created for him. I loved watching them together and knew from that moment that this guy was going to be a great dad someday.
Fast forward a few years… and I still wonder how it has come to be that this little flower girl in our wedding is all grown up?
Being the oldest, she is our first to graduate from high school. We wanted to make sure her graduation party was really special and ultimately celebrated HER!
As a gift to my lovely niece, I offered to help create a smashing graduation party atmosphere for her to celebrate with friends and family. We used Pinterest to create a shared idea board of the things she and her mom liked and wanted to include in the celebration.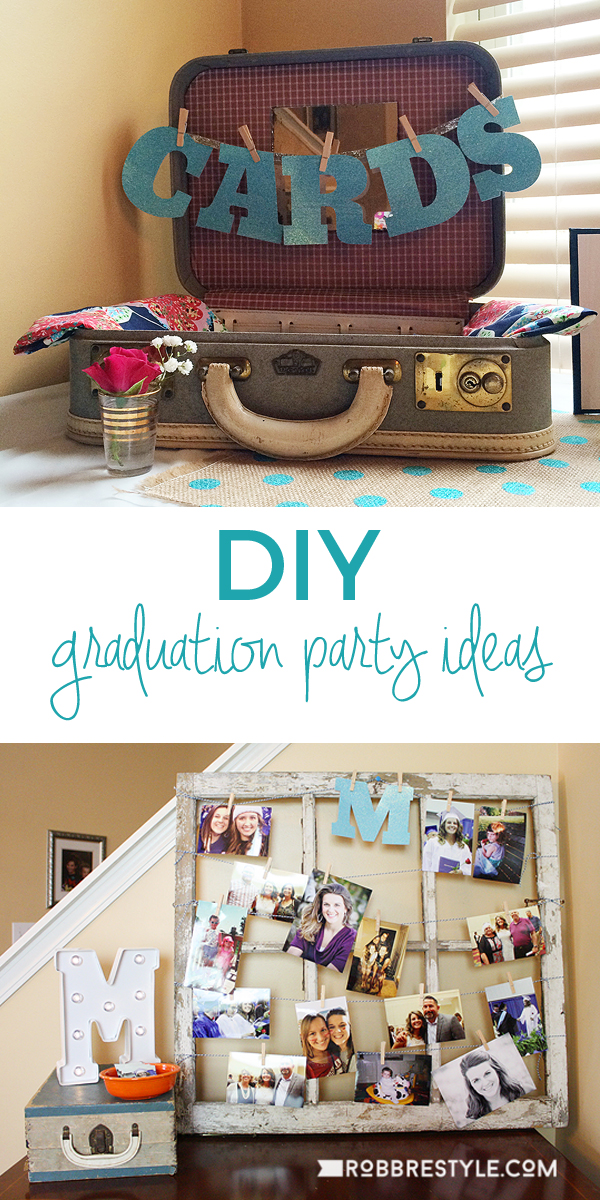 Here are a few DIY ideas on creating a graduation party to make your grad feel extra special!
Make sure your house is clearly marked on party day.
We used her senior photos to create some yard signs outside her house. These were printed locally on weather-friendly corrugated plastic (similar to political yard signs), which was nice since it sprinkled that morning.
I found tons of free printables online just by searching Pinterest for graduation party printables – like this poster for the front door.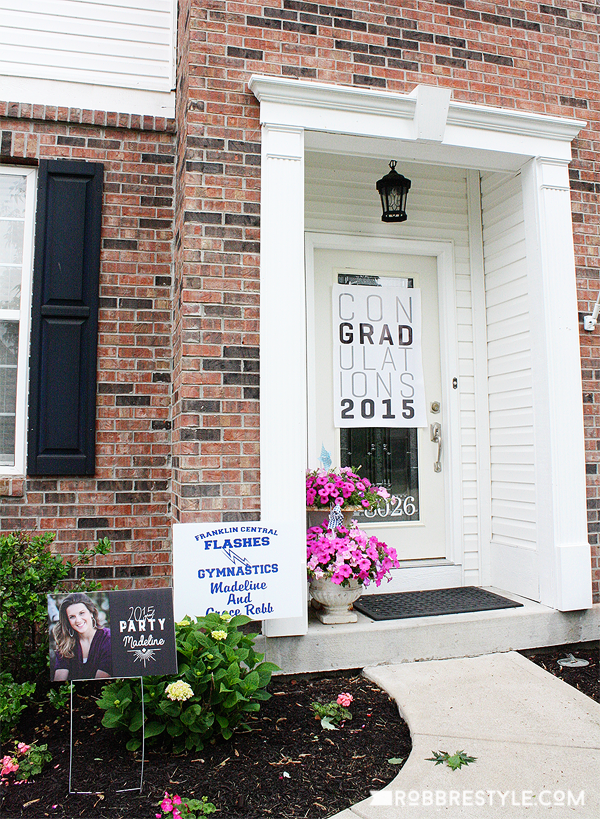 Create a unique photo gallery.
We just repurposed on old window frame, added some baker's twine and clothespins for a clever little photo gallery.
Make use of your senior pictures in your celebration.
You likely paid good money to capture your senior in some beautiful photography, so why not use these photos in your party decor? She wanted cupcakes for her party so we had these adorable cupcake flags printed here with more of her senior pictures.
Mini cupcakes are such a great idea for party guests – easy to munch and look prettier than a cut up sheet cake. We added the flags to striped paper straws that we clipped to short lengths.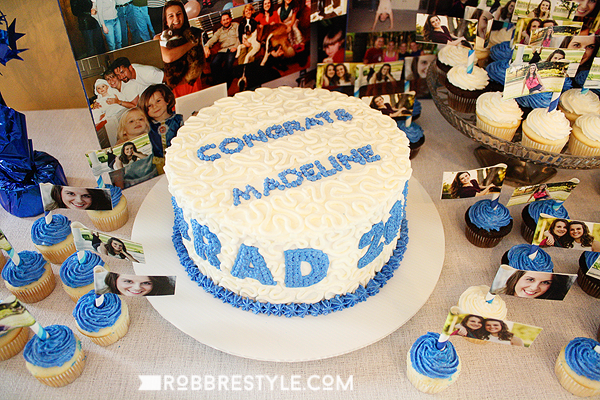 Create a festive place for cards and gifts.
We set up a table with her gymnastic awards, frame photos and other achievements to greet her guests. We also repurposed an old suitcase for a cheery place to drop cards and gifts.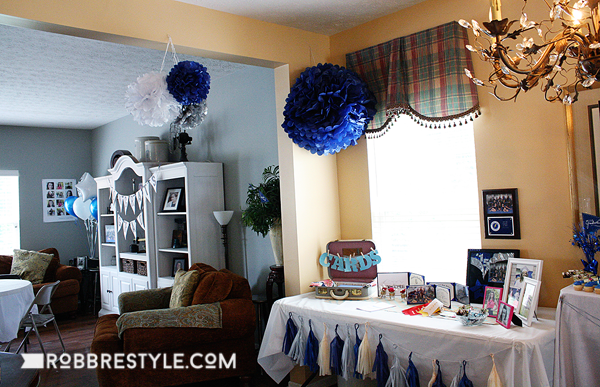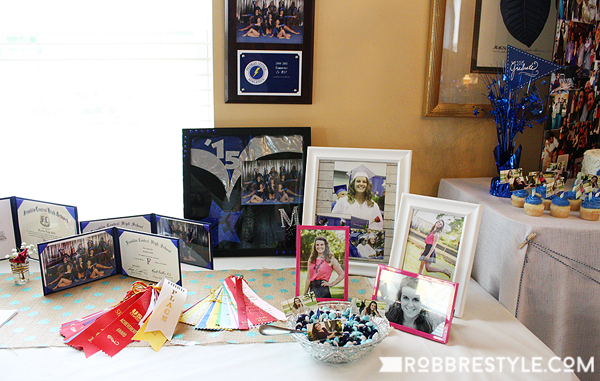 We clipped some glitter letters to a ribbon and covered the bottom of the suitcase with pretty fabric.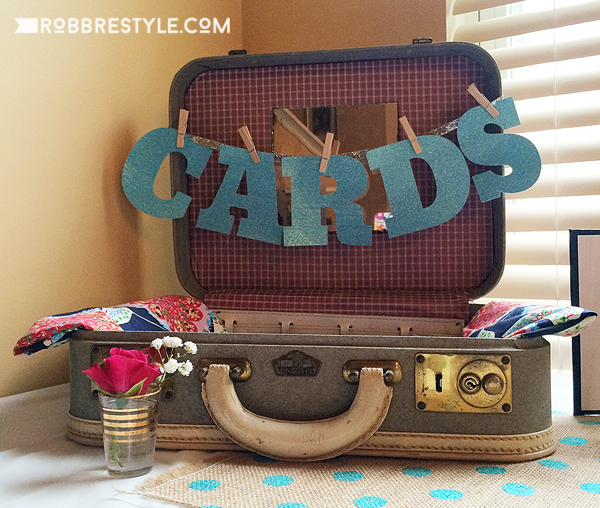 Helpful Shopping Links: (some affiliate)
Adorable Paper Fans  //  Chevron Party Banners // Glitter Letters // Paper Tassel Garland
Paper Tissue Poms // Glitter Circle Garland // Cupcake Flags // Ball Jars
Add fresh flowers.
Fresh flowers are always a no-brainer. Most graduation parties are held in late spring, early summer so use flowers from your own garden! Lucky for me, my backyard peonies were in bloom. We simply purchased some baby's breath and made use of her roses from the graduation ceremony and her talented grandmother put together these little table bouquets. I already had these pint ball jars already and they made perfect vases.
Her graduation ceremony was a few days before her party, so I was able to print wallet size pics from the event at the drugstore and slipped them into plastic frames to coordinate with the table decor.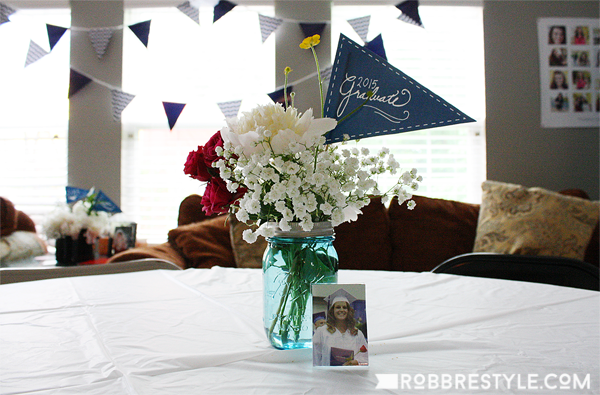 Most importantly, include something fun!
Ultimately this is the one request my niece had… she wanted this event to be fun for her friends and family. Her other uncle helped get a bounce house for the yard and we also created a little 'selfie' photo booth area.
Once again, we repurposed something for this DIY Photo Booth (noticing a theme?). This was an old door with the glass removed. My husband attached some rebar to the back of the door and we "staked" it into the ground. I made a few photo props with my Silhouette Cameo and added a few borrowed hats and feather boas.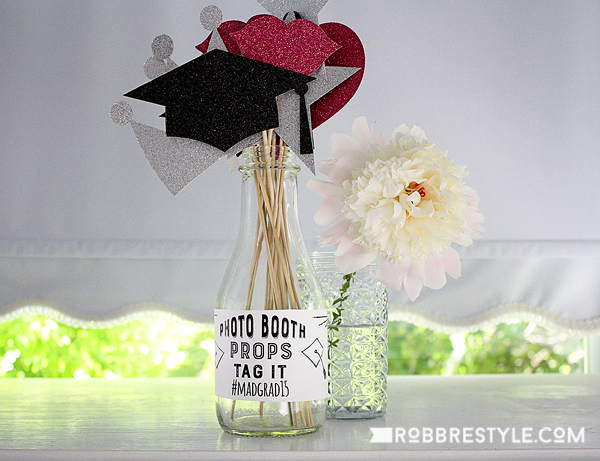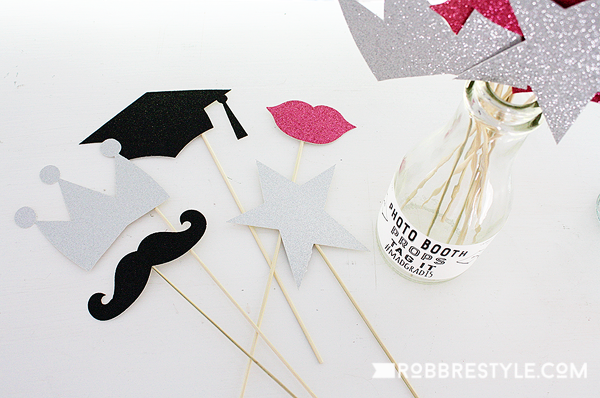 TIP: Make sure you come up with a clever and unique hashtag for your photo booth so that the grad can have fun looking through all the photos of her friends after the event.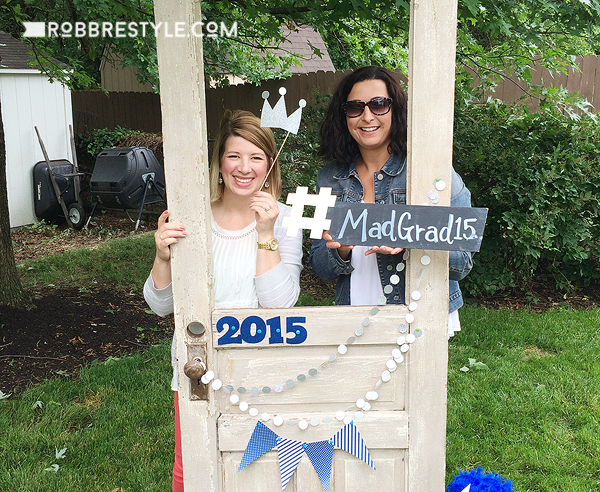 It really was a lot of fun watching the teenagers jump around in the bounce house – reminding us all that though they may be graduating from high school, they are still kids!
I, too, had to get in on the fun with my own kiddos and niece and nephew.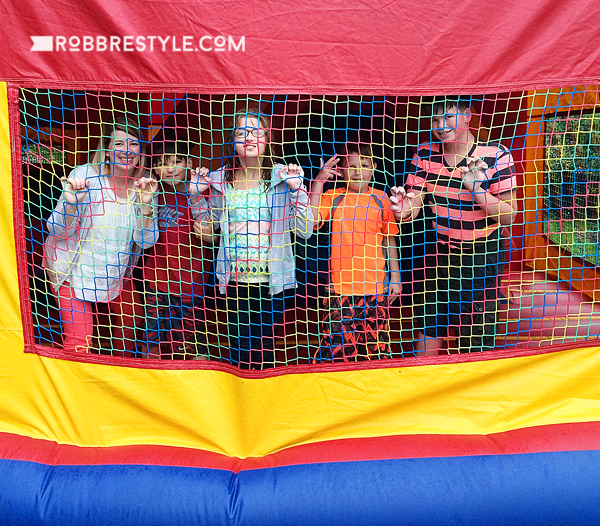 I hope these ideas help you plan for your graduation party. Here are some additional links to help you get started.
Helpful Shopping Links: (some affiliate)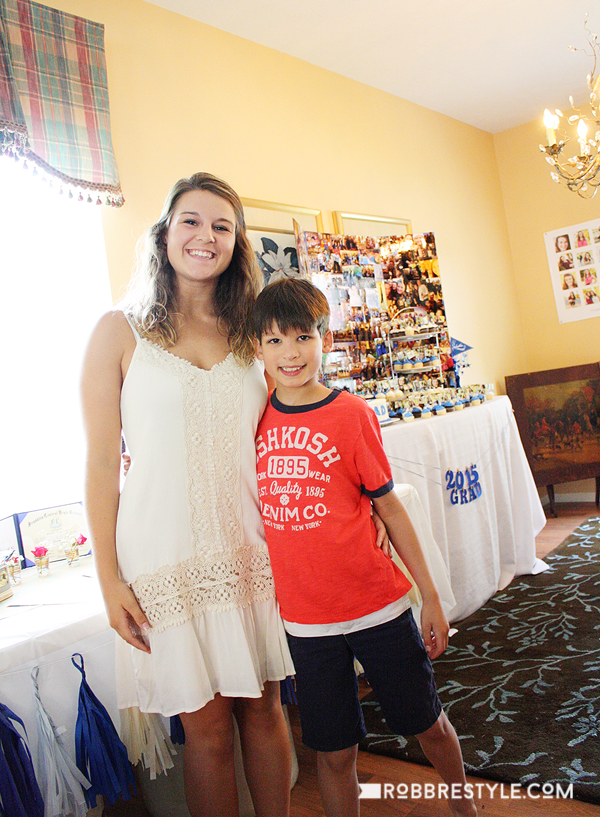 All of us adults were still in disbelief that one of our own was graduating from high school. How did we get to be this old? And, although this was the first, we know that it won't be long until the next one. Time flies and these kiddos are growing up fast before our eyes. Anyone else feel the same way???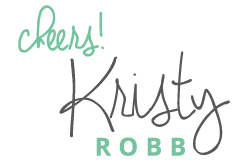 *This post may contain some affiliate links for your convenience. Robb Restyle may receive a commission, but you won't pay a penny more. Thanks for supporting our flea market addiction. Click here to view our disclosure policy.*